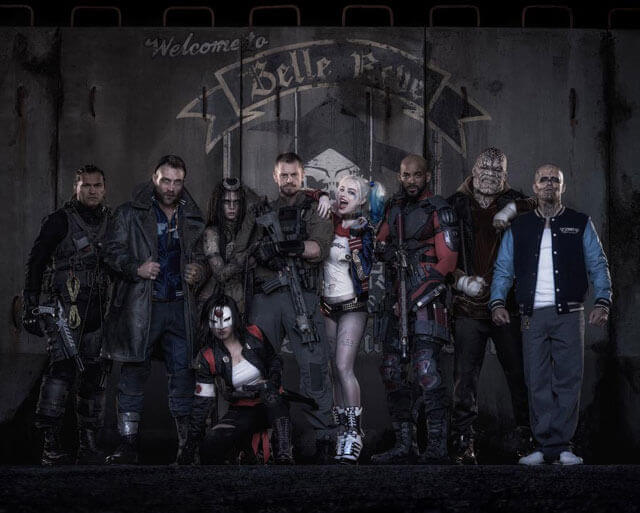 We've hit that time of year when the weather starts to warm up and people are once again heading to the beach, lighting up barbecues, planning vacations, and – as always – heading to the multiplex to get their popcorn, candy, and soda fix while watching the summer blockbusters. All of which means it's time once again for the Summer Movie Preview. This year superheroes fight among themselves in a Civil War, everyone's favorite forgetful fish is going out on a new adventure, aliens from space who humans once defeated are back for a rematch, the paranormal investigating couple take on another terrifying case, and the former amnesic assassin Bourne is back in business.
Here's a look at some of the big films coming to theaters over the summer of 2016. The following list is in release date order and showcases movies that have generated the most pre-release buzz as they head into theaters in May, June, July, and August.
MAY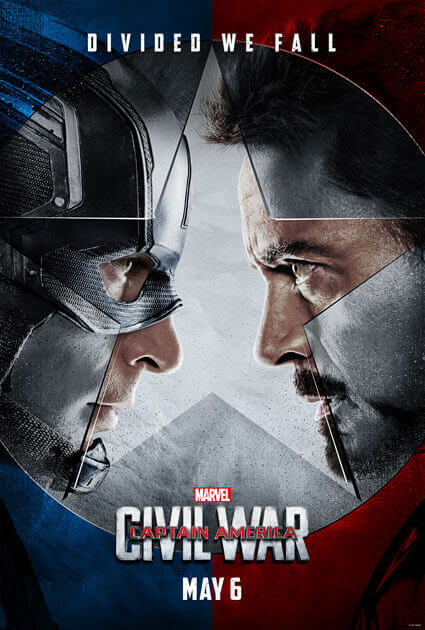 CAPTAIN AMERICA: CIVIL WAR (May 6)
– Starring Chris Evans, Robert Downey Jr, Scarlett Johansson, and Sebastian Stan
Plot:
Political involvement in the Avengers causes the team to split, with one group led by Captain America going rogue and the other led by Iron Man wanting to follow the government's new rules.
Outlook:
Already expected to be the biggest hit of the summer and getting rave early reviews from critics and audiences,
Civil War
will most likely be the most successful film yet in the Marvel Franchise. And unlike some other comic book-inspired movies, this one deserves its huge box office take.
MONEY MONSTER (May 13) – Starring George Clooney, Julia Roberts, Jack O'Connell, and Caitriona Balfe
Plot: Financial TV host Lee Gates and his producer Patty are put in an extremely dangerous situation when an irate investor takes over the studio while Lee is live on the air.
Outlook: Hopefully Clooney and Roberts will have the star power to take a 'Made for Television'-type familiar plot and energize it to draw audiences to the theater to watch the drama unfold.
THE NICE GUYS (May 20) – Starring Ryan Gosling, Russell Crowe, and Kim Basinger
Plot: Set in the '70s, a private eye and a muscle for hire team up to investigate a murder and the disappearance of a young girl in Los Angeles.
Outlook: If the film is half as funny as the trailers, and the chemistry on display in the trailers between Gosling and Crowe holds up throughout the entire running time, this will be without a doubt the laugh-out-loud buddy comedy of the summer. Cross your fingers that prediction comes true.
THE ANGRY BIRDS MOVIE (May 20) – Starring Jason Sudeikis, Josh Gad, Danny McBride, and Bill Hader
Plot: Why are the birds so angry and just where do those mysterious green pigs come from? This animated comedy hopes to answer those questions.
Outlook: An animated film based on a phone app…seriously?! At least it's loaded with a talented voice cast and the trailers and special videos promoting the movie don't rely on viewers needing to know anything about the Rovio game on which it's based.
NEIGHBORS 2: SORORITY RISING (May 20) – Starring Seth Rogen, Rose Byrne, Zac Efron, Chloë Grace Moretz, and Dave Franco
Plot: A sorority moves in next door and turns out to be much worse than the fraternity that occupied the house before it. Mac and Kelly are forced to turn to someone who has intimate knowledge on how to take down unwanted college neighbors: their old nemesis, Teddy.
Outlook: In my opinion the first film wasn't very funny so this looks to be another laughless turkey. However, Showbiz Junkies editor Rebecca Murray loved the original film and has high hopes for the sequel which does an interesting gender swap of the antagonists.
ALICE THROUGH THE LOOKING GLASS (May 27) – Starring Mia Wasikowska, Johnny Depp, Helena Bonham Carter, Sacha Baron Cohen, and Anne Hathaway
Plot: Alice Kingsleigh must return to Underland and her friends the White Rabbit, Absolem, and the Cheshire Cat to help the Mad Hatter recover his Muchness by borrowing a metallic globe from the Grand Clock.
Outlook: There doesn't seem to be a lot of people clamoring for a sequel to Alice in Wonderland yet Disney is giving us one anyway. Will it have a hard time finding an audience? The original film opened five years ago and crossed the billion dollar mark, but that was when the combo of Tim Burton and Johnny Depp was enough to get people to sit up and take notice. Burton didn't direct the sequel and the trailers have concentrated on Sacha Baron Cohen's character, Time, rather than on Depp's Mad Hatter. If it rakes in half of what the original made, Disney should call it a wrap on the Alice in Wonderland franchise at least for now.
X-MEN: APOCALYPSE (May 27) – Starring Michael Fassbender, Jame McAvoy, Jennifer Lawrence, Nicholas Hoult, and Oscar Isaac
Plot: When the very first mutant (Apocalypse) re-emerges and is disillusioned with the current state of the world, he recruits other powerful X-Men including Magneto to destroy humanity. Once again it's up to the heroic X-Men to stop Apocalypse and his followers from wiping out all humans.
Outlook: With a strong cast returning to reprise their roles and the addition of Oscar Isaac as the evil, powerful Apocalypse, this could be the best X-Men film since X-Men 2.
JUNE
TEENAGE MUTANT NINJA TURTLES: OUT OF THE SHADOWS (June 3)
– Starring Will Arnett, Megan Fox, and Stephen Amell
Plot:
The heroes in a half shell return to once again eat pizza and fit bad guys.
Outline:
If you liked the first
TMNT
film, then there's no reason to think you won't like the sequel which is pretty much just more of the same. For those who aren't already into the Turtles, there's no reason to start trying to figure out their appeal with this film.
THE CONJURING 2 (JUNE 10) – Starring Vera Farmiga, Patrick Wilson, and Frances O'Connor
Plot: Paranormal investigators Ed and Lorraine Warren travel to London to help a single mother and her four children fight against some malevolent spirits.
Outlook: With the original The Conjuring stars and director returning, this sequel should be just as eerie and terrifying as the original and should have audiences feeling the hairs on the back of their necks stand on end. BOO!
WARCRAFT (June 10) – Starring Travis Fimmel, Toby Kebbell, Dominic Cooper, Paula Patton, and Ben Foster
Plot: Orc warriors invade the peaceful realm of Azeroth looking for a new home. Civilizations are at stake and unlikely heroes will emerge.
Outlook: Video game-inspired movies don't normally fare well in theaters (the Resident Evil franchise is one of the rare exceptions), and based on the trailers this action adventure film doesn't look like it will score at the box office with an audience outside those who are into the game that spawned it.
CENTRAL INTELLIGENCE (JUNE 17) – Starring Dwayne Johnson, Kevin Hart, Amy Ryan, and Aaron Paul
Plot: A mild-mannered accountant is thrown into the world of international espionage after reconnecting with an old friend through Facebook.
Outlook: If the film is half as funny as the trailers, this should be a very entertaining comedy. Johnson and Hart are an unlikely comedic team, but their physical differences should provide for some great one-liners.
FINDING DORY (June 17) – Featuring the Voices of Ellen DeGeneres, Albert Brooks, Michael Sheen, and Idris Elba
Plot: The lovable but forgetful blue tang fish sets out on an adventure to find her family with the help of her friends.
Outlook: With the major leads returning to voice the characters they brought to life in the first film, and the original writers of Finding Nemo penning the script for this much-anticipated overdue sequel, Finding Dory will most likely be the animated film to beat this year and possibly one of the best sequels in years.
FREE STATE OF JONES (JUNE 24) – Starring Matthew McConaughey, Gugu Mbatha-Raw, Mahershala Ali, and Keri Russell
Plot: In Jones County, Mississippi, Newt Knight joins forces with other farmers and a group of slaves to lead a rebellion against the Confederacy.
Outlook: This Civil War tale looks powerful, intense, and bloody. Free State of Jones might be one of the first of the year's theatrical releases to be considered for the Oscar race, but its timing as a mid-June release is strange.
INDEPENDENCE DAY: RESURGENCE (JUNE 24) – Starring Jeff Goldblum, Bill Pullman, Liam Hemsworth, and Vivica A Fox
Plot: 20 years after the first Independence Day invasion, the aliens return for a rematch with newer and more powerful technology. It will once again fall to a brave few to find a way to save mankind from extinction.
Outlook: Looking darker, grittier, and more serious than the first film, Independence Day: Resurgence might just accomplish what few sequels do…surpass the original. And at least no one can accuse 20th Century Fox of quickly rushing a sequel to cash in on the first film's box office.
JULY
THE BFG (July 1)
– Starring Mark Rylance, Rebecca Hall, Jemaine Clement, and Ruby Barnhill
Plot:
A girl named Sophie meets a big friendly giant who, despite looking very intimidating, is kind-hearted. Soon, an unlikely friendship begins.
Outlook:
With Steven Spielberg directing and Rylance playing the BFG, this should be the fantasy adventure that family audiences will find magical. Based on Roald Dahl's beloved book,
The BFG
reunites Spielberg and Rylance who previously worked together on
Bridge of Spies
which earned Rylance a Best Supporting Actor Oscar.
THE LEGEND OF TARZAN (July 1) – Starring Alexander Skarsgard, Margot Robbie, Djimon Hounsou, and Christoph Waltz
Plot: Tarzan returns to the Congo as a trade emissary but is unaware that he's actually a pawn in a Belgian Captain's deadly plot.
Outlook: With a strong cast and impressive special effects, The Legend of Tarzan is shaping up to be the first entertaining Tarzan film since Disney's animated version back in 1999. Plus, as I'm reminded by female friends, you can never have too much of a shirtless Alexander Skarsgard.
MIKE AND DAVE NEED WEDDING DATES (July 8) – Starring Zac Efron, Adam DeVine, and Anna Kendrick
Plot: Two brothers place an online ad to find respectable dates for their sister's wedding and end up hooking up with two dates from hell.
Outlook: If the trailer is any indication of what the movie is actually going to be like, then it will be loud, gross, and occasionally obnoxious. Showbiz Junkies editor Rebecca Murray was able to see lengthy clips from the film during this year's CinemaCon in Vegas and the packed audience of 5,000ish members of the National Association of Theater Owners ate it up, responding with some of the longest rounds of clapping heard during the week-long event. Definitely earning its hard R rating, this adults only comedy is like a date-driven The Hangover minus the Vegas setting.
THE SECRET LIFE OF PETS (JULY 8) – Featuring the Voices of Louis C.K., Kevin Hart, Ellie Kemper, and Eric Stonestreet
Plot: This animated animal comedy takes place in Manhattan and finds Max's position as his mom's favorite pet in jeopardy when she brings home a dog she adopted from the shelter to be Max's new best friend.
Outlook: Who doesn't want to know what their pets do when they leave for the day? The Secret Life of Pets comes from the creators of Despicable Me and features adorable cats, dogs, birds, and bunnies, as well as humor that works for both kids and adults. It might just be the perfect way to beat the summer heat but the big question is this: Will its release launch with a Take Your Pets to the Theater Day?
THE INFILTRATOR (July 13) – Starring Bryan Cranston, Diane Kruger, and John Leguizamo
Plot: The Infiltrator is inspired by the true story of undercover agent Robert Mazur who was responsible for exposing the biggest money-laundering and drug-dealing connection involving Colombian drug lord Pablo Escobar.
Outlook: With what looks to be another strong performance by Bryan Cranston and a solid supporting cast, The Infiltrator might be the most engaging cop film about drug smuggling since The French Connection.
GHOSTBUSTERS (JULY 15) – Starring Kristen Wiig, Melissa McCarthy, Leslie Jones, Kate McKinnon, and Chris Hemsworth
Plot: A paranormal researcher, a physicist, a nuclear engineer, and a cab driver team up to fight ghosts in this female led reboot of the 1984 classic comedy.
Outlook: The trailers are short on laughs and the special effects are completely unimpressive. This will most likely be the big bomb of the summer, and it's already earned the distinction of being the most disliked movie trailer in history on YouTube. The Ghostbusters trailer currently sits at #23 on YouTube's all-time disliked videos list with nearly 500,000 thumbs down votes. For those who love these kind of stats, Justin Bieber's "Baby" is the most disliked video ever.
ICE AGE: COLLISION COURSE (July 22) – Featuring the Voices of Ray Romano, Denis Leary, John Leguizamo, and Queen Latifah
Plot: Manny, Diego, Sid, and the rest of the gang have to leave their home and set out on another adventure in order to save themselves from a cosmic event set in motion accidentally by the nut-obsessed but lovable Scrat.
Outlook: What was once a very funny and inventive idea for an animated adventure with original and likeable characters already started to lose steam in the last two installments. Here's hoping number 5 will be the last of the franchise and a worthy way to say goodbye to these crazy, wild, and goofy animals.
STAR TREK BEYOND (July 22) – Starring Chris Pine, Simon Pegg, Zach Quinto, Zoe Saldana, John Cho, Anton Yelchin, Karl Urban, and Idris Elba
Plot: Stranded on a hostile planet, Captain Kirk, Mr. Spock, Dr. McCoy and the rest of the Enterprise crew face off against a new alien enemy.
Outlook: Many diehard Star Trek fans hated the minute and a half teaser trailer that debuted a few months ago signaling this particular voyage of the Enterprise is going to have a tough row to hoe to live up to its predecessors.
JASON BOURNE (July 29) – Starring Matt Damon, Alicia Vikander, Julia Stiles, and Tommy Lee Jones
Plot: The new Bourne film finds the CIA's most lethal former operative drawn out of the shadows.
Outlook: With Damon and Stiles back in the roles they created and Paul Greengrass back directing, Jason Bourne's looking to re-energize the stagnant franchise by delivering an action-packed thriller. The trailers are long on action, short on story, but isn't watching Matt Damon kick ass as Jason Bourne what drives people to theaters? Story is important, but the action sequences are what Bourne films are known for and this film looks like Damon and Greengrass are out to prove there's a legitimate reason for doing yet another Bourne story.
AUGUST
SUICIDE SQUAD (August 5)
– Starring Will Smith, Jared Leto, Margot Robbie, and Jai Courtney
Plot:
A secret government agency recruits imprisoned supervillains for a special highly secret Black Ops mission in exchange for clemency. However, the mission will most likely lead to their deaths.
Outlook:
It's
The Dirty Dozen
only with some of the biggest villains from the DC comics universe. Should be the big movie hit in theaters in August.
THE FOUNDER (August 5) – Starring Michael Keaton and Laura Dern
Plot: Milkshake mixer salesman Ray Kroc transforms a small chain of fast food restaurants into the multibillion dollar McDonald's corporation that it is today.
Outlook: This just might be the role and performance that earns Michael Keaton his Oscar.
PETE'S DRAGON (August 12) – Starring Oakes Fegley, Robert Redford, and Bryce Dallas Howard
Plot: The adventures of an orphaned boy named Pete and his best friend Elliot who just happens to be a dragon.
Outlook: The first trailer didn't do much to build the hype and if Disney wants this one to be a hit, they better have created the best CG dragon to ever grace the silver screen. If not, there's no legitimate reason for a new Pete's Dragon movie.
WAR DOGS (August 19) – Starring Jonah Hill and Miles Teller
Plot: The true story of two young men who won a $300 million contract from the Pentagon to arm America's allies in Afghanistan.
Outlook: A dramedy about two nerdy obnoxious gun runners with no conscious. Yawn. It may be better than the initial trailer, and there's a ray of hope in the fact it's directed by The Hangover's Todd Phillips.
BEN-HUR (August 19) – Starring Jack Huston, Toby Kebbell, and Morgan Freeman
Plot: A falsely accused Jewish Prince survives years of slavery to seek vengeance on his Roman best friend who betrayed him.
Outlook: How can they even hope to match, let alone top, the 1959 classic Ben Hur film which starred Charlton Heston and was directed by William Wyler? Given the current dislike of remakes, unless a better trailer's on the way in the near future this version of the classic story won't be finishing first at the box office.