Universal Pictures has just kicked off "60 Days of Seuss" in advance of the March 2, 2012 release of the 3D animated family-friendly movie, Dr. Seuss' The Lorax. Each day for the next 60, followers of @TheLorax on Twitter or visitors to The Lorax' official page on Facebook will be treated to Seuss-ian surprises.

From Universal, in the spirit of Dr. Seuss:

The Seuss countdown begins, going 60 to 1.
Every day there's a post that's both nifty and fun.
There'll be color and laughter and joy 'til it ends,
So enjoy and then share it with all of your friends!"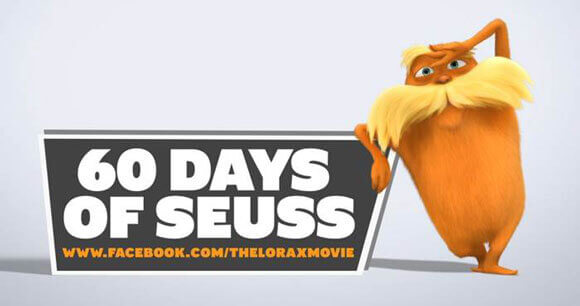 The Story:

From the creators of Despicable Me and the imagination of Dr. Seuss comes the 3D-CG feature Dr. Seuss' The Lorax, an adaptation of the classic tale of a forest creature who shares the enduring power of hope. The animated adventure follows the journey of a 12-year-old as he searches for the one thing that will enable him to win the affection of the girl of his dreams. To find it he must discover the story of the Lorax, the grumpy yet charming creature who fights to protect his world.

Danny DeVito will lend his vocal talents to the iconic title character of the Lorax, while Ed Helms will voice the enigmatic Once-ler. Also bringing their talents to the film are global superstars Zac Efron as Ted, the idealistic youth who searches for the Lorax, and Taylor Swift as Audrey, the girl of Ted's dreams. Rob Riggle will play financial king O'Hare, and beloved actress Betty White will portray Ted's wise Grammy Norma.