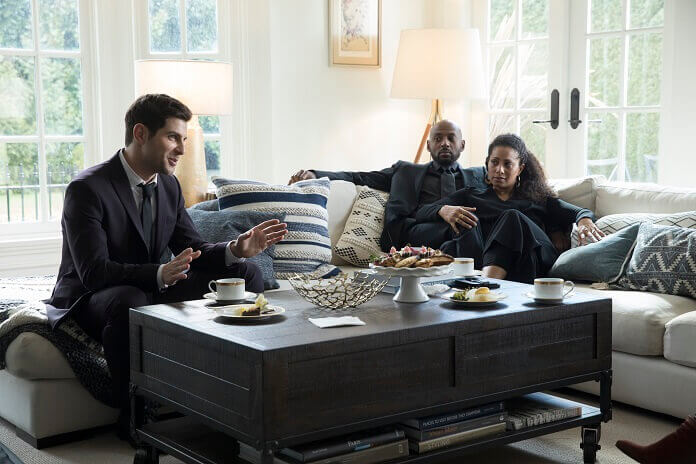 ABC's set the premiere dates for their 2018-2019 fall primetime lineup which includes new shows The Kids Are Alright, A Million Little Things, The Rookie, Single Parents, and The Alec Baldwin Show. The fall schedule also includes the revamped version of Roseanne minus Roseanne Barr and now titled The Conners.
Dancing with the Stars will return for its 27th season and has also spawned a special Dancing with the Stars: Juniors edition which will pair professional junior ballroom dancers with celebrity kids. The Juniors edition will launch with a special two-hour premiere on Sunday, October 7th.
The network also confirmed the return of TGIF, a block of programming that debuted 30 years ago. The new TGIF schedule will include Fresh Off the Boat, Speechless, and Child Support.
ABC Premiere Dates:
MONDAY, SEPT. 24
8:00-10:00 p.m. "Dancing with the Stars" (Season 27 premiere)
10:00-11:00 p.m. "The Good Doctor" (Season 2 premiere)

WEDNESDAY, SEPT. 26
8:00-8:30 p.m. "The Goldbergs" (Season 6 premiere)
8:30-9:00 p.m. "American Housewife" (Season 3 premiere; new time)
9:00-9:31 p.m. "Modern Family" (Season 10 premiere)
9:31-10:00 p.m. "Single Parents" (Series premiere)
10:00-11:00 p.m. "A Million Little Things" (Series premiere)

THURSDAY, SEPT. 27
8:00-10:00 p.m. "Grey's Anatomy" (Season 15 premiere; two hours)
10:00-11:00 p.m. "How to Get Away with Murder" (Season 5 premiere)

SUNDAY, SEPT. 30
7:00-8:00 p.m. "America's Funniest Home Videos" (Season 29 premiere)

THURSDAY, OCT. 4
9:00-10:00 p.m. "Station 19" (Season 2 premiere)

FRIDAY, OCT. 5
8:00-8:30 p.m. "Fresh Off the Boat" (Season 5 premiere; new day and time)
8:30-9:00 p.m. "Speechless" (Season 3 premiere; new day)
9:00-10:00 p.m. "Child Support" (Season 2 premiere; new time)

SUNDAY, OCT. 7
8:00-10:00 p.m. "Dancing with the Stars: Juniors" (Series premiere; two hours)
10:00-11:00 p.m. "Shark Tank" (Season 10 premiere)

SUNDAY, OCT. 14
10:00-11:00 p.m. "The Alec Baldwin Show" (Series premiere)

TUESDAY, OCT. 16
8:00-8:30 p.m. "The Conners" (Series premiere)
8:30-9:00 p.m. "The Kids Are Alright" (Series premiere)
9:00-9:30 p.m. "black-ish" (Season 5 premiere)
9:30-10:00 p.m. "Splitting Up Together" (Season 2 premiere)
10:00-11:00 p.m. "The Rookie" (Series premiere)