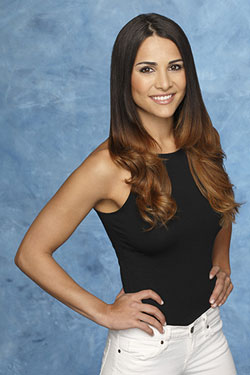 ABC will be debuting the new shows
The Astronaut Wives Club
,
Bachelor in Paradise
,
Rising Star
, and
The Quest
this summer as they move into primetime slots along with returning shows
The Bachelorette
,
Bet On Your Baby
,
Extreme Weight Loss
,
Mistresses
,
Motive
,
NY Med
,
Rookie Blue
, and
Wipeout
.
ABC will also get a headstart on the summer season by premiering the new dramatic series
Black Box
on April 24, 2014 at 10pm ET/Pt.
2014 ABC Summer Schedule
Sunday, May 18

8:00-11:00 p.m. "The 2014 Billboard Music Awards"

Monday, May 19

9:30 – 11:00 p.m. "The Bachelorette"

Wednesday, May 21

10:00-11:00 p.m. "Motive"

Monday, May 26

8:00-10:00 p.m. "The Bachelorette" (regular time period premiere)

Tuesday, May 27

8:00-10:00 p.m. "Extreme Weight Loss"

Saturday, May 31

8:00-9:00 p.m. "Bet On Your Baby"

Monday, June 2

10:01-11:00 p.m. "Mistresses"

Thursday, June 5

8:00-8:30 p.m. "Jimmy Kimmel Live: Game Night"

Thursday, June 19

8:00-9:00 p.m. "The Quest" (new series premiere)

Sunday, June 22

7:00-9:00 p.m. "Wipeout" (special two-hour premiere)

9:00-11:00 p.m. "Rising Star" (new series premiere)

Tuesday, June 24

10:00-11:00 p.m. "NY Med"

Sunday, June 29

8:00-9:00 p.m. "Wipeout" (regular time period premiere)

Thursday, July 17

10:00-11:00 p.m. "Rookie Blue"

Thursday, July 24

9:00-10:00 p.m. "The Astronaut Wives Club" (new series premiere)

Monday, August 4

8:00-10:00 p.m. "Bachelor in Paradise" (new series premiere)
Series Descriptions:
"BLACK BOX" – PREMIERES THURSDAY, APRIL 24

Catherine Black is a world-famous neurologist at the state-of-the-art medical institution known as "The Cube." Catherine is brilliant, beautiful, and at the top of her game, though she's hiding a secret of her own: she's bipolar. Each week, the doctors on staff attempt to unravel the mysteries of the brain and are constantly challenged by cases never-before-seen on television. The medical stories are moving, bizarre and a visual feast. The personal stories are riveting. The patients have rare, highly visual, often hallucinogenic and startling conditions, which we'll see through their eyes as Catherine diagnoses and treats them.

"Black Box" stars Kelly Reilly as Catherine Black, Ditch Davey as Dr. Ian Bickman, David Ajala as Will Van Renseller, Ali Wong as Dr. Lina Lark, Laura Fraser as Reagan Black, David Chisum as Joshua Black, Siobhan Williams as Esme Black with Terry Kinney as Dr. Owen Morely and Vanessa Redgrave as Dr. Hartramph.

"THE BACHELORETTE" – PREMIERES MONDAY, MAY 19

Andi Dorfman, 26, a beautiful and successful woman, has it all at first glance — her loving family, her great friends, and even her dream job. But she realized there was something missing. So, last September, she put her busy life on hold to try and find love on "The Bachelor." She thought she had found her match, but in the end it was not meant to be, and Andi walked away from Juan Pablo. She did not, however, let that experience stop her desire to find her perfect soul mate. Andi will embark on her own journey to find love when she stars in the tenth edition of "The Bachelorette," on ABC.

"MOTIVE" – PREMIERES WEDNESDAY, MAY 21

"Motive" returns for an exciting second season with gripping new cases featuring more complicated killers and intricate crime scenes. Homicide detective Angie Flynn is as determined as ever, and her pursuit for justice never falters. Her partner, Detective Oscar Vega, continues to be her rock with his no-nonsense attitude and methodical approach. Detective Brian Lucas is no longer the rookie at the station, a role he's happy to hand over to the very keen and ambitious Officer Wendy Sung. And confident and charismatic new Team Commander Sergeant Mark Cross shakes up the station when he joins the team. He and Angie share a mysterious and strained connection, one she would prefer to leave in the past. The tension leads to a breakdown in trust between Angie and Vega, and Angie realizes she must find a way to work with Cross, even if it means confronting the truth and the secret that drove them apart years ago.

"Motive" stars Kristin Lehman as Detective Angie Flynn, Louis Ferreira as Detective Oscar Vega, Brendan Penny as Detective Brian Lucas, Lauren Holly as Dr. Betty Rogers, Warren Christie as Sergeant Mark Cross and Valerie Tian as Officer Wendy Sung.

"EXTREME WEIGHT LOSS" – PREMIERES TUESDAY, MAY 27

Hit series "Extreme Weight Loss" is a unique, non-competitive show about weight-loss transformations that documents the unprecedented 365-day journey of courageous, "super-obese" participants. In each of the 13 stand-alone, two-hour episodes, the participants — whose lives have become unmanageable because of their weight — will undergo a transformation not only of their bodies, but of who they are as individuals. With the proper nourishment, exercise and guidance assured by "Extreme Weight Loss," they are afforded a fresh perspective. In addition to having participants continue to work alongside transformation specialists and trainers Chris Powell and his wife, Heidi, the show is taking a unique approach in the upcoming fourth season: each participant will spend the first 90 days of the weight loss journey at the renowned University of Colorado's Anschutz Health and Wellness Center (AHWC) in Aurora, CO. Chris & Heidi, with AHWC's medical director Dr. Holly Wyatt, MD and associate professor of medicine at the University of Colorado, will guide these individuals to safely lose up to half their body weight, ultimately revealing an amazing metamorphosis. The Anschutz Health and Wellness Center offers some of the country's most advanced research and science-based expertise, focusing on a comprehensive weight loss and weight-loss management approach, including fitness, nutrition and wellness services.

"BET ON YOUR BABY" – PREMIERES SATURDAY, MAY 31

All parents think they know their baby well, but are they willing to bet on it? Find out when actress/comedienne and working mom Melissa Peterman, star of ABC Family's "Baby Daddy," hosts this adorable, hilarious and surprisingly suspenseful game show. Parents try to predict their toddler's next move in an effort to win money for their child's future education.

"MISTRESSES" – PREMIERES MONDAY, JUNE 2

Based on the hit UK television series of the same name, "Mistresses" returns for a second season on the ABC Television Network. The provocative and thrilling drama will continue to focus on the scandalous lives of a sexy and sassy group of four girlfriends, each on their own path to self-discovery. When it comes to love, these friends find support and guidance with each other as they push the limits, test their boundaries and discover just how far they are prepared to go. They are willing to brave love's turbulent journey, as well as its excitement, secrecy and betrayal, all the while bound by the complex relationships they've created.

"Mistresses" stars Alyssa Milano as Savannah ("Savi") Davis, Yunjin Kim as Karen Kim, Rochelle Aytes as April Malloy, Jes Macallan as Josslyn Carver, Brett Tucker as Harry Davis, and Jason George as Dominic Taylor.

"THE QUEST" – PREMIERES THURSDAY, JUNE 19

Great fantasy is filled with adventure, challenges, discovery, fish out of water and good vs. evil — turns out, another modern genre shares these exact same traits. Announcing "The Quest," a reality show that will literally take contestants and audiences to an amazing, imaginative realm, where the ogres are advancing in the woods, the dragons are stirring, agents of a dark lord are infiltrating the keep, and the only thing that stands between peace and chaos are 12 very unlikely heroes. From the producers of "The Lord of the Rings" trilogy, paired with the producers of "The Amazing Race," "The Quest" will be a fully immersive experience. In and around this castle, our fantasy realm will come to life with state-of-the art projections, animatronics, prosthetics, real-time motion capture and art direction. The narrative and mythology of "The Quest" is deep and fully imagined, and it has been designed to incorporate seamlessly with the unexpected actions and decisions of our contestants – fantasy comes alive as it never has before in this genre-bending series.

"WIPEOUT" – PREMIERES SUNDAY, JUNE 22

As summer temperatures heat up, everyone's favorite Big Balls are coming back! Each episode will showcase twenty four daring contestants of all shapes and sizes as they compete in the world's largest extreme obstacle course, but for the first time ever, winners will be brought together at the end of the season for a "Tournament of Champions," during which they will compete for the title of Ultimate Wipeout Champion. The season will continue to bring lots of laughter, with new special themed episodes, including a chance to win a date with Jill Wagner, and the return of some of our favorites, such as "Family," "Exes," and "Hotties vs. Nerds." In the end, only one contestant will be victorious and win the title of Wipeout Champion, while everyone else will "wipeout!"

The series is hosted by John Anderson (ESPN's "SportsCenter"), John Henson (E! Entertainment's "Talk Soup") and co-hosted by Jill Wagner (MTV's "Teen Wolf").

"RISING STAR" – PREMIERES SUNDAY, JUNE 22

ABC's new reality series "Rising Star" completely reinvents the traditional singing competition as–for the first time ever–the audience has the final say in real time. The show follows a group of aspiring singers as they audition in live performances. During the performances, viewers vote via an App in real time to determine if the singer will advance in the competition. If the voting reaches a certain threshold, the performer moves on, and the performer can see how the voting is going during the performance, so the feedback is immediate and dramatic.

"NY MED" – PREMIERES TUESDAY, JUNE 24

Fans of ABC's widely acclaimed real life medical series can take heart. A fresh edition of the multi award-winning "NY Med" will air this summer after nearly two years of production. Expanding their scope, the producers offer a riveting tale of two cities. Each episode in this eight-part series toggles between the renowned surgeons of Manhattan's New York Presbyterian Hospital and the gritty world of trauma surgeons at Newark's University Hospital where the ER is a doorway to the mean streets of one of America's most violent cities. Sometimes poignant and often uproarious, this limited series takes a deep dive into high stakes medicine through the eyes of unforgettable characters, including a hilarious trio of returning ER nurses who must cope with tricky personal crises while caring for some of the nation's most bossy patients. Mehmet Oz rounds out the character roster with his extraordinary surgical skills on full display as his deft hands work to fix damaged hearts and save lives.
"ROOKIE BLUE" – Premieres THURSDAY, JULY 17

In keeping with last season's theme of 'change', 15 Division welcomes two new characters who shake up the familiar dynamic. Inspector John Jarvis (Oliver Becker, Rent-A-Goalie) strolls into 15 Division with a serious agenda. He wants the real story: is this a division full of heroes or a minefield full of screw-ups? Seamlessly flipping from pleasant to menacing, Inspector Jarvis is a political spin-master of epic proportions. He's out to shake things up and make his mark. Also new to the team is 15 Division's brand-new rookie, Duncan Moore aka "Selfie" (Matthew Owen Murray, Degrassi: The Next Generation). He is the very picture of a fresh-faced millennial: confident, eager to impress, and excellent at pointing out mistakes, particularly other people's. But when Duncan struggles to fit into the group at 15, the officers soon have their hands full with this challenging and well-connected new recruit.

Andy McNally (Missy Peregrym), Dov Epstein (Gregory Smith), Sam Swarek (Ben Bass), Chris Diaz (Travis Milne), Traci Nash (Enuka Okuma), Gail Peck (Charlotte Sullivan), Nick Collins (Peter Mooney), Chloe Price (Priscilla Faia), Oliver Shaw (Matt Gordon), Marlo Cruz (Rachel Ancheril), Noelle Williams (Melanie Nicholls-King), Steve Peck (Adam MacDonald), and Holly Stewart (Aliyah O'Brien) all return for Season 5.

"THE ASTRONAUT WIVES CLUB" – PREMIERES THURSDAY, JULY 24

Based on the book by Lily Koppel, this 10 episode limited series tells the story of the women who were key players behind some of the biggest events in American history. As America's astronauts were launched on death-defying missions, Life Magazine documented the astronauts' families, capturing the behind-the-scenes lives of their young wives. Overnight, these women were transformed from military spouses into American royalty. As their celebrity rose and tragedy began to touch their lives, they rallied together.

"The Astronaut Wives Club" stars JoAnna Garcia Swisher as Betty Grissom; Odette Annable as Trudy Cooper; Zoe Boyle as Jo Schirra; Azure Parsons as Annie Glenn; Desmond Harrington as Alan Shepherd.

"BACHELOR IN PARADISE" – PREMIERES MONDAY, AUGUST 4

From the creator of "The Bachelor" franchise comes the new summer series, "Bachelor in Paradise." Some of "The Bachelor's" biggest stars and villains are back. They all left "The Bachelor" or "The Bachelorette" with broken hearts, but now they know what it really takes to find love, and on "Bachelor in Paradise" they'll get a second chance to find their soul mates. Contestants will live together in an isolated romantic paradise and, over the course of six episodes, we'll follow these former bachelors and bachelorettes as they explore new romantic relationships. America will watch as they fall in love or go through renewed heartbreak. The romantic dating series will feature new twists, shocking surprises, unexpected guests and some of the most unlikely relationships in "Bachelor" history, plus all the usual romance, drama and tears we've come to expect from the "Bachelor" franchise. It all comes together in the romantic television event of the summer.

Source: ABC

-By Rebecca Murray
Follow Us On:
Stumble It!