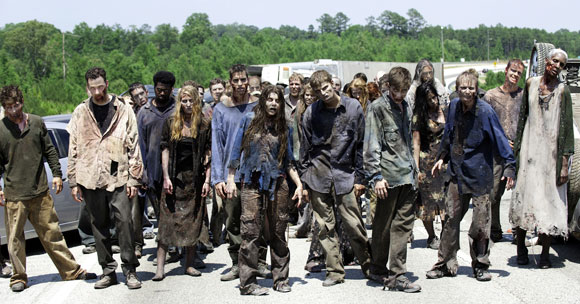 The Walking Dead
is performing so well in its second season that AMC's already decided to officially renew the popular series for a third season. According to AMC,
The Walking Dead
has more 18-49 year old viewers than any other drama on basic cable, and the show has also become the most successful basic cable drama outside of the US. Not bad for a series about humans trying to stay alive in a world overrun with gross-looking zombies.
The Walking Dead
is based on the comic book series written by Robert Kirkman, with Glen Mazzara serving as the showrunner. Greg Nicotero is the co-executive producer and Gale Anne Hurd, David Alpert and Frank Darabont executive produce.
"Today we are pleased to announce that the 'dead' shall live as we proudly renew
The Walking Dead
for a third season on AMC and, globally, with our terrific partners at Fox International Channels," stated Charlie Collier, AMC's President. "We are thankful for everyone's contribution in front of and behind the camera as we continue to make
The Walking Dead
a unique television experience. And, we are so proud as it continues to set viewership records around the world."
Source: AMC – October 25, 2011