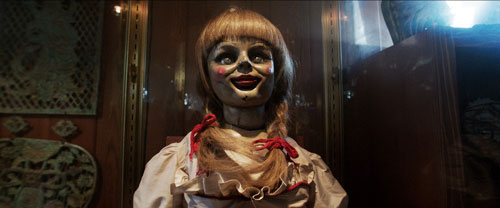 The Conjuring spinoff (not the sequel) will be entering theaters on October 3, 2014, so says New Line Cinema and Warner Bros. Annabelle, currently in post-production, will focus on the creepy doll that was the source of nightmares for fans of the 2013 horror film. The Conjuring's cinematographer John R. Leonetti directed, Gary Dauberman wrote the script, and The Conjuring director James Wan and Peter Safran produced the horror spinoff.
The cast of Annabelle is led by Annabelle Wallis, Ward Horton, Alfre Woodard, and, of course, the terrifying doll that was part of the collection of paranormal investigators Ed (Patrick Wilson) and Lorraine Warren (Vera Farmiga) in The Conjuring.
The Conjuring was made for a budget of $20 millionish and grossed over $318 million worldwide before exiting theaters.
* * * *
Interview with James Wan on The Conjuring:
-By Rebecca Murray
Follow Us On: