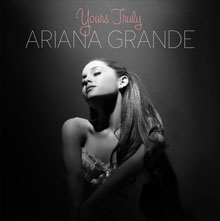 Actress/singer Ariana Grande has revealed the track list for her first full-length album, Yours Truly, which includes the hit single "The Way" featuring Mac Miller. Grande's set to release the album on Republic Records on September 3, 2013 with pre-order sales already landing Yours Truly on iTunes' Top 5 list.

"The Way" made its way into double platinum status and onto the Latin Pop chart's Top 10 list. Single two, "Baby I," climbed to #2 on iTunes and has been viewed over one million times on YouTube.

Among the artists Grande collaborated with on her debut album are Big Sean, The Wanted's Nathan Sykes, and Mika.
Yours Truly Track List
1. "Honeymoon Avenue"
2. "Baby I"
3. "Right There" (feat. Big Sean)
4. "Tattooed Heart"
5. "Lovin' It"
6. "Piano"
7. "Daydreamin'"
8. "The Way" (feat. Mac Miller)
9. "You'll Never Know"
10. "Almost Is Never Enough" (feat. Nathan Sykes from The Wanted)
11. "Popular Song" (feat. Mika)
12. "Better Left Unsaid"
13. "The Way" (feat. Mac Miller) (Spanglish Version) [iTunes Bonus Version]


Source: Republic Records

Follow Us On: