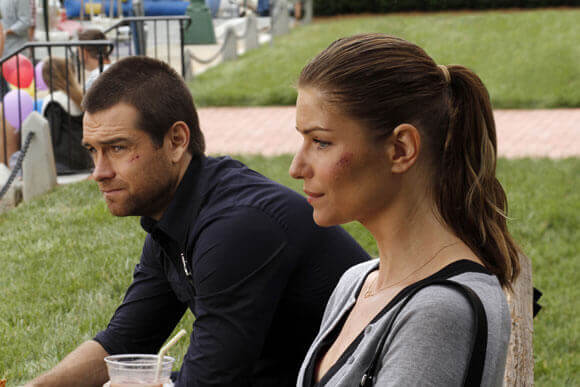 Cinemax confirmed the return of
Banshee
is set for Friday, January 10, 2014 at 10pm ET/PT. The series starring Antony Starr will have a 10 episode season two run.
Banshee
is executive produced by Alan Ball (
True Blood
), Greg Yaitanes (
House
), Peter Macdissi (
Six Feet Under
), Jonathan Tropper, and David Schickler. This season's group of directors includes Greg Yaitanes, Ole Christian Madsen, Babak Najafi, and Loni Peristere (
Buffy the Vampire Slayer
).
Details on
Banshee
[Courtesy of Cinemax]:
The series stars Antony Starr (
Rush
) as Lucas Hood, an ex-con and master thief who assumes the identity of the sheriff of Banshee, Pa., where he continues his criminal activities, even as he's being hunted by the shadowy gangsters he betrayed years earlier. Other returning cast regulars include Ivana Milicevic as Carrie Hopewell, a notorious jewel thief who now lives in Banshee under an assumed identity with her new family, who knows nothing of her past; Ulrich Thomsen as Kai Proctor, an intimidating, wealthy businessman who believes he is above the law; and Frankie Faison as Sugar Bates, a powerful and wise former boxer and ex-con who is now the owner of the local watering hole.
Returning cast regulars also include Rus Blackwell as Banshee's district attorney, Gordon Hopewell, a Gulf War hero who is married to Carrie; Ryann Shane as Deva Hopewell, Carrie and Gordon's rebellious daughter; Ben Cross as Mr. Rabbit, a ruthless Ukrainian gangster who has been hunting Lucas and Carrie, his former top thieves, for 15 years; and Anthony Ruivivar as Alex Longshadow, the son of Kinaho Tribe Chief Benjamin Longshadow. Odette Annable returns as Native American assassin Nola Longshadow.
New guest stars include Zeljko Ivanek as Jim Racine, a chain-smoking, renegade FBI agent who has been tracking Rabbit for 15 years; Tatanka Means as Hoyt Rivers, head of security for Alex Longshadow; and Julian Sands, as Rabbit's younger brother, a brilliant, devout and amoral Ukrainian priest who is just as dangerous.
Source: Cinemax
-Posted by
Rebecca Murray
Follow Us On:
Stumble It!