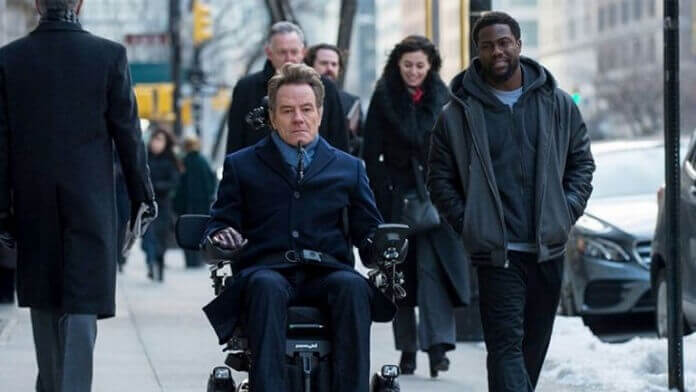 The Upside turned in an impressive first weekend in theaters, posting domestic box office numbers above what the studio expected. The comedy's an English language remake of the French film, Intouchables, which was nominated for a Golden Globe, Critics' Choice Award, and BAFTA Award as best foreign film. The original starred François Cluzet and Omar Sy, and the remake has Bryan Cranston taking on Cluzet's role and Kevin Hart in Sy's role.
The Upside forced Aquaman to vacate the top spot at the box office, but you won't find Warner Bros complaining about losing the #1 position. Aquaman's had an incredible run thus far, topping the $1 billion mark after just four weeks in release. Aquaman starring Jason Momoa and Amber Heard is now the biggest grossing film worldwide of the DC Extended Universe. At $873 million, Batman vs Superman: Dawn of Justice is a distant second.
The weekend also saw the release of Replicas and A Dog's Journey Home. Keanu Reeves led the cast of Replicas which tanked at the box office and was mauled by critics. (It's sitting at just 11% fresh on Rotten Tomatoes.) Those who did fork over money to watch the PG-13 thriller gave it a C score, according to Cinemascore. A Dog's Journey Home fared much better, ringing up $11 million and earning an A- Cinemascore.
Box Office Top 10: January 11-13, 2018
The Upside – $19,590,000
Aquaman – $17,265,000
A Dog's Way Home – $11,300,000
Spider-Man: Into the Spider-Verse – $9,000,000
Escape Room – $8,900,000
Mary Poppins Returns – $7,215,000
Bumblebee – $6,775,000
On the Basis of Sex – $6,227,000
The Mule – $5,545,000
Vice – $3,278,000
The Upside Plot:
The Upside is a heartfelt comedy about a recently paroled ex-convict (Kevin Hart) who strikes up an unusual and unlikely friendship with a paralyzed billionaire (Bryan Cranston). The cast also includes Nicole Kidman, Julianna Margulies and Aja Naomi King.