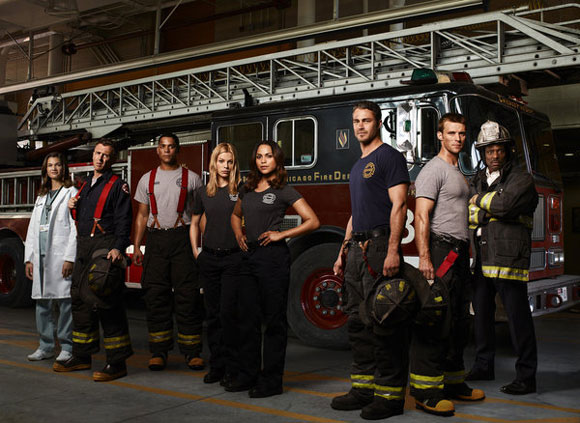 If you've caught the first few episodes of
Chicago Fire
but you're still worried about actually getting hooked on the show in case it gets cancelled, you can now breath a bit easier. NBC says the dramatic series will be sticking around for the remainder of the 2012-2013 season, getting a full season commitment from the network as announced by Jennifer Salke, President, NBC Entertainment.
"We all love this thrilling new drama with its sexy breakout cast. We are excited to see it gaining traction on our schedule," stated Salke. "Executive producer Dick Wolf and all the producers have done an amazing job developing a high-stakes series with lots of great heroic characters whose exploits are depicted in Dick's typically epic storytelling style. We are incredibly invested in this one and can't wait to hear about their plans for the rest of the season."
The show is averaging 8 million viewers through its first six weeks.
The Plot:
For the firefighters, rescue squad and paramedics of Chicago Firehouse 51, no occupation is more stressful or dangerous, yet so rewarding and exhilarating. These courageous men and women are among the elite who forge headfirst into danger when everyone else is running the other way. The pressure to perform on such a high level has a way of taking a personal toll, sometimes putting team members from the Truck and the specially-trained Rescue Squad at odds with each other. Lt. Matthew Casey (Jesse Spencer), in charge of the Truck, butts heads with the brash Lt. Kelly Severide (Taylor Kinney) of the Rescue Squad.
The firehouse also includes: Battalion Chief Wallace Boden (Eamonn Walker); paramedics Gabriela Dawson (Monica Raymund) and Leslie Shay (Lauren German); Peter Mills (Charlie Barnett), an academy graduate who is the latest generation in a family of firefighters; and Christopher Herrmann (David Eigenberg), a seasoned veteran who must uproot his family to move in with his in-laws.
Source: NBC
—
Posted by Rebecca Murray
Follow Us On: