Actor Daniel Day-Lewis was nominated for his sixth Academy Award for Best Actor for his work in Phantom Thread. He has also announced that the film will be his last; he is retiring from acting. If the announcement sounds familiar maybe it's because this is not the first time that the actor has taken a break from acting.
Daniel Day-Lewis is widely acknowledged as one of the finest actors of our time and he has a record number of three Oscars for Best Actor to support that claim. He has nothing to prove and has never seemed to crave celebrity or the media spotlight, so stepping away from acting may not be that big a deal for him. He's also known for being insanely "method" in his approach to acting. To play Tomas in the film adaptation of Milan Kundera's The Unbearable Lightness of Being he learned Czech even though the film set during the Prague Spring was shot in English. Then to play Irish artist Christy Brown (who had cerebral palsy) in My Left Foot he stayed in character by spending almost the entire shoot in a wheelchair. And to play Hawkeye in The Last of the Mohicans IMDb lists as trivia, "he built a canoe, learned to track and skin animals, and perfected the use of a 12-pound flintlock gun, which he took everywhere he went, even to a Christmas dinner."
So here's my theory. Daniel Day-Lewis throws himself so entirely into a role that each film leaves him emotionally drained in ways that he sometimes can't ever imagine being able to put himself through the process again. So, he stops acting. But being an actor and loving his craft, the right director with the right project can pique his interest and lure him back to the screen.
Here are Day-Lewis' 12 best films done as a timeline of his on again/off again career. You may see a pattern and that pattern suggests that Day-Lewis may be back on the screen in about 2023, at which time he will be 65. That happens to be the exact age that Harland Sanders was when he found fame and fortune as the Colonel Sanders of Kentucky Fried Chicken. So maybe Day-Lewis could be lured back for a biopic of that iconic Southern businessman. Come on, just think about that!
Daniel Day-Lewis' Top 12 Films:
1985 My Beautiful Laundrette
Day-Lewis made his first screen appearance (uncredited according to IMDb) in Paul Greengrass' Sunday Bloody Sunday. Then he had a string of small but memorable roles in a succession of British films: Gandhi, The Bounty, and A Room with a View. But it wasn't until he played the punky gay Johnny in Stephen Frears' My Beautiful Laundrette that people really started to notice him.
Despite affiliations with a racist gang, Johnny partners with Omar, a Pakistani friend from school, to start a business and a love affair that both initially feel compelled to hide. The performance commanded attention and set Day-Lewis on a career of star-turn character performances.
1988 Unbearable Lightness of Being
Day-Lewis got to play the womanizing Czech doctor in Milan Kundera's The Unbearable Lightness of Being and his sexy playfulness won him a whole new set of admirers. He got to play opposite Juliette Binoche and Lena Olin in Phillip Kaufman's film of love, sex, and politics.
1989 My Left Foot
The physical and emotional demands of playing an artist with cerebral palsy are obvious so it's not surprising that Day-Lewis' performance as Christy Brown nabbed him his first Best Actor Oscar. In the bonus features of the film's Special Edition DVD, Day-Lewis refused to come out of character which meant staying in a wheelchair between takes and people would have to help him with food at the set canteen.
1989-1992 First retirement
Mid-performance in a production of Hamlet at the National Theatre in London, Day-Lewis walked off the stage never to return to theatrical acting. The departure seems to have been prompted by a connection between Hamlet's ghost and Day-Lewis' memories of his own father, but the actor refuses to speak about it. He also took a few years off from film acting.
1992 Last of the Mohicans
Michael Mann's adaptation of James Fenimore Cooper's action adventure novel The Last of the Mohicans proved to be a physically demanding role of a very different kind from My Left Foot. Set during the French and Indian War in America, Day-Lewis plays trapper Hawkeye and sports some flowing black locks that once again turned him into a cinematic heartthrob.
He had been chosen as one of People Magazine's 50 Most Beautiful People in the World in 1990 (not sure how that went over for a serious actor like Day-Lewis). Maybe that's what kept him off the screen for a couple years. He would be chosen number 11 on Empire Magazine's 100 Sexiest Stars in Film History in 1995 and then again make the People Magazine list in 2003.
1993 Age of Innocence
There is a flurry of roles (by Day-Lewis standards) for the next few years. Martin Scorsese nabs him first for an adaptation of Edith Wharton's The Age of Innocence. Day-Lewis plays Newland Archer, a proper New York gentleman who stirs scandal in high society by falling in love with a woman fleeing from a bad marriage while he's engaged to the woman's cousin.
As Archer, he plays a man who marries a woman he does not love because society tells him that is the right and proper thing to do. Scorsese and Day-Lewis convey the emotional violence of a society where certain etiquette is ruthlessly enforced. The emotional nuance of this performance provided a contrast to the more physically extroverted performance in The Last of the Mohicans.
1993 In the Name of the Father
This film reunited Day-Lewis with his My Left Foot director Jim Sheridan for another story taken from real life. This time out Day-Lewis plays Belfast native Gerry Conlon who was wrongfully convicted of an IRA terrorist bombing on the basis of a coerced confession. He served 15 years in prison before finally being released. The film garnered him his second Best Actor Oscar nomination.
1996 The Crucible
Although this film adaptation of Arthur Miller's play was a bit of a misfire, Day-Lewis perfectly captured the tortured soul of John Proctor.
1997 The Boxer
Day-Lewis returned to Ireland and director Jim Sheridan for another story with political overtones. Day-Lewis plays Danny Flynn who returns to his old Belfast neighborhood after "taking the rap" for an IRA mission gone wrong and serving 14 years in prison. Day-Lewis trained for three years to be convincing in the ring and he absolutely is. But the film was a box office failure.
1997-2002 Second retirement
Day-Lewis disappears from acting for five years and takes up woodworking and shoemaking (he apprentices for Italian shoemaker Stefano Bemer who seemed to have the same sense of perfection and craft as the actor).
2002 Gangs of New York
Martin Scorsese lures Day-Lewis out of retirement with the juicy role of Bill the Butcher in Gangs of New York. Day-Lewis sinks his teeth into the role with chilling results and receives his third Best Actor Oscar nomination.
2002-2007 Third retirement
Irish Times runs the headline: "Actor Daniel Day-Lewis Quits Film Business." And he does for another five years.
2007 There Will Be Blood
This time it's Paul Thomas Anderson who draws the reclusive actor out of retirement to play Daniel Plainview in There Will Be Blood. The ferocious performance was in part inspired by John Huston, especially in his vocal tones. The film won Day-Lewis his second Best Actor Oscar.
2007-2012 Fourth retirement
He made one inconsequential film, Nine in 2009, but otherwise refrained from acting in another lengthy hiatus.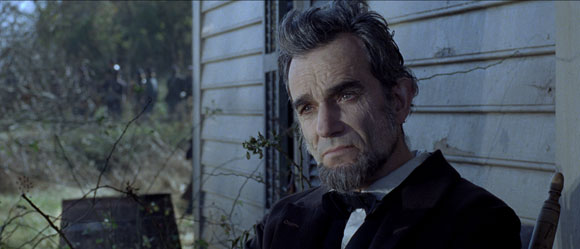 2012 Lincoln
Steven Spielberg sparks Day-Lewis' interest with the title role of Lincoln. Day-Lewis' performance finds humor, humanity, slyness, and a raconteur's charm as the famous American president. He wins an unprecedented third Best Actor Oscar for the role, which sends him into another retirement.
2013-2017 Fifth retirement
In 2013 Irish Central had a headline announcing: "Daniel Day-Lewis To Retire For Five Years To His Irish Farm."
2017 Phantom Thread
Day-Lewis is seduced back to the screen by Paul Thomas Anderson for this highly original romance about the ever-shifting dynamics of a relationship that involves a high fashion designer (Day-Lewis), his muse (Vicky Krieps), and his sister (Lesley Manville). The performance is a study in minimalism and nuance, and could bring him his fourth Best Actor Oscar.
2018 Sixth retirement
Once again Day-Lewis is putting his career on mothballs and stepping out of the spotlight and off the screen. Let's see how long this one lasts.