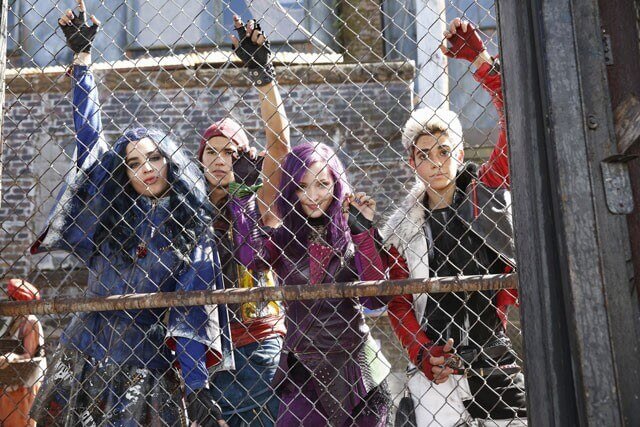 Disney's reuniting the cast of Descendants for a sequel, tentatively titled Descendants 2. The original Descendants aired on Disney Channel on July 31, 2015 and drew in 12.2 million viewers, making it the highest rated cable TV movie in adult viewers ages 18-49 in three years. The made-for-TV movie's viewership now stands at 32 million and the musical comedy/adventure spawned an animated short-form series, Descendants: Wicked World, that's been watched by over 17 million total viewers on Disney Channel, WATCH Disney Channel, and YouTube. A mobile game is in the works and a Karoake app was released on July 30th.
Descendants' soundtrack took the number one spot on the Billboard 200 upon its release. Melissa de la Cruz' prequel book The Isle of the Lost: A Descendants Novel is a New York Times bestseller and she's currently at work on Return to the Isle of the Lost which is eyeing a May 2016 release.
Kenny Ortega choreographed, directed, and executive produced Descendants. Screenwriters Sara Parriott and Josann McGibbon are returning to pen the sequel.
"By almost every measure – domestically and globally – Descendants has already become one of the biggest entertainment properties of the year and we're eager to delve deeper into the unfolding mythology of Auradon and Isle of the Lost," stated Gary Marsh, President and Chief Creative Officer, Disney Channels Worldwide. "This kind of compelling, innovative storytelling, alongside our animated Descendants: Wicked World shorts and unique transmedia campaign, continues to lay the groundwork for multiple franchise opportunities across virtually every line of business at The Walt Disney Company."
The Descendants Plot: Disney's Descendants, a modern-day coming-of-age adventure about the teenage sons and daughters of Disney's most infamous villains, is a live-action, music-filled, dragon-sized adventure starring Dove Cameron as Mal, Cameron Boyce as Carlos, Booboo Stewart as Jay, Sofia Carson as Evie, Mitchell Hope as Ben, Tony Award-winning Kristin Chenoweth as Maleficent, Wendy Raquel Robinson as Cruella de Vil, Maz Jobrani as Jafar, Kathy Najimy as the Evil Queen, Melanie Paxson as Fairy Godmother, Brenna D'Amico as Jane, Sarah Jeffery as Audrey, Zachary Gibson as Doug, Jedidiah Goodacre as Chad Charming, and Dianne Doan as Lonnie.