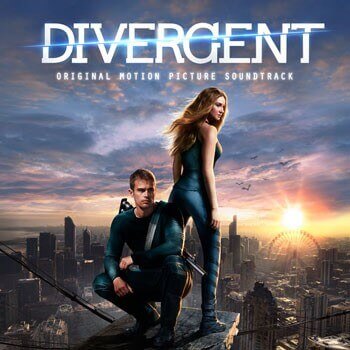 The first film based on Veronica Roth's bestselling book series Divergent arrives in theaters on March 21, 2014 starring Shailene Woodley and Theo James, and directed by Neil Burger. Arriving a few days earlier is the Divergent: Original Motion Picture Soundtrack from Interscope Records and Summit Entertainment. The soundtrack will hit stores on March 11th followed on March 18th by the original score recording.

British singer/songwriter Ellie Goulding is featured extensively on the soundtrack with the new song "Beating Heart" as well as tracks off of her Halcyon album. Goulding's also contributing to vocals to the film's score composed by electronic artist Junkie XL and executive produced by Hans Zimmer.

"We started working with songs from Ellie Goulding's album Halcyon and soon found that the texture of her music and the tone of her voice perfectly matched our film," says Divergent director Neil Burger. "In many ways Ellie has become the inner voice of our heroine Tris."

The soundtrack also includes tracks from Zedd, Snow Patrol, Tame Impala, Skrillex, M83, and Kendrick Lamar.

Divergent: Original Motion Picture Soundtrack Track List
"Find You" — Zedd featuring Matthew Koma and Miriam Bryant
"Beating Heart" — Ellie Goulding
"Fight For You" — Pia Mia featuring Chance The Rapper
"Hanging On" (I See MONSTAS Remix) — Ellie Goulding
"I Won't Let You Go" — Snow Patrol
"Run Boy Run" — Woodkid
"Backwards" —Tame Impala and Kendrick Lamar
"I Need You" — M83
"In Distress" — A$AP Rocky featuring Gesaffelstein
"Lost And Found" (ODESZA Remix) — Pretty Lights
"Stranger" — Skrillex with KillaGraham from Milo & Otis and Sam Dew
"Dream Machines" — Big Deal
"Dead in the Water" — Ellie Goulding

Also included on Deluxe Edition:

"I Love You" — Woodkid
"Waiting Game" — Banks
"My Blood" — Ellie Goulding

Divergent Details:

The story is set in a world where people are divided into distinct factions based on human virtues. Tris Prior (Shailene Woodley) is warned she is Divergent and will never fit into any one group. When she discovers a conspiracy by a faction leader (Kate Winslet) to destroy all Divergents, Tris must learn to trust in the mysterious Four (Theo James) and together they must find out what makes being Divergent so dangerous before it's too late.

Sources: Interscope Records and Summit Entertainment

-Posted by Rebecca Murray
Follow Us On:
Stumble It!