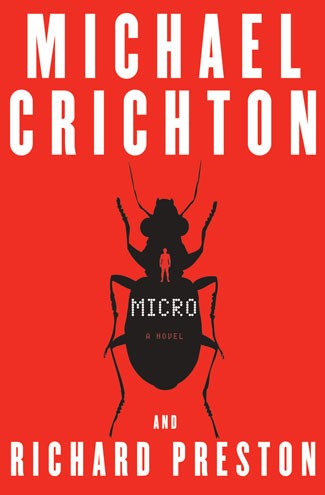 Michael Crichton's Micro has been picked up by DreamWorks Studios with Frank Marshall producing and Sherri Crichton and Laurent Bouzereau executive producing. The novel was actually completed by Richard Preston following Crichton's death in 2008 and has spent 20+ weeks on the New York Times' bestseller list.
"We are so pleased to have this opportunity to develop Micro," said Steven Spielberg. "For Michael, size did matter whether it was for Jurassic's huge dinosaurs or Micro's infinitely tiny humans."
Commenting on the acquisition, Sherri Crichton said, "Michael was exhilarated, passionate and invested in Micro, a story he spent years researching and developing. It was yet another opportunity for him to explore the clash between science and nature, as seen through the eyes of relatable characters. Michael also wrote in cinematic terms and would be so pleased to see Micro come to life on the big screen at DreamWorks."
"Michael Crichton's vast body of work has thrilled audiences around the world for decades, and it feels particularly poignant to be bringing his last published novel to DreamWorks," said CEO of DreamWorks Studios Michael Wright. "This is the perfect place to unite these two dynamic brands."
The Plot: The high-concept thriller follows a group of graduate students lured to Hawaii to work for a mysterious biotech company—only to find themselves miniaturized and cast out into the rain forest, with nothing but their scientific expertise and wits to protect them.
15 of Michael Crichton's novels have been made or are in the process of being made into feature films including Jurassic Park, The Andromeda Strain, The Great Train Robbery, Disclosure, Timeline, Next, State of Fear, and Pirate Latitudes.
Follow Us On: