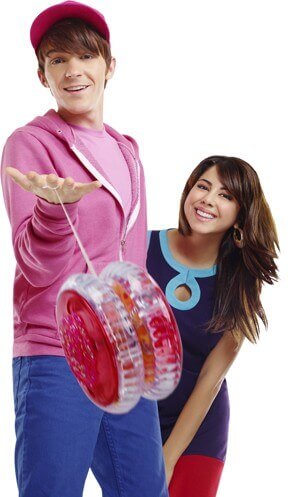 Nickelodeon's The Fairly OddParents animated TV series gets the live-action treatment with A Fairly Odd Movie: Grow Up, Timmy Turner!. In honor of the show's 10 years on the network, Nickelodeon will debut the network's first live-action/CG-animated TV movie on July 9, 2011 at 8pm (ET/PT). The popular show's spawned 9 animated TV films and 12 TV specials.
From the press release:
"Starring Nick favorites Drake Bell (Drake & Josh) and Daniella Monet (Victorious), the hour-long original TV movie follows the adventures of a now 23-year-old Timmy Turner (Bell) who refuses to grow up in order to keep his fairy godparents. Timmy's resolve to stay a kid forever is tested when the once gawky, now gorgeous Tootie (Monet) returns to town and he must choose between her and his beloved magical fairy godparents."
Additional Fairly Odd Movie cast members include Jason Alexander, Cheryl Hines, and Steven Weber.
The animated series has featured dozens of big-name voices over the years including Jay Leno as the Crimson Chin, Adam West as Catman, and Norm McDonald as Norm the Genie. Other celebs lending their voices to the series include Alec Baldwin, Frankie Muniz, Ben Stein, Gilbert Gottfried, Dana Carvey, Brendan Fraser, Tom Arnold, Jackie Mason, Julie Chen, Scott Hamilton, Gene Simmons and Paul Stanley.
Source: Nickelodeon