The 2018 fall primetime television season will be offering up a wide variety of new shows covering nearly every genre, all hoping to catch on with viewers. Among the new selections are a Lost-styled mystery, a reimagining of the classic Magnum P.I. series, cop dramas and comedies, the revival of Murphy Brown at a time when it's needed the most, and a surprising number of new thrillers/horror series.
Here's a look at the new TV shows debuting in September, October, and November. The series are listed in premiere date order, beginning with the Sons of Anarchy followup, Mayans M.C., and ending with the television adaptation of John le Carré's The Little Drummer Girl.
Mayans M.C. (FX) – Tuesday, September 4
Mayans M.C. is the next chapter in Kurt Sutter's award-winning Sons of Anarchy saga. Set in a post-Jax Teller world, Ezekiel "EZ" Reyes (JD Pardo) is fresh out of prison and a prospect in the Mayans M.C. charter on the Cali/Mexi border. Now, EZ must carve out his new identity in a town where he was once the golden boy with the American Dream in his grasp.
The Purge (USA) – Tuesday, September 4
Based on the hit movie franchise from Blumhouse Productions, The Purge revolves around a 12-hour period when all crime, including murder, is legal. Set in an altered America ruled by a totalitarian political party, the series follows several seemingly unrelated characters living in a small city. As the clock winds down, each character is forced to reckon with their past as they discover how far they will go to survive the night.
Kidding (Showtime) – Sunday, September 9
Kidding centers on Jeff, aka Mr. Pickles (Jim Carrey), an icon of children's television and a beacon of kindness and wisdom to America's impressionable young minds and the parents who grew up with him. But when this beloved personality's family begins to implode, Jeff finds no fairytale, fable or puppet will guide him through this crisis, which advances faster than his means to cope. The result: A kind man in a cruel world faces a slow leak of sanity as hilarious as it is heartbreaking.
Throughout the season, Jeff begins to push back against the limits of the well-oiled machine that is "Mr. Pickles' Puppet Time," and of his executive producer, Seb (Frank Langella). Seb fears Jeff's mental state could ruin the branding empire they've built, and thus begins preparing the show for a life after Jeff, while Deirdre (Catherine Keener), the head puppet maker, grapples with her own personal and professional life issues.
Rel (Fox) – Sunday, September 9
Inspired by the comedy of Lil Rel Howery, Rel is a multi-camera comedy starring Howery as a successful, hardworking father and husband on the West Side of Chicago, whose life is perfectly on track. That is, until he finds out his wife is having an affair with his own barber – the worst person for your wife to sleep with, because as hard as it is to find love, it's even harder to find a good barber.
Now separated, and with his son and daughter having moved to Cleveland with their mother, Rel must begin the difficult task of rebuilding his life as a long-distance single dad. Offering Rel support are his best friend and unfiltered sounding board, Brittany (Jessica "Jess Hilarious" Moore), and his recently out-of-jail, excitable and overly encouraging younger brother, Nat (Jordan L. Jones), as well as his prideful and recently widowed Dad (Sinbad), who finds both his sons deep disappointments.
You (Lifetime) – Sunday, September 9
You is a 21st century love story that asks, "What would you do for love?" When a brilliant bookstore manager crosses paths with an aspiring writer, his answer becomes clear: anything. Using the internet and social media as his tools to gather the most intimate of details and get close to her, a charming and awkward crush quickly becomes obsession as he quietly and strategically removes every obstacle – and person – in his way.
American Horror Story: Apocalypse (FX) – Wednesday, September 12
"It's our world now." – FX is keeping the plot under wraps although it's known this season will see the worlds of American Horror Story: Murder House and American Horror Story: Coven collide. What's also known is Sarah Paulson, Frances Conroy, Taissa Farmiga, Billy Eichner, Kathy Bates, Jessica Lange, Cody Fern, Leslie Grossman, Evan Peters, Joan Collins, Connie Britton, Zoe Benson, Lily Rabe, Dylan McDermott, Stevie Nicks, Gabourey Sidibe, and Emma Roberts will be returning.
Forever (Amazon) – Friday, September 14
Married couple June (Maya Rudolph) and Oscar (Fred Armisen) live a comfortable but predictable life in suburban Riverside, California. For 12 years they've had the same conversations, eaten the same meals and taken pleasant vacations at the same rented lake house. But after June talks Oscar into shaking things up with a ski trip, the pair find themselves in completely unfamiliar territory.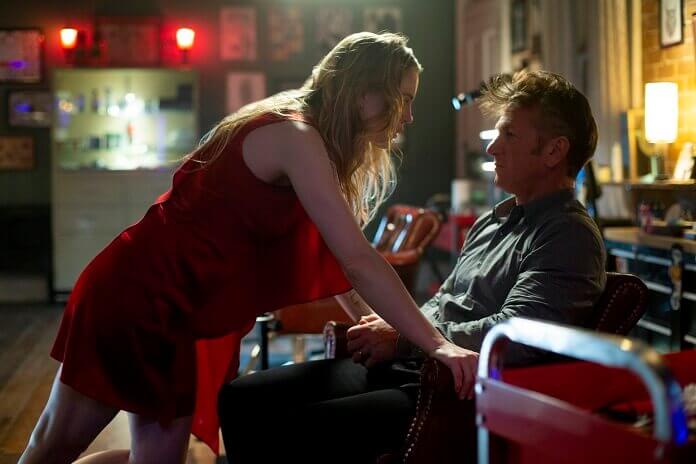 The First (Hulu) – Friday, September 14
Sean Penn leads an ensemble cast in this near-future drama about a crew of astronauts attempting to become the first humans on Mars. Under the direction of visionary aerospace magnate Laz Ingram Natascha McElhone, the crew contends with peril and personal sacrifice as they undertake the greatest pioneering feat in human history.
I Feel Bad (NBC) – Wednesday, September 19
Emet (Sarayu Blue) is the perfect mom, boss, wife, friend and daughter. OK, she's not perfect. In fact, she's just figuring it out like the rest of us. Sure, she feels bad when she has a sexy dream about someone other than her husband, or when she pretends not to know her kids when they misbehave in public, or when she uses her staff to help solve personal problems. But that's OK, right? Nobody can have it all and do it perfectly. From executive producer Amy Poehler comes a modern comedy about being perfectly OK with being imperfect.
The Good Cop (Netflix) – Friday, September 21
In The Good Cop, Tony Danza plays Tony Sr., a disgraced, former NYPD officer who never followed the rules. He lives with his son, Tony Jr. (Josh Groban), an earnest, obsessively honest NYPD detective who makes a point of always following the rules. This "odd couple" become unofficial partners as Tony Sr. offers his overly-cautious son blunt, street-wise advice on everything from handling suspects to handling women.
Maniac (Netflix) – Friday, September 21
Set in a world somewhat like our world, in a time quite similar to our time, Maniac tells the stories of Annie Landsberg (Emma Stone) and Owen Milgrim (Jonah Hill), two strangers drawn to the late stages of a mysterious pharmaceutical trial, each for their own reasons. Annie's disaffected and aimless, fixated on broken relationships with her mother and her sister; Owen, the fifth son of wealthy New York industrialists, has struggled his whole life with a disputed diagnosis of schizophrenia.
Neither of their lives have turned out quite right, and the promise of a new, radical kind of pharmaceutical treatment—a sequence of pills its inventor, Dr. James K. Mantleray (Justin Theroux), claims can repair anything about the mind, be it mental illness or heartbreak—draws them and ten other strangers to the facilities of Neberdine Pharmaceutical and Biotech for a three-day drug trial that will, they're assured, with no complications or side-effects whatsoever, solve all of their problems, permanently. Things do not go as planned.
Magnum P.I. (CBS) – Monday, September 24
Magnum P.I. is a modern take on the classic series centering on Thomas Magnum (Jay Hernandez), a decorated former Navy SEAL who, upon returning home from Afghanistan, repurposes his military skills to become a private investigator. A charming rogue, an American hero and a die-hard Detroit Tigers fan, Magnum lives in a guest cottage on Robin's Nest, the luxurious estate where he works as a security consultant to supplement his P.I. business. The "majordomo" of the property is Juliet Higgins, a beautiful and commanding disavowed MI:6 agent whose second job is to keep Magnum in line, with the help of her two Dobermans.
When Magnum needs back-up on a job, he turns to his trusted buddies and fellow POW survivors, Theodore "TC" Calvin, a former Marine chopper pilot who runs Island Hoppers, a helicopter tour business, and Orville "Rick" Wright, a former Marine door-gunner-turned-impresario of Oahu's coolest nightclub and the most connected man on the island. Suspicious of Magnum's casual attitude and presence at his crime scenes, Detective Gordon Katsumoto finds that he and Magnum are more alike than either of them care to admit. With keys to a vintage Ferrari in one hand, aviator sunglasses in the other, and an Old Düsseldorf longneck chilling in the fridge, Thomas Magnum is back on the case!
Manifest (NBC) – Monday, September 24
When Montego Air Flight 828 landed safely after a turbulent but routine flight, the crew and passengers were relieved. Yet in the span of those few hours, the world had aged five years and their friends, families and colleagues, after mourning their loss, had given up hope and moved on. Now, faced with the impossible, they're all given a second chance. But as their new realities become clear, a deeper mystery unfolds and some of the returned passengers soon realize they may be meant for something greater than they ever thought possible.
FBI (CBS) – Tuesday, September 25
FBI is a fast-paced drama about the inner workings of the New York office of the Federal Bureau of Investigation. These first-class agents bring all their talents, intellect and technical expertise to tenaciously investigate cases of tremendous magnitude, including terrorism, organized crime and counterintelligence, in order to keep New York and the country safe.
New Amsterdam (NBC) – Tuesday, September 25
Inspired by Bellevue, the oldest public hospital in America, this unique medical drama follows the brilliant and charming Dr. Max Goodwin (Ryan Eggold), the institution's newest medical director who sets out to tear up the bureaucracy and provide exceptional care. How can he help? Well, the doctors and staff have heard this before. Not taking "no" for an answer, Dr. Goodwin must disrupt the status quo and prove he will stop at nothing to breathe new life into this understaffed, underfunded and underappreciated hospital — the only one in the world capable of treating Ebola patients, prisoners from Rikers and the President of the United States under one roof — and return it to the glory that put it on the map.
A Million Little Things (ABC) – Wednesday, September 26
They say friendship isn't one big thing, it's a million little things; and that's true for a group of friends from Boston who bonded under unexpected circumstances. Some have achieved success, others are struggling in their careers and relationships, but all of them feel stuck in life. After one of them dies unexpectedly, it's just the wake-up call the others need to finally start living. Along the way, they discover that friends may be the one thing to save them from themselves.
Single Parents (ABC) – Wednesday, September 26
This ensemble comedy follows a group of single parents as they lean on each other to help raise their 7-year-old kids and maintain some kind of personal lives outside of parenthood. The series begins when the group meets Will Cooper, a 30-something guy who's been so focused on raising his daughter that he's lost sight of who he is as a man. When the other single parents see just how far down the rabbit hole of PTA, parenting and princesses Will has gone, they band together to get him out in the world and make him realize that being a great parent doesn't mean sacrificing everything about your own identity.
Murphy Brown (CBS) – Thursday, September 27
Multiple Emmy Award winners Candice Bergen and series creator Diane English reunite for Murphy Brown, the revival of the ground-breaking comedy about the eponymous broadcast news legend and her biting take on current events, now in a world of 24-hour cable, social media, "fake news" and a vastly different political climate. Amid a divided nation, chaotic national discourse and rampant attacks on the press, Murphy decides to return to the airwaves and recruits her FYI team: lifestyle reporter Corky Sherwood, investigative journalist Frank Fontana, and her former wunderkind news producer Miles Silverberg. Joining them is social media director Pat Patel, who is tasked with bringing Murphy and the team into the 21st century.
Murphy's millennial son, Avery, shares his mother's competitive spirit and quick wit, and is following in her journalistic footsteps – perhaps too closely. The team still lets off steam at Phil's Bar, now run by his sister, Phyllis. Now back in the game, Murphy is determined to draw the line between good television and honest reporting, proving that the world needs Murphy Brown now more than ever.
The Cool Kids (Fox) – Friday, September 28
Hank (David Alan Grier) is the leader of this motley crew, a gruff, opinionated, 21st century Archie Bunker who will go to any lengths to have a good time. His loyal, but less than helpful, friends include Charlie (Martin Mull), a bumbling wanderer who constantly goes off on tangents about some bizarre, barely believable episode from his life; and Sid (Leslie Jordan), a fun-loving hedonist with a flair for the melodramatic. Complicating matters is Margaret (Vicki Lawrence), a brash, confident woman who forces her way into their group and refuses to leave because she's not going to take crap from anyone – especially not these three.
But what unites them all is their shared belief that they're not done yet – not by a long shot. Growing old with dignity is for chumps. These self-proclaimed "cool kids" are determined to make the third act of their lives the craziest one yet.
God Friended Me (CBS) – Sunday, September 30
God Friended Me is about an outspoken atheist whose life is turned upside down when he receives a friend request on social media from "God" and unwittingly becomes an agent of change in the lives and destinies of others around him. Miles Finer is intelligent, hopeful and optimistic, but he doesn't believe in God. This puts him at odds with his father, Reverend Arthur Finer, a beloved preacher at Harlem's Trinity Church for 25 years who is stung by his son's strong rejection of his faith. Miles feels he's found his purpose in life hosting a podcast where he's free to speak his mind, but that changes when he receives the ultimate friend request.
After repeated pokes by "God," Miles' curiosity takes over, and he accepts the request and follows the signs to Cara Bloom, an online journalist suffering from writer's block. Brought together by the "God" account, the two find themselves investigating "God's" friend suggestions and inadvertently helping others in need. Joining them on their journey are Miles's supportive sister, Ali, a doctoral psych student by day and bartender by night, and his best friend, Rakesh, a sometime hacker who helps Miles and Cara research the enigmatic account. Miles is set on getting to the bottom of what he believes is an elaborate hoax, but in the meantime he'll play along and, in the process, change his life forever.
Happy Together (CBS) – Monday, October 1
Happy Together stars Damon Wayans, Jr. in a comedy about a 30-something happily married couple who begin to reconnect with their younger, cooler selves when a young pop star drawn to their super ordinary suburban life unexpectedly moves in with them. Jake, an accountant, and his dream wife, Claire, a restaurant and bar designer, are very comfortably settled into their marriage, enjoying evenings together on the couch watching TV and scheduling time to change their outgoing voicemail message.
Their tame routine gets a makeover when Jake's client, exuberant music superstar Cooper James, arrives on their doorstep looking for refuge from the paparazzi following a high-profile breakup with his girlfriend. Jake and Claire quickly discover there's no way they can keep up with their world-famous houseguest's effortlessly cool, fast-paced lifestyle. Cooper, however, enjoys Jake and Claire's more relaxed way of life, discovering that a touch of ordinary can be extraordinary for all three of them.
The Neighborhood (CBS) – Monday, October 1
The Neighborhood stars Cedric the Entertainer in a comedy about what happens when the friendliest guy in the Midwest moves his family to a neighborhood in Los Angeles where not everyone looks like him or appreciates his extreme neighborliness. Dave Johnson is a good-natured, professional conflict negotiator. When his wife, Gemma, gets a job as a school principal in L.A., they move from Michigan with their young son, Grover, unfazed that their new dream home is located in a community quite different from their small town.
Their opinionated next-door neighbor, Calvin Butler, is wary of the newcomers, certain that the Johnsons will disrupt the culture on the block. However, Calvin's gracious wife, Tina, rolls out the welcome wagon; their chipper younger son, Marty, thinks the Johnsons could be good for the community; and their unemployed older son, Malcolm, finds Dave may finally be someone who understands him. Dave realizes that fitting into their new community is more complex than he expected, but if he can find a way to connect with Calvin, they have an excellent chance of making their new neighborhood their home.
Into the Dark (Hulu) – Friday, October 5
In partnership with Blumhouse Television, Into The Dark is a horror event series from prolific, award-winning producer, Jason Blum's independent TV studio. The series includes 12 super-sized episodes, with a new installment released each month inspired by a holiday and will feature Blumhouse's signature genre/thriller spin on the story.
All American (CW) – Wednesday, October 10
Spencer James (Daniel Ezra) is a rising high school football player and A student at South Crenshaw High. Compton is the place he calls home. But when Beverly High School's football coach Billy Baker recruits him to join his team in Beverly Hills, Spencer's mother, Grace, and his best friend, Coop, convince Spencer it's an opportunity he has to seize. Now Spencer must navigate two worlds, the south side neighborhood that he knows and the affluent Beverly Hills world that has offered him an opportunity for something bigger.
When Spencer is forced to move in with Billy and his family to protect his transfer permit to Beverly, Billy's son, Jordan (the team's starting quarterback), is less than thrilled to be sharing his father's attention — or the team spotlight — with Spencer. While Spencer struggles to find his footing, he makes an unlikely friend in Jordan's sister, Olivia, who is dealing with her own demons. He also quickly develops a crush on his classmate, Layla, something her boyfriend, Asher, quickly realizes — and so, he sets out to drive Spencer off the football team and out of Beverly Hills for good.
The Romanoffs (Amazon) – Friday, October 12
The Romanoffs features eight separate stories about people who believe themselves to be descendants of the Russian royal family. Set in seven countries around the globe, The Romanoffs was shot on location in three continents collaborating with local productions and creative talent across Europe, the Americas, and the Far East. Each story takes place in a new location with a new cast.
Light as a Feather (Hulu) – Friday, October 12
An innocent game of "Light as a Feather, Stiff as a Board" goes wrong when the five teen girls who played start dying off in the exact way that was predicted, forcing the survivors to figure out why they're being targeted – and whether the evil force hunting them down is one of their own.
The Haunting of Hill House (Netflix) – Friday, October 12
The Haunting of Hill House explores a group of siblings who, as children, grew up in what would go on to become the most famous haunted house in the country. Now adults, and forced back together in the face of tragedy, the family must finally confront the ghosts of their past — some of which still lurk in their minds while others may actually be stalking the shadows of Hill House.
Camping (HBO) – Sunday, October 14
To celebrate her husband Walt's 45th birthday, the obsessively organized and aggressively controlling Kathryn gathers together her meek sister, her holier-than-thou ex-best friend and a free-spirited tagalong – and what was supposed to be a delightful, back-to-nature camping trip quickly becomes a weekend of tested marriages and woman-on-woman crime that won't soon be forgotten.
Charmed (CW) – Sunday, October 14
"Stronger together." That's what Marisol tells her daughters, firebrand social justice warrior Melanie "Mel" Vera, and her sister, fun-loving Maggie, about their family. Mel is a graduate student in the women's studies department her mother heads at Hilltowne University; Maggie is a freshman considering rushing a sorority (to Mel's amused dismay) and going "on" again with her on-again off-again boyfriend Brian. But then, a shocking tragedy shatters their world and threatens their sibling bond: Marisol dies in a horrifying accident. Or was it?
Three months later, we find Mel unable to accept the official explanation of their mother's death while Maggie accuses her of being morbidly obsessed. And then, another huge shock shows up at their front door: they have an older sister, brilliant geneticist Macy, whom their mother kept a secret all these years! Macy is new in town and doesn't know a soul (except for Galvin, the cute fellow scientist who's been showing her around). Macy is eager to connect with Mel and Maggie, but Mel can't handle another shock and shuts her out.
With the emotions of all three sisters running high, each of the girls suddenly exhibit impossible new abilities: Mel can freeze time, Maggie starts hearing others' thoughts, and Macy has telekinetic powers. But don't worry, there's a perfectly reasonable explanation…or so says Harry Greenwood (who as far as they know is the officious new chair of the women's studies department), when he gathers the three sisters together to reveal they're actually powerful witches, as was their mother. And he's not really a professor, he's their "Whitelighter," a witch's advisor and guide! Not only that, but Mel was right: their mother's death was no accident – she was murdered by unknown dark forces.
It's a lot to take in, but ultimately the sisters accept their new destiny as The Charmed Ones…and their new duty to protect humankind from the demons that walk among us…one of whom killed their mother. With the Power of Three, they are stronger together… even if they have no idea what they're really up against.
The Alec Baldwin Show (ABC) – Sunday, October 14
The Alec Baldwin Show (new title), which first debuted as a sneak preview in March, will also air this fall. Starring the three-time Emmy winner, the one-hour show will showcase Baldwin's in-depth conversations with compelling personalities.
The Conners (ABC) – Tuesday, October 16
After a sudden turn of events, the Conners are forced to face the daily struggles of life in Lanford in a way they never have before. This iconic family – Dan, Jackie, Darlene, Becky and D.J. – grapples with parenthood, dating, an unexpected pregnancy, financial pressures, aging and in-laws in working-class America. Through it all, the fights, the coupon cutting, the hand-me-downs, the breakdowns – with love, humor and perseverance, the family prevails.
The Kids Are Alright (ABC) – Tuesday, October 16
Set in the 1970s, this ensemble comedy follows a traditional Irish-Catholic family, the Clearys, as they navigate big and small changes during one of America's most turbulent decades. In a working-class neighborhood outside Los Angeles, Mike and Peggy raise eight boisterous boys who live out their days with little supervision. The household is turned upside down when oldest son Lawrence returns home and announces he's quitting the seminary to go off and "save the world." Times are changing and this family will never be the same. There are 10 people, three bedrooms, one bathroom and everyone in it for themselves.
The Rookie (ABC) – Tuesday, October 16
Starting over isn't easy, especially for small-town guy John Nolan (Nathan Fillion) who, after a life-altering incident, is pursuing his dream of being a Los Angeles police officer. As the force's oldest rookie, he's met with skepticism from some higher-ups who see him as just a walking midlife crisis. If he can't keep up with the young cops and the criminals, he'll be risking lives including his own. But if he can use his life experience, determination and sense of humor to give him an edge, he may just become a success in this new chapter of his life.
Wanderlust (Netflix) – Friday, October 19
Wanderlust looks at how we build and maintain happy relationships and asks whether lifelong monogamy is possible – or even desirable. Toni Collette plays Joy Richards, a therapist trying to find a way to keep her spark alive with her husband after a cycling accident causes them to reassess their relationship. As we meet her family, friends, neighbours and clients, remarkable yet relatable stories of love, lust and forbidden desire emerge.
Legacies (CW) – Thursday, October 25
For the last decade, the iconic heroes and villains of The Vampire Diaries and The Originals have captivated audiences worldwide. They left an enduring legacy of love and family in their wake, which continues in Legacies, a thrilling new drama that tells the story of the next generation of supernatural beings at The Salvatore School for the Young and Gifted. It's here that Klaus Mikaelson's daughter, 17-year-old Hope Mikaelson; Alaric Saltzman's twins, Lizzie and Josie Saltzman; and other young adults — including political scion MG and the mysterious Landon Kirby — come of age in the most unconventional way possible, nurtured to be their best selves…in spite of their worst impulses.
Will these young witches, vampires and werewolves become the heroes they want to be — or the villains they were born to be? As they fight to protect their secret, their town of Mystic Falls and eventually the world, they will have to rely on ancient folklore and tales to learn how to battle their far-reaching enemies.
Chilling Adventures of Sabrina (Netflix) – Friday, October 26
Chilling Adventures of Sabrina imagines the origin and adventures of Sabrina the Teenage Witch as a dark coming-of-age story that traffics in horror, the occult and, of course, witchcraft. Tonally in the vein of Rosemary's Baby and The Exorcist, this adaptation finds Sabrina wrestling to reconcile her dual nature — half-witch, half-mortal — while standing against the evil forces that threaten her, her family and the daylight world humans inhabit.
Tell Me a Story (CBS All Access) – Wednesday, October 31
Tell Me A Story takes the world's most beloved fairy tales and reimagines them as a dark and twisted psychological thriller. Set in modern-day New York City, the first season of this serialized drama interweaves "The Three Little Pigs," "Little Red Riding Hood" and "Hansel and Gretel" into an epic and subversive tale of love, loss, greed, revenge and murder.
Homecoming (Amazon) – Friday, November 2
Homecoming is a mind-bending psychological thriller starring Julia Roberts and directed by Sam Esmail. Heidi Bergman (Roberts) is a caseworker at the Homecoming Transitional Support Center, a Geist Group facility helping soldiers transition back to civilian life. Walter Cruz (Stephan James) is one of these soldiers, eager to begin the next phase of his life. Overseeing Heidi and the facility is Colin Belfast (Bobby Cannavale), an ambitious company man whose manic demands point to questionable motives.
Four years later, Heidi has started a new life, living with her mother (Sissy Spacek) and working as a small-town waitress, when a Department of Defense auditor (Shea Whigham) comes to her with questions about why she left the Homecoming facility. Heidi begins to realize that there's a whole other story behind the story she's been telling herself.
The Kominsky Method (Netflix) – Friday, November 16
The sun isn't setting yet on the once famous Sandy Kominsky and his longtime agent Norman Newlander. Academy Award winners Michael Douglas (Kominsky) and Alan Arkin (Newlander) star as two friends tackling life's inevitable curveballs as they navigate their later years in Los Angeles, a city that values youth and beauty. Both comedic and emotional, The Kominsky Method is an 8-episode, half-hour single camera show created by 8-time Emmy Award nominee Chuck Lorre.
Escape at Dannemora (Showtime) – Sunday, November 18
Escape at Dannemora is based on the stranger-than-fiction prison break in upstate New York in the summer of 2015 which spawned a statewide manhunt for two convicted murderers, aided in their escape by a married female prison employee who carried on months-long affairs with both men. Benicio del Toro plays convicted murderer Richard Matt, an artistic yet intimidating force within the prison, who masterminds the escape. Patricia Arquette plays Tilly Mitchell, a working class wife and mother who supervises the prison tailor shop and becomes sexually involved with both men, ultimately agreeing to hide hacksaw blades in frozen hamburger meat to help them get out. Paul Dano plays David Sweat, a convicted cop-killer who may have genuine feelings for Tilly and becomes a reluctant partner in Richard Matt's plot.
The Little Drummer Girl (AMC) – Monday, November 19
Blurring the fine lines between love and hate; truth and fiction; and right and wrong; The Little Drummer Girl weaves a suspenseful and explosive story of espionage and high-stakes international intrigue. Set in the late 1970s, the pulsating thriller follows Charlie (Florence Pugh), a fiery actress and idealist whose resolve is tested after she meets the mysterious Becker (Alexander Skarsgård,) while on holiday in Greece. It quickly becomes apparent that his intentions are not what they seem, and her encounter with him entangles her in a complex plot devised by the spy mastermind Kurtz (Michael Shannon). Charlie takes on the role of a lifetime as a double agent while remaining uncertain of her own loyalties.
Also of Interest: