Fall signals the beginning of awards season for Hollywood studios, with the majority of the major theatrical releases switching from summer's superheroes to adult dramas. That doesn't mean the final months of 2017 will be completely lacking in comic book-inspired movies, comedies, or horror films, but it does mean mature audiences looking for more serious, character-driven stories will have a less difficult time finding something worth checking out in theaters.
Among this fall's most anticipated films are new entries in the Star Wars, Thor, Blade Runner, and Kingsman film franchises. The year-end offerings also include a sprinkling of animated movies aimed at the family crowd, and for horror fans the much-anticipated release of It, based on Stephen King's bestselling novel, helps kick off the fall season. But for the most part, the last months of the year belong to dramas starring A-list actors including Denzel Washington, Tom Hanks, Meryl Streep, Jake Gyllenhaal, Kate Winslet, Jessica Chastain, Idris Elba, and Tom Cruise.
Here's a look ahead at this fall's most anticipated releases, listed in release date order.
September 2017
Home Again (September 8) starring Reese Witherspoon, Michael Sheen, Candice Bergen, and Lake Bell
The Plot: Home Again stars Reese Witherspoon as Alice Kinney in a modern romantic comedy. Recently separated from her husband, (Sheen), Alice decides to start over by moving back to her hometown of Los Angeles with her two young daughters. During a night out on her 40th birthday, Alice meets three aspiring filmmakers who happen to be in need of a place to live. Alice agrees to let the guys stay in her guest house temporarily, but the arrangement ends up unfolding in unexpected ways.
Alice's unlikely new family and new romance comes to a crashing halt when her ex-husband shows up, suitcase in hand. Home Again is a story of love, friendship, and the families we create. And one very big life lesson: Starting over is not for beginners.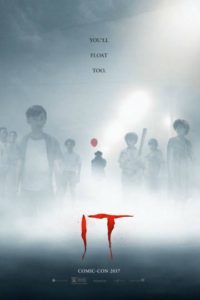 It (September 8) starring Bill Skarsgard, Jaeden Lieberher, Jeremy Ray Taylor, Sophia Lillis, Finn Wolfhard, and Wyatt Oleff
The Plot: When children begin to disappear in the town of Derry, Maine, a group of young kids are faced with their biggest fears when they square off against an evil clown named Pennywise, whose history of murder and violence dates back for centuries.
American Assassin (September 15) starring Dylan O'Brien, Sanaa Lathan, Taylor Kitsch, Michael Keaton, and Shiva Negar
The Plot: American Assassin follows the rise of Mitch Rapp (O'Brien), a CIA black ops recruit under the instruction of Cold War veteran Stan Hurley (Keaton). The pair is then enlisted by CIA Deputy Director Irene Kennedy (Lathan) to investigate a wave of apparently random attacks on both military and civilian targets. Together the three discover a pattern in the violence leading them to a joint mission with a lethal Turkish agent (Negar) to stop a mysterious operative (Kitsch) intent on starting a World War.
mother! (September 15) starring Jennifer Lawrence and Javier Bardem
The Plot: A couple's relationship is tested when uninvited guests arrive at their home, disrupting their tranquil existence. From filmmaker Darren Aronofsky, mother! stars Jennifer Lawrence, Javier Bardem, Ed Harris and Michelle Pfeiffer in a psychological thriller about love, devotion and sacrifice.
Battle of the Sexes (September 22) starring Steve Carell, Emma Stone, Andrea Riseborough, Sarah Silverman, Bill Pullman, and Alan Cumming
The Plot: The electrifying 1973 tennis match between World number one Billie Jean King (Stone) and ex-champ and serial hustler Bobby Riggs (Carell) was billed as the BATTLE OF THE SEXES and became the most watched televised sports event of all time. The match caught the zeitgeist and sparked a global conversation on gender equality, spurring on the feminist movement. Trapped in the media glare, King and Riggs were on opposites sides of a binary argument, but off-court each was fighting more personal and complex battles.
With a supportive husband urging her to fight the Establishment for equal pay, the fiercely private King was also struggling to come to terms with her own sexuality, while Riggs gambled his legacy and reputation in a bid to relive the glories of his past. Together, Billie and Bobby served up a cultural spectacle that resonated far beyond the tennis courts and animated the discussions between men and women in bedrooms and boardrooms around the world.
Kingsman: The Golden Circle (September 22) starring Colin Firth, Julianne Moore, Taron Egerton, Mark Strong, Halle Berry, Sir Elton John, Channing Tatum, Pedro Pascal, and Jeff Bridges
The Plot: Kingsman: The Secret Service introduced the world to Kingsman – an independent, international intelligence agency operating at the highest level of discretion, whose ultimate goal is to keep the world safe. In Kingsman: The Golden Circle, our heroes face a new challenge. When their headquarters are destroyed and the world is held hostage, their journey leads them to the discovery of an allied spy organization in the US called Statesman, dating back to the day they were both founded. In a new adventure that tests their agents' strength and wits to the limit, these two elite secret organizations band together to defeat a ruthless common enemy, in order to save the world, something that's becoming a bit of a habit for Eggsy…
The LEGO Ninjago Movie (September 22) featuring the voices of Jackie Chan, Justin Theroux, Dave Franco, and Olivia Munn
The Plot: In this big-screen NINJAGO adventure, the battle for NINJAGO City calls to action young Master Builder Lloyd, aka the Green Ninja, along with his friends, who are all secret ninja warriors. Led by Master Wu, as wise-cracking as he is wise, they must defeat evil warlord Garmadon, The Worst Guy Ever, who also happens to be Lloyd's dad. Pitting mech against mech and father against son, the epic showdown will test this fierce but undisciplined team of modern-day ninjas who must learn to check their egos and pull together to unleash their inner power of Spinjitzu.
Stronger (September 22) starring Jake Gyllenhaal, Tatiana Maslany, and Miranda Richardson
The Plot: Stronger is the inspiring true story of Jeff Bauman, an ordinary man who captured the hearts of his city and the world to become the symbol of hope following the infamous 2013 Boston Marathon bombing. Jake Gyllenhaal stars as Jeff, a 27-year-old, working-class Boston man who was at the marathon to try and win back his ex-girlfriend Erin (Maslany). Waiting for her at the finish line when the blast occurs, he loses both his legs in the attack. After regaining consciousness in the hospital, Jeff is able to help law enforcement identify one of the bombers, but his own battle has just begun. He tackles months of physical and emotional rehabilitation with the unwavering support of Erin and his family. It is Jeff's deeply personal account of the heroic journey that tests a family's bond, defines a community's pride and inspires his inner courage to overcome devastating adversity. Filled with raw emotion, humanity and humor, Stronger is the inspirational real-life story of the man who became the living embodiment of "Boston Strong."
American Made (September 29) starring Tom Cruise, Domhnall Gleeson, Sarah Wright, and Jesse Plemons
The Plot: Tom Cruise reunites with his Edge of Tomorrow director, Doug Liman, in this international escapade based on the outrageous (and real) exploits of a hustler and pilot unexpectedly recruited by the CIA to run one of the biggest covert operations in U.S. history.
October 2017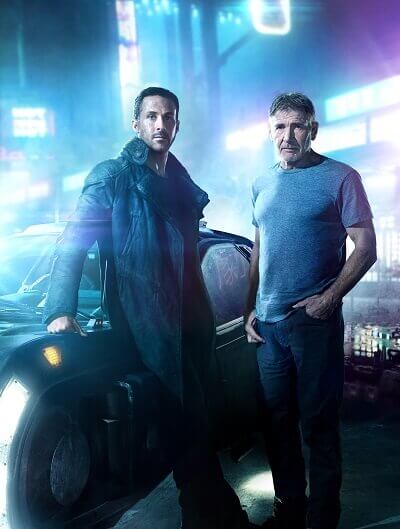 Blade Runner 2049
(October 6) starring Ryan Gosling, Harrison Ford, Ana de Armas, Robin Wright, Lennie James, Dave Bautista, and Jared Leto
The Plot: Thirty years after the events of the first film, a new blade runner, LAPD Officer K (Gosling), unearths a long-buried secret that has the potential to plunge what's left of society into chaos. K's discovery leads him on a quest to find Rick Deckard (Ford), a former LAPD blade runner who has been missing for 30 years.
The Mountain Between Us (October 6) starring Kate Winslet, Idris Elba, Dermot Mulroney, and Beau Bridges
The Plot: Stranded after a tragic plane crash, two strangers must forge a connection to survive the extreme elements of a remote snow covered mountain. When they realize help is not coming, they embark on a perilous journey across hundreds of miles of wilderness, pushing one another to endure and discovering strength they never knew possible.
Goodbye Christopher Robin (October 13) starring Domhnall Gleeson, Will Tilston, Margot Robbie, and Kelly Macdonald
The Plot: Goodbye Christopher Robin gives a rare glimpse into the relationship between beloved children's author A. A. Milne (Gleeson) and his son Christopher Robin (Tilston), whose toys inspired the magical world of Winnie the Pooh. Along with his mother Daphne (Robbie), and his nanny Olive (Macdonald), Christopher Robin and his family are swept up in the international success of the books; the enchanting tales bringing hope and comfort to England after the First World War. But with the eyes of the world on Christopher Robin, what will the cost be to the family?
Marshall (October 13) starring Chadwick Boseman, Josh Gad, Sterling K. Brown, Kate Hudson, Dan Stevens, and James Cromwell
The Plot: Long before he sat on the United States Supreme Court or claimed victory in Brown v. Board of Education, the landmark case that desegregated schools, Thurgood Marshall (Boseman) was a young rabble-rousing attorney for the NAACP. The new motion picture, Marshall, is the true story of his greatest challenge in those early days – a fight he fought alongside attorney Sam Friedman (Gad), a young lawyer with no experience in criminal law: the case of black chauffeur Joseph Spell (Brown), accused by his white employer, Eleanor Strubing (Hudson), of sexual assault and attempted murder.
Geostorm (October 20) starring Gerard Butler, Jim Sturgess, Abbie Cornish, Andy Garcia, Alexandra Maria Lara, Daniel Wu, and Ed Harris
The Plot: After an unprecedented series of natural disasters threatened the planet, the world's leaders came together to create an intricate network of satellites to control the global climate and keep everyone safe. But now, something has gone wrong—the system built to protect the Earth is attacking it, and it's a race against the clock to uncover the real threat before a worldwide geostorm wipes out everything…and everyone along with it.
Butler stars as Jake, a scientist who, along with his brother, Max, played by Sturgess, is tasked with solving the satellite program's malfunction. Cornish stars as Secret Service agent Sarah Wilson; Lara as Ute Fassbinder, the ISS astronaut who runs the space station; Wu as Cheng, the Hong Kong-based supervisor for the Dutch Boy Program; with Garcia as U.S. President Andrew Palma; and Harris as Secretary of State Leonard Dekkom.
Only the Brave (October 20) starring Josh Brolin, Miles Teller, Jennifer Connelly, Jeff Bridges, Taylor Kitsch, and James Badge Dale
The Plot: All men are created equal… then, a few become firefighters. Only the Brave, based on the true story of the Granite Mountain Hotshots, is the heroic story of one unit of local firefighters that through hope, determination, sacrifice, and the drive to protect families, communities, and our country become one of the most elite firefighting teams in the country. As most of us run from danger, they run toward it – they watch over our lives, our homes, everything we hold dear, as they forge a unique brotherhood that comes into focus with one fateful fire.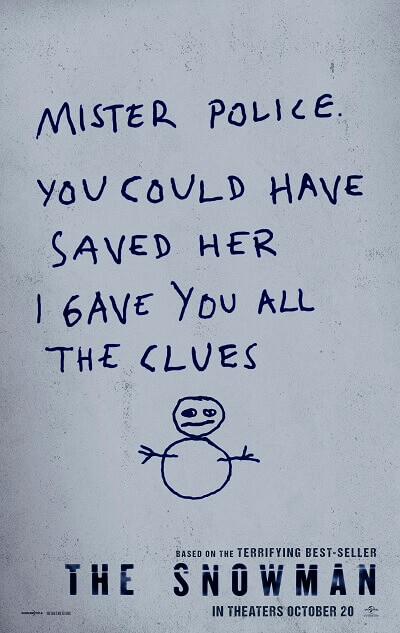 The Snowman (October 20) starring Michael Fassbender, Rebecca Ferguson, Charlotte Gainsbourg, Val Kilmer, and J.K. Simmons
The Plot: When an elite crime squad's lead detective (Fassbender) investigates the disappearance of a victim on the first snow of winter, he fears an elusive serial killer may be active again. With the help of a brilliant recruit (Ferguson), the cop must connect decades-old cold cases to the brutal new one if he hopes to outwit this unthinkable evil before the next snowfall.
All I See Is You (October 27) starring Blake Lively and Jason Clarke
The Plot: All I See Is You is the story of a blind woman (Lively) and her husband (Clarke). When her sight unexpectedly returns, she begins to discover the previously unseen and disturbing details about themselves, their marriage and their lives.
Jigsaw (October 27) starring Laura Vandervoort, Tobin Bell, Hannah Emily Anderson, Callum Keith Rennie, and Brittany Allen
The Plot: After a series of murders bearing all the markings of the Jigsaw killer, law enforcement find themselves chasing the ghost of a man dead for over a decade and embroiled in a new game that's only just begun. Is John Kramer back from the dead to remind the world to be grateful for the gift of life? Or is this a trap set by a killer with designs of their own?
Suburbicon (October 27) starring Matt Damon, Julianne Moore, Noah Jupe, and Oscar Isaac
The Plot: Suburbicon is a peaceful, idyllic suburban community with affordable homes and manicured lawns…the perfect place to raise a family, and in the summer of 1959, the Lodge family is doing just that. But the tranquil surface masks a disturbing reality, as husband and father Gardner Lodge (Damon) must navigate the town's dark underbelly of betrayal, deceit, and violence. This is a tale of very flawed people making very bad choices. This is Suburbicon.
Thank You for Your Service (October 27) starring Miles Teller, Haley Bennett, Joe Cole, Amy Schumer, and Keisha Castle-Hughes
The Plot: Thank You for Your Service follows a group of U.S. soldiers returning from Iraq who struggle to integrate back into family and civilian life, while living with the memory of a war that threatens to destroy them long after they've left the battlefield.
Fall Movie Preview – November and December – >