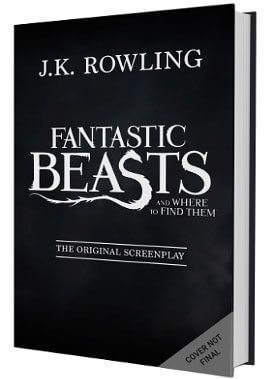 J.K. Rowling's screenplay for the upcoming return to the world of wizards, Fantastic Beasts and Where to Find Them, will be available in book form on November 19, 2016. Scholastic is publishing Rowling's first screenplay in the US and Canada the day after the film will be released in theaters. In addition to the hardcover book, an ebook edition will be available on Pottermore on November 19th.
"With any new writing from J.K. Rowling, we know that we are not only engaging her vast fan base, but are also building a new generation of readers," said Ellie Berger, President of Scholastic's U.S. Trade Division. "The much anticipated release of the Fantastic Beasts and Where to Find Them movie marks another magical and exciting moment for film lovers and readers everywhere, and we are absolutely delighted to publish J.K. Rowling's screenplay debut."
Fantastic Beasts was directed by Harry Potter veteran David Yates and produced by Rowling, David Heyman, Steve Kloves, and Lionel Wigram. The cast is led by Eddie Redmayne and includes Katherine Waterston, Colin Farrell, Jon Voight, Ron Perlman, Carmen Ejogo, Dan Fogler, Alison Sudol, Ezra Miller, Samantha Morton, Jenn Murray, and Faith Wood-Blagrove.
The Plot: Fantastic Beasts and Where to Find Them is a feat of imagination and an exciting adventure featuring an array of magical creatures and characters. The film opens in 1926 as Newt Scamander, played by Academy Award-winner Eddie Redmayne, has just completed a global excursion to find and document an extraordinary collection of magical creatures. Arriving in New York for a brief stopover, he might have come and gone without incident–were it not for a No-Maj (American for Muggle) named Jacob, a misplaced magical briefcase, and the escape of some of Newt's fantastic beasts, which could spell trouble for both the wizarding and No-Maj worlds.