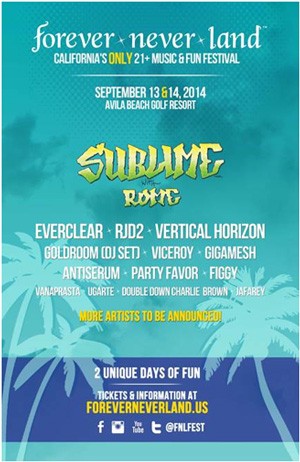 Sublime with Rome, Everclear, RJD2, Vertical Horizon, Goldroom (DJ Set), Viceroy, Gigamesh, Antiserum, Party Favor, Figgy, and Vanaprasta are the first acts to be announced for the first annual Forever Never Land festival running September 13-14 in Avila Beach, CA. The "music and fun" festival is for adults only (21 and up) and will feature music, food, and activities. Among the activities will be a 200′ water slide, volleyball courts, bounce castles, and laser tag games – and music.
According to the official festival announcement, guests can expect to be able to listen to music in four "interactive lands" with different themes and featuring different music genres.
"Forever Never Land is setting itself apart by bringing the fun and play back into the experience, while providing a balance of music and activities," stated Director of Sales and Marketing, Peter Delantar. "The goal was to assemble a unique and diverse lineup that caters to the 21+ audience, without narrowing in on a single genre. We want our guests to explore every stage and discover new music from acts, big or small."
"We want Forever Never Land to be more than just a music festival," said Founder and CEO Valerie Wang. "We've taken the best parts of our most memorable and fun life experiences, and combined them to create one monster weekend event where adults can be kids again. We've drawn inspiration from everything, including: summer camp, welcome week, spring break, adult kickball, scavenger hunts, foodie events, and much more."
For more information or to purchase tickets, visit www.foreverneverland.us.
-By Rebecca Murray
Follow Us On:
Stumble It!