20th Century Fox put on an impressive presentation at the 2015 CinemaCon in Las Vegas, bringing in actors and filmmakers including Paul Feig, Miles Teller, Kate Mara, Jamie Bell, Michael B Jordan, Rose Byrne, Jude Law, and Jason Statham, to promote their slate of films heading to theaters this year and in 2016. And after the presentation, Fox released more details on films on their schedule including plots, release dates, and cast lists.
Here's the complete list of what Fox has in store for movie fans in the next two years:
POLTERGEIST
Supernatural Thriller
Release: May 22, 2015, in 3D
Director: Gil Kenan
Screenplay by: David Lindsay-Abaire
Produced by: Sam Raimi, Robert Tapert, Roy Lee
Cast: Sam Rockwell, Rosemarie DeWitt, Jared Harris, Jane Adams
SYNOPSIS
Legendary filmmaker Sam Raimi and director Gil Kenan contemporize the classic tale about a family whose suburban home is haunted by evil forces. When the terrifying apparitions escalate their attacks and hold the youngest daughter captive, the family must come together to rescue her before she disappears forever.
SPY
Comedy
Release: June 5, 2015
Director: Paul Feig
Written by: Paul Feig
Producers: Peter Chernin, Jenno Topping, Paul Feig, Jessie Henderson
Cast: Melissa McCarthy, Jason Statham, Rose Byrne, Bobby Cannavale, Allison Janney, Curtis "50 Cent" Jackson, Miranda Hart, and Jude Law
SYNOPSIS
Susan Cooper (Melissa McCarthy) is an unassuming, deskbound CIA analyst, and the unsung hero behind the Agency's most dangerous missions. But when her partner (Jude Law) falls off the grid and another top agent (Jason Statham) is compromised, she volunteers to go deep undercover to infiltrate the world of a deadly arms dealer, and prevent a global disaster.
PAPER TOWNS
Drama
Release: July 24, 2015
Director: Jake Schreier
Screenplay by: Scott Neustadter & Michael H. Weber, based upon the book by John Green
Producers: Wyck Godfrey, p.g.a; Marty Bowen, p.g.a.
Cast: Nat Wolff, Cara Delevingne, Austin Abrams, Halston Sage, Justice Smith
SYNOPSIS
Adapted from the bestselling novel by author John Green (The Fault in Our Stars), PAPER TOWNS is a coming-of-age story centering on Quentin and his enigmatic neighbor Margo, who loved mysteries so much she became one. After taking him on an all-night adventure through their hometown, Margo suddenly disappears–leaving behind cryptic clues for Quentin to decipher. The search leads Quentin and his quick-witted friends on an exhilarating adventure that is equal parts hilarious and moving. Ultimately, to track down Margo, Quentin must find a deeper understanding of true friendship–and true love.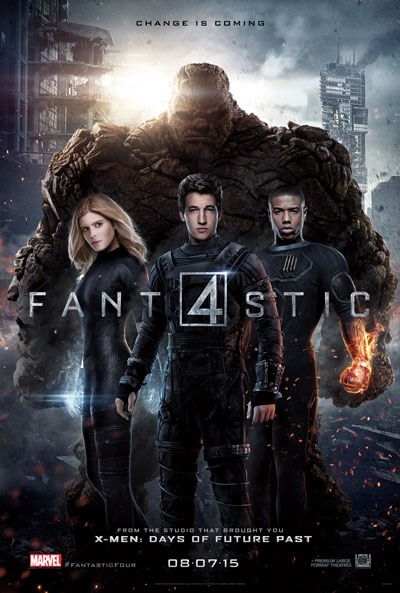 FANTASTIC FOUR
Action-adventure
Release: August 7, 2015
Director: Josh Trank
Screenplay: Jeremy Slater and Simon Kinberg & Josh Trank, based on the Marvel Comic Book by Stan Lee and Jack Kirby
Producers: Simon Kinberg, Matthew Vaughn, Hutch Parker, Robert Kulzer, Gregory Goodman
Cast: Miles Teller, Michael B. Jordan, Kate Mara, Jamie Bell, Toby Kebbell, Reg E. Cathey, Tim Blake Nelson
SYNOPSIS
FANTASTIC FOUR, a contemporary re-imagining of Marvel's original and longest-running superhero team, centers on four young outsiders who teleport to an alternate and dangerous universe, which alters their physical form in shocking ways. Their lives irrevocably upended, the team must learn to harness their daunting new abilities and work together to save Earth from a former friend turned enemy.
HITMAN: AGENT 47
Action-Adventure
Release: August 28, 2015
Director: Aleksander Bach
Screenplay: Skip Woods and Michael Finch
Producers: Charles Gordon, Adrian Askarieh, Alex Young, Skip Woods
Cast: Rupert Friend, Hannah Ware, Zachary Quinto, Ciarán Hinds, Thomas Kretschmann
SYNOPSIS
HITMAN: AGENT 47 centers on an elite assassin who was genetically engineered from conception to be the perfect killing machine, and is known only by the last two digits on the barcode tattooed on the back of his neck. He is the culmination of decades of research – and forty-six earlier Agent clones — endowing him with unprecedented strength, speed, stamina and intelligence. His latest target is a mega-corporation that plans to unlock the secret of Agent 47's past to create an army of killers whose powers surpass even his own. Teaming up with a young woman who may hold the secret to overcoming their powerful and clandestine enemies, 47 confronts stunning revelations about his own origins and squares off in an epic battle with his deadliest foe.
MAZE RUNNER: THE SCORCH TRIALS
Action-Adventure
September 18, 2015
Director: Wes Ball
Producers: Ellen Goldsmith-Vein, Wyck Godfrey, Marty Bowen, Lee Stollman
Cast: Dylan O'Brien, Kaya Scodelario, Thomas Brodie-Sangster, Giancarlo Esposito, Aidan Gillen, Barry Pepper, Lili Taylor, and Patricia Clarkson.
SYNOPSIS
In this next chapter of the epic Maze Runner saga, Thomas (Dylan O'Brien) and his fellow Gladers face their greatest challenge yet: searching for clues about the mysterious and powerful organization known as WCKD. Their journey takes them to the Scorch, a desolate landscape filled with unimaginable obstacles. Teaming up with resistance fighters, the Gladers take on WCKD's vastly superior forces and uncover its shocking plans for them all.
VICTOR FRANKENSTEIN
Horror Thriller
Release: October 2, 2015
Director: Paul McGuigan
Screen Story and Screenplay by: Max Landis
Producer: John Davis
Cast: Daniel Radcliffe, James McAvoy, Jessica Brown Findlay, Andrew Scott, Freddie Fox
SYNOPSIS
When Dr. Victor Frankenstein (James McAvoy) and his trusted assistant Igor (Daniel Radcliffe) go too far in their noble attempts to aid humanity, Victor's obsession turns to madness. He then unleashes his final creation –a monstrous figure that holds unimaginable terror for anyone its path.

THE PEANUTS MOVIE
3D Animation
Release: November 6, 2015
Director: Steve Martino
Producers: Craig Schulz, Bryan Schulz, Cornelius Uliano, Michael J. Travers, Paul Feig
SYNOPSIS
Charlie Brown, Snoopy, Lucy, Linus and the rest of the beloved "Peanuts" gang make their big-screen debut, like they've never been seen before, in state of the art 3D animation. Snoopy, the world's most lovable beagle – and flying ace – embarks upon his greatest mission as he takes to the skies to pursue his arch-nemesis The Red Baron, while his best pal, Charlie Brown, begins his own epic quest. From the imagination of Charles M. Schulz and the creators of the ICE AGE films, THE PEANUTS MOVIE will prove that every underdog has his day.
THE MARTIAN
Action-Adventure, in 3D
Release: November 25, 2015
Director: Ridley Scott
Producers: Ridley Scott, Simon Kinberg, Michael Schaefer, Mark Huffam, Aditya Sood
Cast: Matt Damon, Jessica Chastain, Kristen Wiig, Kate Mara, Michael Pena, Jeff Daniels, Chiwetel Ejiofor, Donald Glover
SYNOPSIS
During a manned mission to Mars, Astronaut Mark Watney (Matt Damon) is presumed dead after a fierce storm and left behind by his crew. But Watney has survived and finds himself stranded and alone on the hostile planet. With only meager supplies, he must draw upon his ingenuity, wit and spirit to subsist and find a way to signal to Earth that he is alive. Millions of miles away, NASA and a team of international scientists work tirelessly to bring "the Martian" home, while his crewmates concurrently plot a daring, if not impossible, rescue mission. As these stories of incredible bravery unfold, the world comes together to root for Watney's safe return.
ALVIN AND THE CHIPMUNKS: THE ROAD CHIP
Comedy
Release: December 23, 2015
Director: Walt Becker
Producers: Janice Karman, Ross Bagdasarian
Screenplay: Adam Sztkiel, based on the characters Alvin and Chipmunks created by
Ross Bagdasarian
SYNOPSIS
Through a series of misunderstandings, Alvin, Simon and Theodore come to believe that Dave is going to propose to his new girlfriend in New York City…and dump them. They have three days to get to him and stop the proposal, saving themselves not only from losing Dave but possibly from gaining a terrible stepbrother.
JOY
Comedy-drama
Release: December 25, 2015
Director: David O. Russell
Written by: David O. Russell
Cast: Jennifer Lawrence, Robert De Niro, Bradley Cooper, Edgar Ramirez, Isabella Rossellini, Diane Ladd, Virginia Madsen
SYNOPSIS
JOY is the story of a family across four generations and the woman who rises to become founder and matriarch of a powerful family business dynasty. The story is inspired by the life and times of inventor entrepreneur Joy Mangano, creator of Ingenious Designs with over $1 billion in sales, as well as inspired by elements from the lives of other historic business pioneers.
THE REVENANT
Action-Adventure
Release: December 25, 2015 (limited); January 8, 2016 (wide)
Director: Alejandro G. Iñárritu
Screenplay: Mark Smith and Alejandro G. Iñárritu, based on the novel by Michael Punke
Producers: Arnon Milchan, Steve Golin, David Kanter, Keith Redmon, Alejandro González Iñárritu
Cast: Leonardo DiCaprio, Tom Hardy, Domhnall Gleeson, Will Poulter, Lukas Haas
SYNOPSIS
Deep in the unchartered American wilderness, hunter Hugh Glass (Leonardo DiCaprio) is severely injured and left for dead by a traitorous member of his team, John Fitzgerald (Tom Hardy). With sheer will as his only weapon, Glass must navigate a hostile environment, a brutal winter and warring tribes in a relentless quest to survive and exact vengeance on Fitzgerald. Inspired by a true story, THE REVENANT is directed and co-written by renowned filmmaker and Academy Award-winner Alejandro G. Iñárritu (Birdman, Babel).
KUNG FU PANDA 3
Animation, in 3D
Release: January 29, 2016, in 3D
Directors: Jennifer Yuh Nelson and Alessandro Carloni
Producer: Melissa Cobb
Cast: Jack Black, Angelina Jolie, Dustin Hoffman, Jackie Chan, Seth Rogen, Lucy Liu, David Cross, James Hong, Randall Duk Kim, Bryan Cranston, Rebel Wilson
SYNOPSIS
In 2016, one of the most successful animated franchises in the world returns with its biggest comedy adventure yet, KUNG FU PANDA 3. When Po's long-lost panda father suddenly reappears, the reunited duo travels to a secret panda paradise to meet scores of hilarious new panda characters. But when the supernatural villain Kai begins to sweep across China defeating all the kung fu masters, Po must do the impossible—learn to train a village full of his fun-loving, clumsy brethren to become the ultimate band of Kung Fu Pandas!
DEADPOOL
Release: February 12, 2016
MISS PEREGRINE'S HOME FOR PECULIAR CHILDREN
Release: March 4, 2016
KEEPING UP WITH THE JONESES
Release: April 1, 2016
EDDIE THE EAGLE
Release: April 29, 2016
X-MEN: APOCALYPSE
Release: May 27, 2016
INDEPENDENCE DAY
Release: June 24, 2016
MIKE & DAVE NEED WEDDING DATES
Release: July 8, 2016
ICE AGE 5
Release: July 15, 2016, in 3D
GAMBIT
Release: October 7, 2016
TROLLS
Release: November 4, 2016, in 3D
ASSASSIN'S CREED
Release: December 21, 2016
THE GREATEST SHOWMAN ON EARTH
Release: December 25, 2016
-By Rebecca Murray
Follow Us On: