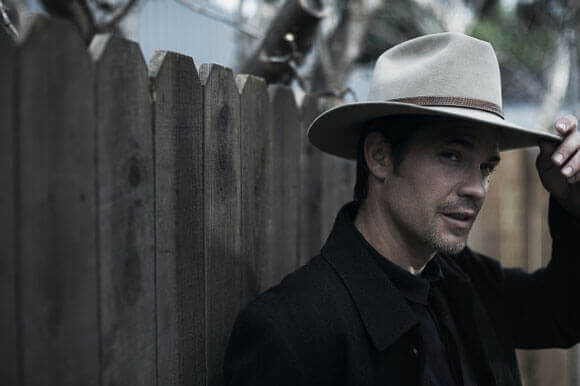 FX has confirmed 2014 premiere dates for returning series
Justified
,
Archer
, and
The Americans
, as well as the new animated series
Chozen
which moved from FXX to FX and will air after
Archer
. In addition, FXX will pair up
Ali G: Rezurection
with
Legit
beginning in February 2004.
"Winter has become an incredibly active time for the launch of original series for FX Networks," said Chuck Saftler, President of Program Strategy and COO, FX Networks. "FXX provides us with greater scheduling flexibility and our recent deal for
Ali G: Rezurection
created a strategic opportunity to pair it with
Legit
, two compatible shows that will play very well together. This allows us the opportunity to use
Archer
– our highest-rated comedy – as a powerful launch springboard for
Chozen
and help us build our animation brand."
Justified
– Season 5 Returns on January 7, 2014 at 10pm ET/PT
The Details: This season, Deputy U.S. Marshal Raylan Givens (Timothy Olyphant) confronts the Crowes, a deadly, lawless family from Florida intent on settling in Harlan with new criminal enterprises in mind. Meanwhile, Boyd Crowder (Walton Goggins) struggles to free his imprisoned fiancée Ava (Joelle Carter) as he partners with the Dixie Mafia's Wynn Duffy (Jere Burns). The series stars Emmy Award nominated Timothy Olyphant as Deputy U.S. Marshal Raylan Givens. Series co-stars are Emmy Award nominated Walton Goggins, Nick Searcy, Joelle Carter, Jacob Pitts, Erica Tazel, and Jere Burns.
Archer
– Season 5 Premieres on January 13, 2014 at 10pm ET/PT
The Details:
Archer
is an animated, half-hour comedy that revolves around the International Secret Intelligence Service (ISIS) and the lives of its employees. Although their work of espionage, reconnaissance missions, wiretapping and undercover surveillance is daunting and dangerous, every covert operation and global crisis is actually just another excuse for the ISIS staff to undermine, sabotage and betray each other for personal gain. The series features the voices of H. Jon Benjamin, Aisha Tyler, Jessica Walter, Chris Parnell, Judy Greer, Amber Nash, Adam Reed, and Lucky Yates.
Chozen
– Season 1 Debuts on January 13, 2014 at 10:30pm ET/PT
The Details:
Chozen
is an animated comedy about its title character, "Chozen," a gay white rapper fresh out of prison. Armed with a new message, Chozen is on a quest for redemption and to claim his rightful position as the world's top rap artist. His music and lyrics take aim at the stereotypes of machismo and misogyny that is synonymous with rap music. And his new world view has been shaped by his time in prison. The voice cast features Bobby Moynihan, Hannibal Buress, Michael Pena, Nick Swardson, Kathryn Hahn, and Method Man.
Legit
– Season 2 Kicks Off in February on FXX
The Details:
Legit
, which aired on FX in its inaugural season, was one of the most critically acclaimed new comedies this year. Jim Jefferies, who co-created the series with Peter O'Fallon, stars as an edgy, foul mouthed stand-up comedian from Australia, in his mid-30s and living in LA, struggling to make his life and career more "legit," only to find it a difficult, uncomfortable uphill struggle every step of the way. Jim is encouraged in his quest by Steve, his neurotic best friend and roommate, a cyber law library salesman who struggles to stay on his feet in the wake of a divorce, and Steve's brother, Billy, who suffers from advanced staged Muscular Dystrophy and is confined to a wheelchair. Legit stars Jim Jefferies as Jim, Dan Bakkedahl as Steve, and DJ Qualls as Billy.
Ali G: Rezurection
– On FXX in February
The Details:
Ali G: Rezurection
includes every episode of
Da Ali G Show
with new, original introductions starring Baron Cohen, along with the BAFTA Award winning English episodes of
Da Ali G Show
that never aired on American television and
The Best of Ali G
.
Da Ali G Show
debuted on Channel 4 in the U.K. in 2003. A character created by Baron Cohen, Ali G originated on Channel 4's
The 11 O'clock Show
and was spun off into
Da Ali G Show
. Baron Cohen produced 18 episodes, with 12 of those episodes airing on HBO in the U.S. Alongside the eponymous Ali G,
Da Ali G Show
also features the much beloved Borat and Bruno characters, both of whom later headlined critically-acclaimed feature films.
Sources: FX, FXX
-Posted by
Rebecca Murray
Follow Us On:
Stumble It!