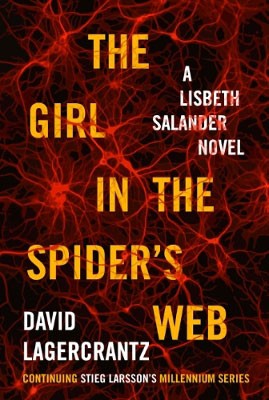 Filming's expected to begin in September on The Girl in the Spider's Web, the fourth book in Stieg Larsson's Millennium Series which has sold more than 86 million books. Books one through three of the series – The Girl with the Dragon Tattoo, The Girl Who Played with Fire, and The Girl Who Kicked the Hornet's Nest – have been made into Swedish-language films, with The Girl with the Dragon Tattoo remade as an English-language film starring Rooney Mara as Lisbeth Salander. Noomi Rapace played Lisbeth in the three Swedish-language films. The Girl in the Spider's Web will feature a new actress in the role of Lisbeth Salander.
Don't Breathe's director Fede Alvarez is set to direct the first film adaptation of journalist/novelist David Lagercrantz's bestselling book which furthers the adventures of Lisbeth Salander and Mikael Blomkvist. Alvarez, Steven Knight, and Jay Basu adapted the novel for the screen, and Alvarez is currently meeting with actresses to take on the lead role of Lisbeth. Scott Rudin, Søren Stærmose, Ole Søndberg, Amy Pascal, Elizabeth Cantillon, Eli Bush, and Berna Levin are on board as producers, with Anni Faurbye Fernandez, Line Winther Skyum Funch, Johannes Jensen, and David Fincher executive producing.
"I'm hugely excited and grateful for this opportunity," said writer/director Alvarez. "Sony has become family to me and I can't think of a more thrilling project to celebrate our relationship. Lisbeth Salander is the kind of character any director dreams of bringing to life. We've got a great script and now comes the most fun part – finding our Lisbeth."
According to Columbia Pictures, The Girl in the Spider's Web is targeting an October 5, 2018 theatrical release.
"In all of contemporary literature, Lisbeth Salander is completely sui generis – probably one of the greatest female literary characters of all time in my view," said President of Columbia Pictures Sanford Panitch. "Modern punk defiance personified, she is unforgettable in every incarnation, truly one of the most compelling characters we've seen in recent years. David Lagercrantz's brilliant work in continuing this remarkable series honors Stieg Larsson's masterpiece. We at Sony are so honored to be part of this series with Yellowbird, and we're so excited to be making an original film of The Girl in the Spider's Web. Fede Alvarez is the perfect choice to direct. Fede is an amazing director with a unique vision of the world. In particular, his talent and skill in creating psychological intensity will bring Lisbeth Salander back into popular movie culture with a roar."