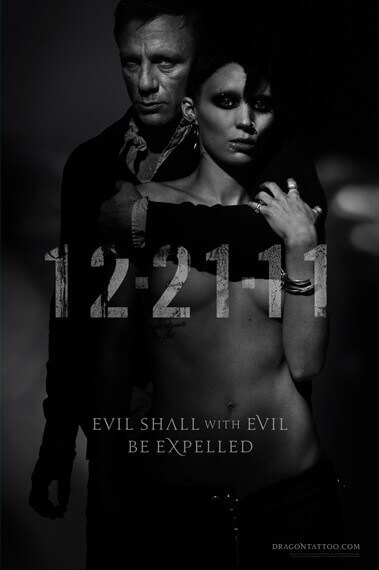 The English-language version of Stieg Larsson's bestselling novel has just picked up some additional financial backing.
From MGM and Sony Pictures:
MGM will become a financial partner on the upcoming Sony Pictures Entertainment film The Girl with the Dragon Tattoo, it was announced today by MGM Co-Chairmen and Chief Executive Officers Gary Barber and Roger Birnbaum and Sony Pictures Chairman and CEO Michael Lynton and Co-Chairman Amy Pascal. Sony will handle marketing and distribution, while MGM will handle select international television licensing for the film. The Girl With The Dragon Tattoo is part of the recently announced agreement between Sony and MGM to explore co-financing opportunities on future motion pictures produced by each of the respective studios for the next five years. They have most recently partnered on the highly anticipated Bond 23, set for worldwide release on November 9, 2012.
In recent years, the two studios have collaborated on numerous films, including Casino Royale, Quantum of Solace, 21, Yours, Mine And Ours, The Pink Panther, and the summer tent pole Kevin James comedy Zookeeper, which opens nationwide on July 8, 2011.
The Girl With The Dragon Tattoo, which will be released on December 21, 2011, is the first film in the three-picture adaptation of Stieg Larsson's literary blockbuster The Millennium Trilogy. Directed by David Fincher and starring Daniel Craig and Rooney Mara, the film is based on the first novel in the trilogy, which altogether have sold more than 50 million copies in 46 countries and become a worldwide phenomenon. The screenplay is by Steven Zaillian.
Source: MGM/Sony
-By Rebecca Murray
Follow Us On:
Stumble It!