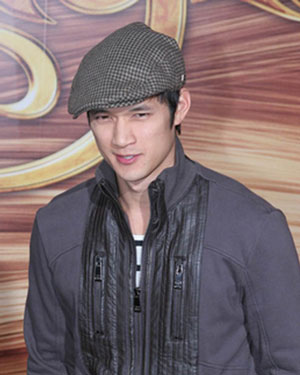 The last major role has been cast in ABC Family's Shadowhunters based on the Mortal Instruments book series by Cassandra Clare. Harry Shum Jr, best known for his role as Mike Chang in Glee, has been cast as the powerful warlock Magnus Bane.
ABC Family previously announced Katherine McNamara will play Clary Fray, Dominic Sherwood is Jace Wayland, and Alberto Rosende has been cast as Simon. The Shadowhunters cast also includes Emeraude Toubia as Isabelle Lightwood, Matthew Daddario as Alec Lightwood, and Isaiah Mustafa as Luke Garroway. Alan Van Sprang will be a recurring guest star as Valentine. McG is executive producing and will also direct season one episode one.
The Plot:
Shadowhunters follows 18-year-old Clary Fray, who finds out on her birthday that she is not who she thinks she is but rather comes from a long line of Shadowhunters – human-angel hybrids who hunt down demons. When her mother, Jocelyn, is kidnapped, Clary is thrown into the world of demon hunting with mysterious Shadowhunter Jace and her best friend, Simon. Now living among faeries, warlocks, vampires and werewolves, Clary begins a journey of self-discovery as she learns more about her past and what her future may hold.
Magnus Bane is the high warlock of Brooklyn. With eccentric style, he's fierce, cunning and keeps his cards close to his chest. Though he looks like he's in his 20s, he's hundreds of years old – which makes him wiser and wary of others.
-By Rebecca Murray
Follow Us On: