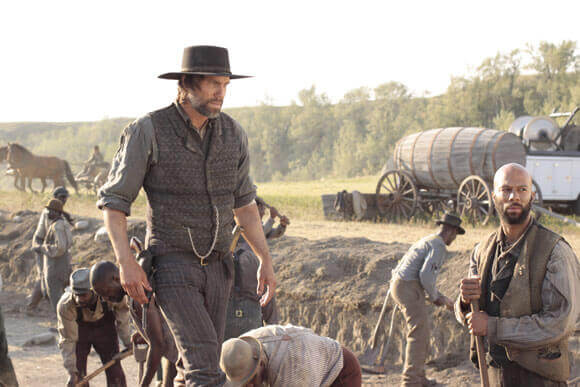 AMC has set a return date for the popular dramatic series
Hell on Wheels
. The network just announced season three will premiere on Saturday, August 3, 2013 at 9pm. Anson Mount, Colm Meaney and Common return in starring roles, with John Wirth executive producing.
Season two averaged 2.4 million viewers.
Commenting on the upcoming season, Wirth said it "will be a Western about work — the building of the railroad, the binding of the nation after the Civil War, and the rehabilitation of the men who lived and fought their way through those exploits. This season we're placing Cullen Bohannon at the center of the show, and taking him away from the revenge motive which propelled him into the series."
"AMC has raised the bar for television dramas, they've set the gold standard. There's nothing else like this on television," added Wirth.
The Plot:
Season 3 of
Hell on Wheels
lands in the year 1867, the third year of the building of the transcontinental railroad. Cullen Bohannon leaves his vengeance-seeking behind and invests in the new American landscape…the beginnings of big business, big religion, and the new role of Wall Street in the White House. Bohannon must contend with racism, greed and murder as he single-mindedly leads the Union Pacific in its race across the country against the Central Pacific Railroad. The high stakes corporate race, the environmental costs and degradation of the native peoples' way of life are themes that resonate deeply in today's America.
Source: AMC
Follow Us On: