Fox's Hell's Kitchen is switching things up for its upcoming 18th season. The new season will find returning contestants going up against series newcomers as they vie for the opportunity to earn a position at Gordon Ramsay's Hell's Kitchen Restaurant at Caesars Palace in Las Vegas.
Ramsay's new Las Vegas restaurant opened in January 2018 and has a Hell's Kitchen-vibe. The menu includes Hell's Kitchen favorites including Pan-Seared Scallops, Lobster Risotto, and Beef Wellington in a setting that's described as experimental and immersive.
Season 18 is set to premiere on Friday, September 28, 2018 at 9:00pm. Eight returning chefs who didn't make it to the top spot during their seasons will compete with eight ambitious Hell's Kitchen newcomers. In addition to the position at Gordon Ramsay's restaurant, the season 18 winner will receive $250,000 for being the last chef standing.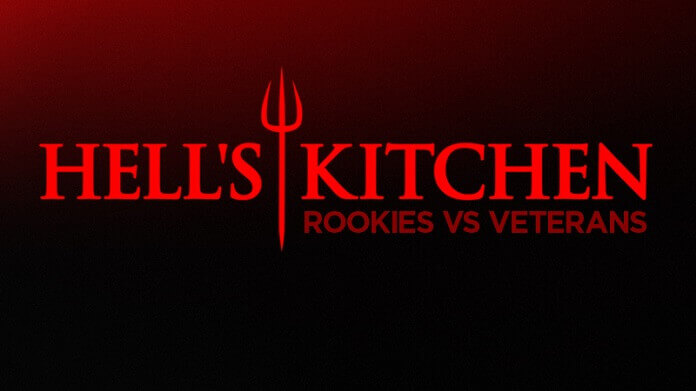 The season 18 contestants are:
The Blue Team (Veterans)
Ariel Fox (Season 6 – 3rd Place)
Hometown: Brooklyn, NY

Bret Hauser (Season 14 – left due to injury)
Hometown: Fort Lauderdale, FL

Heather Williams (Season 16 – Runner Up)
Hometown: Easton, PA

Jen Gavin (Season 4 – 4th Place)
Hometown: Chicago, IL

Kevin Cottle (Season 6 – Runner-Up)
Hometown: Connecticut / Massachusetts

Roe DiLeo (Season 13 – 5th Place)
Hometown: Dallas, TX

T Gregorie (Season 14 – Runner-Up)
Hometown: Draper, VA

Trevor McGrath (Season 8 – 4th Place)
Hometown: New York, NY
The Red Team (Rookies)
Chris Mendonca
Hometown: Boston, MA

Chris Motto
Hometown: Baton Rouge, LA

Gizzy Barton
Hometown: Atlanta, GA

Jose DeJesus
Hometown: Bronx, NY

Kanae Houston
Hometown: Los Angeles, CA

Mia Castro
Hometown: Miami Beach, FL

Scotley Innis
Hometown: Atlanta, GA

Scott Popovic
Hometown: Cleveland, OH
The first episode of season 18 will find the rookie chefs cooking up "the best versions of their signature dishes and the veterans will attempt to create those same dishes, foregoing the making of their own signature dishes, in the process. The winning team will be rewarded with a first-class meal at restaurant Charcoal and will be joined by Ramsay."