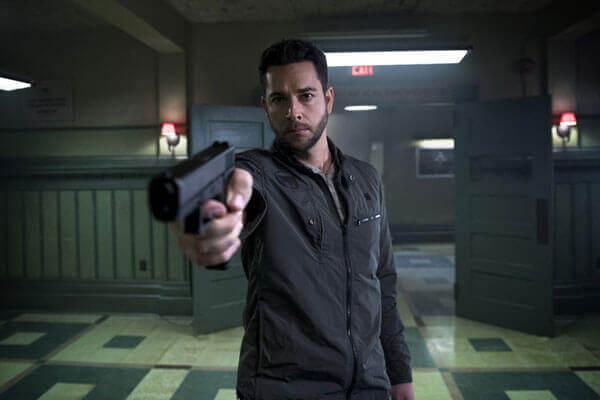 NBC's Heroes Reborn will have its world premiere at this year's Toronto International Film Festival. The series will debut as part of the new Primetime lineup at the 40th TIFF. Six television programs were selected overall: Heroes Reborn, Casual, CROMO, Keith Richards: Under the Influence, The Returned (Les Revenants), and Trapped (Ófærð). In addition to screening the TV shows, Q&As will be held with the series' creators.
"The growing convergence and artistic equality between television and cinema has ushered in a new era of high-quality, small-screen programming," said Piers Handling, Director and CEO of TIFF. "Primetime aims to spotlight the cross-pollination of these two moving image cultures, showcasing the bold and impressive work that's being produced on an international scale."
"Television has entered an artistic renaissance; we're seeing, among other things, many filmmakers experimenting with that medium to broaden their forms of storytelling," said Festival Programmer Michael Lerman. "The strongest storytellers are masters of change, and TV offers a narrative flexibility, a platform and a luxury for filmmakers to explore ways of telling longer stories that delve deeper into their characters."
Details on the shows screening at TIFF, courtesy of NBC:
Casual created by Zander Lehmann and directed by Jason Reitman, USA – World Premiere
Festival favourite Jason Reitman (Juno, Up in the Air) directs this wonderfully endearing and quirky comedy from Hulu and Lionsgate that follows the story of young internet entrepreneur, Alex Cole, and his recently divorced therapist sister, Valerie. The creator of a popular dating website, Alex pledges to mentor Valerie as she attempts to embrace the craziness of single life. Meanwhile, he's not above using his newfound success to supply himself with an endless string of beautiful but emotionally shallow women, none of whom will ever make him happy. Living under the same roof for the first time in years, brother and sister soon discover that while life can be both heartbreaking and hilarious, it's anything but casual. Starring Tommy Dewey, Michaela Watkins and Tara Lynne Barr. The Festival presents the series premiere of Casual, episodes 1 and 2.
CROMO created by Lucía Puenzo and Nicolás Puenzo, Argentina – World Premiere
Directors Lucía Puenzo (XXY, Wakolda), Pablo Fendrik (Blood Appears, El Ardor) and Nicolás Puenzo team up for this timely eco-thriller, based on the real stories of a team of scientists that set out to expose environmental crimes in the dangerous and exotic wetlands of northern Argentina. Starring Germán Palacios, Guillermo Pfening, Emilia Attias, Alberto Ajaka and Malena Sanchez. The Festival presents the series premiere of CROMO, episodes 1, 2 and 8.
Heroes Reborn created by Tim Kring, USA – World Premiere
From creator/executive producer Tim Kring, who imagined NBC's original critically-acclaimed 2006 Heroes series, comes Heroes Reborn, an epic 13-episode event series that chronicles the lives of ordinary people who discover they possess extraordinary abilities. The series stars Jack Coleman, Zachary Levi, Robbie Kay, Kiki Sukezane, Ryan Guzman, Gatlin Green, Henry Zebrowski, Judith Shekoni, Danika Yarosh and Rya Kihlstedt. The Festival presents the series premiere of Heroes Reborn, episode 1: "Brave New World" and episode 2: "Odessa".
Keith Richards: Under the Influence directed by Morgan Neville, USA – World Premiere
From Academy Award-winning director Morgan Neville (Twenty Feet from Stardom), this beautifully documented portrait of Keith Richards takes audiences on the road to discover the genesis of his sound as a songwriter, guitarist and performer. This Netflix Original is rich with music and archival materials, drawing upon hours of new, intimate and reflective conversations with Keith. It charts the journey of his sound and influences, back to the music that inspired him then and now — electric blues, country honky-tonk, southern soul, and more — as he creates his first solo album in 23 years.
The Returned (Les Revenants) created by Fabrice Gobert, France – International Premiere
The recently deceased return to (some kind of) life in a small mountain village, in this International Emmy-winning supernatural drama series based on Robin Campillo's 2004 film Les Revenants, from creator Fabrice Gobert (Simon Werner a disparu…). Starring Anne Consigny, Clotilde Hesme, Céline Sallette, Fédéric Pierrot, Laurent Lucas, Grégory Gadebois, Guillaume Gouix, Pierre Perrier, Ana Girardot, Yara Pilartz, Jenna Thiam, Swann Nambotin and Jean-François Sivadier. The Festival presents the season 2 premiere of The Returned, episodes 1 and 2.
Trapped (Ófærð) created by Baltasar Kormákur, Iceland – World Premiere
In this noir-ish thriller series from director Baltasar Kormákur (Everest, The Deep, 101 Reykjavik), an unidentified torso is found in a small town in Iceland. When a blizzard makes the road out of town impassable, order disintegrates into chaos as the residents realize they are all possible murder suspects or all possibly in danger. A ruthless and troubled cop risks his life, his family and the town's safety, in order to solve this mystery in the hope of recovering his tarnished reputation. Starring Ólafur Darri Ólafsson, Ilmur Kristjánsdottir, Ingvar Sigurðsson, Nina Dögg Filipusdottir and Bjarne Henriksen. The Festival presents the series premiere of Trapped, episode 1.
Follow Us On: