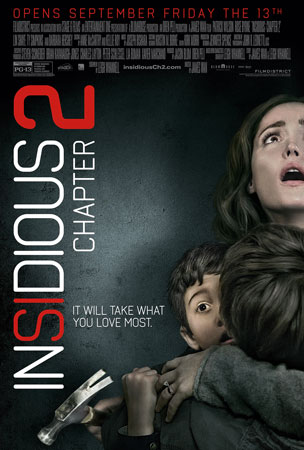 Filmmaker James Wan wants to freak out moviegoers not once but twice with an Insidious double feature. Insidious: Chapter 2 will open in theaters on Friday the 13th and the night before select theaters will be offering a special pairing of Insidious and Insidious: Chapter 2.

Announcing the special theatrical event, FilmDistrict President of Distribution Jim Orr said, "Insidious: Chapter 2 picks up exactly where the original left off – making a double feature all the more gratifying. As we open the next chapter, this gives Insidious fans the chance to take the edge-of-their-seat thrill ride to the next level."

For ticket info and a list of theaters screening the two horror films back-to-back, visit www.insidiousch2.com.

The Insidious sequel finds the Lambert family struggling to "uncover a terrifying secret that has left them dangerously connected to the spirit world." Reprising their roles are Patrick Wilson, Rose Byrne, Barbara Hershey, Lin Shaye, and Ty Simpkins. Wan directs from a script by Leigh Whannell.

Source: FilmDistrict

Follow Us On:
Stumble It!