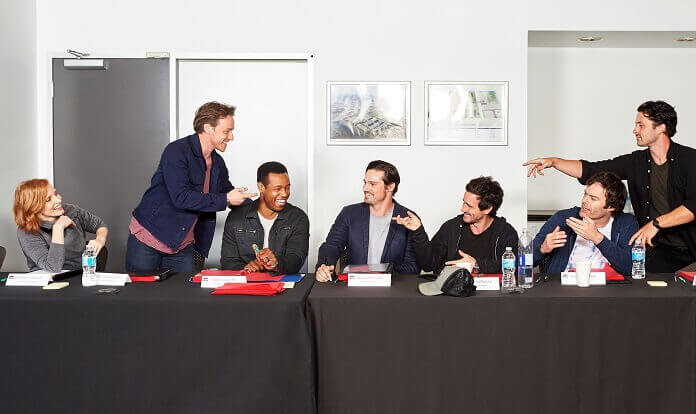 New Line Cinema's diving back into the terrifying world of Pennywise the Clown with the second part of the horror film, It. It: Chapter Two has just begun shooting, according to the studio, with filming taking place in Toronto, Canada.
The events in It: Chapter Two take place 27 years after the events in the first film. The childhood friends, nicknamed the Losers Clubs, are forced into reuniting as adults after it's discovered Pennywise has returned to terrorize the town of Derry, Maine.
The young cast from It – Jaeden Lieberher as Bill, Wyatt Oleff as Stanley, Sophia Lillis as Beverly, Finn Wolfhard as Richie, Jeremy Ray Taylor as Ben, Chosen Jacobs as Mike, and Jack Dylan Grazer as Eddie – will be returning for It Chapter Two. The adult cast taking on the characters introduced in the original film but 27 years older are James McAvoy (Split, upcoming Glass) stars as Bill, Oscar nominee Jessica Chastain (Zero Dark Thirty, Mama) as Beverly, Bill Hader (HBO's Barry, The Skeleton Twins) as Richie, Isaiah Mustafa (Shadowhunters: The Mortal Instruments) as Mike, Jay Ryan (Mary Kills People) as Ben, James Ransone (The Wire) as Eddie, and Andy Bean (Allegiant, Power) as Stanley.
Bill Skarsgard is once again slipping into the character of Pennywise the Clown.
Andy Muschietti returns to direct the film adaptation of the second half of Stephen King's bestselling novel. It screenwriter Gary Dauberman adapted the story for the screen, with Barbara Muschietti, Dan Lin, and Roy Lee on board producing. Marty Ewing, Seth Grahame-Smith, and David Katzenberg are serving as executive producers.
Muschietti's behind the scenes team includes director of photography Checco Varese (The 33), Oscar-winning production designer Paul D. Austerberry (The Shape of Water), editor Jason Ballantine (It, Mad Max: Fury Road), and Oscar-nominated costume designer Luis Sequeira (The Shape of Water, Mama).
New Line Cinema and Warner Bros Pictures are targeting a September 6, 2019 theatrical release date. The first film opened on September 8, 2017 and grossed $123 million domestically over its opening weekend. It set a new record as the highest grossing R-rated horror film, finally pushing 1973's The Exorcist out of the top spot in the record books. The critically acclaimed R-rated horror film earned $700 million worldwide before exiting theaters.