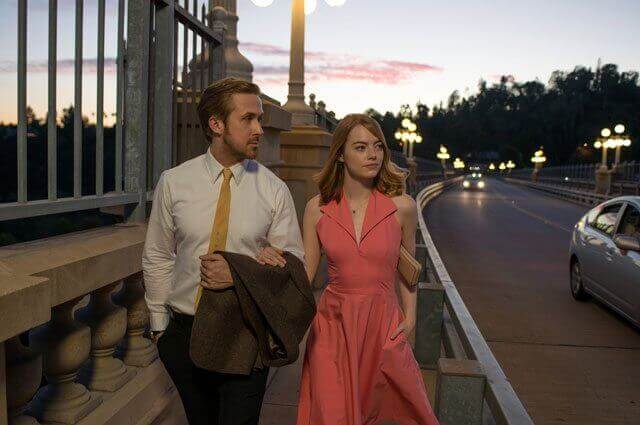 The soundtrack to Lionsgate's La La Land will be released by Interscope Records on December 9, 2016, simultaneous with the release of the musical in limited theaters. The soundtrack was produced by Justin Hurwitz, Marius de Vries, and Steven Gizicki, and features tracks by Emma Stone, Ryan Gosling, Callie Hernandez, Sonoya Mizuno, Justin Hurwitz, and Jessica Rothe.
Justin Hurwitz, Benj Pasek and Justin Paul wrote the new songs featured in what's considered to be one of this year's Oscar frontrunners. The soundtrack is available to pre-order now, and anyone who pre-orders will receive an instant download of "City of Stars" featuring Ryan Gosling and Emma Stone.
In addition to Gosling and Stone, the cast of La La Land includes J.K. Simmons, John Legend, Rosemarie DeWitt, Finn Wittrock, Callie Hernandez, Sonoya Mizuno, Jessica Rothe, Tom Everett Scott, and Josh Pence. Lionsgate and Summit will expand La La Land into additional theaters on December 16th.
The Plot: La La Land tells the story of Mia [Emma Stone], an aspiring actress, and Sebastian [Gosling], a dedicated jazz musician, who are struggling to make ends meet in a city known for crushing hopes and breaking hearts. Set in modern day Los Angeles, this original musical about everyday life explores the joy and pain of pursuing your dreams.
La La Land Soundtrack Track List:
1. "Another Day Of Sun" (La La Land Cast)
2. Someone In The Crowd" (Emma Stone, Callie Hernandez, Sonoya Mizuno, Jessica Rothe)
3. "Mia & Sebastian's Theme" (Justin Hurwitz)
4. "A Lovely Night" (Ryan Gosling, Emma Stone)
5. "Herman's Habit" (Justin Hurwitz)
6. "City of Stars" (Ryan Gosling)
7. "Planetarium" (Justin Hurwitz)
8. "Summer Montage / Madeline" (Justin Hurwitz)
9. "City of Stars" (Ryan Gosling, Emma Stone)
10. "Start A Fire" (John Legend)
11. "Engagement Party" (Justin Hurwitz)
12. "Audition (The Fools Who Dream)" (Emma Stone)
13. "Epilogue" (Justin Hurwitz)
14. "The End" (Justin Hurtwitz)
15. "City of Stars (Humming)" (Justin Hurwitz featuring Emma Stone)