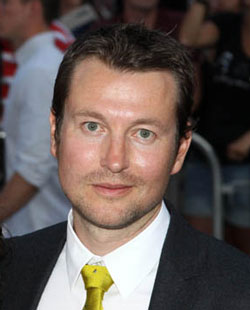 Leigh Whannell will write and direct the third film of the Insidious franchise, Insidious: Chapter 3, set up at Focus Features, eOne, Sony Pictures, and Blumhouse Productions. Focus has the U.S. distribution rights and will be sending the third Insidious installment out into theaters on April 3, 2015. Blumhouse Productions' Jason Blum will be producing the new Insidious film along with Oren Peli and James Wan.
Whannell wrote the first two Insidious movies and also played a supporting role in the feature films. He's also responsible for the Saw franchise along with James Wan and recently wrote and starred in Cooties and The Mule.
The Insidious franchise kicked off in 2011 by earning the title of the most profitable film of the year. Made for around $1.5 million, Insidious starring Patrick Wilson and Rose Byrne rang up $97 million before exiting theaters. Insidious 2 followed in 2013 and earned $160 million worldwide (also off of a tiny budget).
Filming is expected to begin on Insidious: Chapter 3 on July 7, 2014.
"It's with great pleasure that we turn the Insidious franchise over to the co-creator Leigh Whannell," said Focus Features CEO Peter Schlessel. "We are all excited to see in what direction Leigh takes the next installment and we are also glad to welcome James Wan to his new role as producer."
Jason Blum, founder and CEO of Blumhouse added, "We are all excited to bring a third film to audiences and know James and Leigh have great things in store for our fans. eOne and SPWA have been incredible partners on the Insidious franchise and we look forward to working together along with Focus Features, James Wan and Leigh on the next installment."
eOne will be handling the film's distribution in Canada, UK, and Spain. Sony is in charge of distribution in all other territories.
Source: Focus Features
-By Rebecca Murray
Follow Us On:
Stumble It!