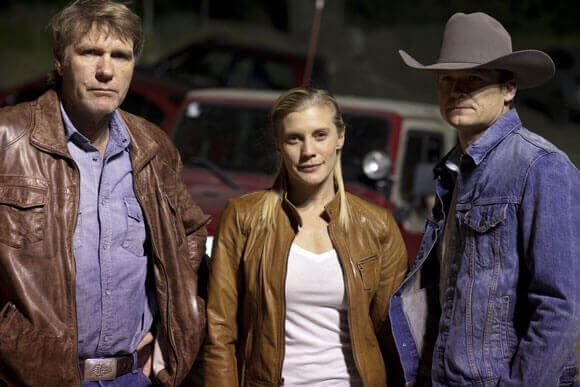 A&E has made it official: Longmire will be returning for another season. The network has just given the popular dramatic series an order for a 10 episode third season, with Robert Taylor returning to star.
"Longmire has become one of the most compelling dramas on television with a devoted audience and we are so proud of the show," said David McKillop, General Manager and Executive Vice President of A&E. "We are thrilled to continue our wonderful partnership with Warner Horizon Television, the production team, and the talented cast and crew led by the exceptional Robert Taylor."
Season two of Longmire averaged 3.7 million viewers, surging to 4.4 million for the season two finale, and is the number one dramatic series for A&E. In addition to Taylor, the series also features Lou Diamond Phillips, Katee Sackhoff, Bailey Chase, Cassidy Freeman, and Adam Bartley.
The Plot:
Longmire is based on the Walt Longmire Mystery novels by best-selling author Craig Johnson. The series follows its central character, Walt Longmire (Taylor), the charismatic, dedicated and unflappable sheriff of Absaroka County, Wyoming. Widowed, Longmire is a man in psychic repair that buries his pain behind a brave face and dry wit but is steadfast in his dedication to both his job and community.