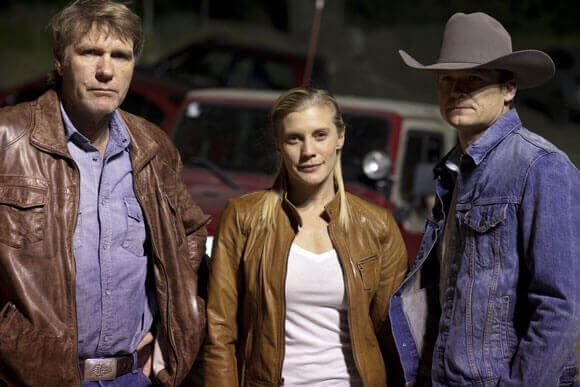 The popular dramatic series Longmire will return for a third season on A&E on Monday, June 2, 2014 at 10pm ET/PT. Based on the bestselling book series by Craig Johnson, Longmire's become the network's #1 dramatic series with season two averaging 6 million viewers.
The cast is led by Robert Taylor and includes Katee Sackhoff, Bailey Chase, Lou Diamond Phillips, Cassidy Freeman, and Adam Bartley.
The Plot:
In season three of Longmire, Walt finds himself reeling from a series of devastating traumas. His best friend, Henry Standing Bear (Phillips), is going to prison on murder charges. Deputy Branch Connally (Chase) has been shot by a mysterious "white warrior," and Vic Moretti (Sackhoff) is unsure if she has shaken a stalker from her past. Walt is forced to shoulder all of these burdens and try to find a way to set the world right again, but one person knows he can't do this alone – his daughter, Cady (Freeman). She will fight in court to try and clear Henry's name while Walt continues to unravel the dark, mysterious secrets of Absaroka County. The deeper Walt digs into all these mysteries, the closer he'll get to uncovering the real bloody hand behind his wife's murder.
In the season three premiere, Walt deals with the aftermath of Henry's arrest and Branch's shooting.The search for the shooter, however, is complicated by Branch's insistence that it was someone known to be already dead.
Source: A&E
-By Rebecca Murray
Follow Us On:
Stumble It!