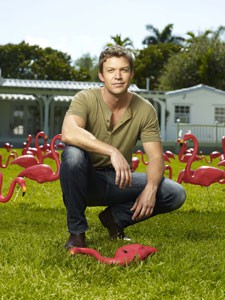 A&E Network has announced the premiere dates of returning series
The Glades
and
Longmire
. The popular shows will be back on air on May 27, 2013, with
Longmire
returning for season two and
The Glades
back for season four.
Per A&E, the dramatic series
The Glades
will air at 9pm ET/PT and the crime thriller
Longmire
will air at 10pm ET/PT.
The Glades
season three averaged 4.1 million viewers while
Longmire
's debut season earned it the #1 spot in A&E's original dramatic series viewers.
Details on
Longmire
:
Longmire
, based on the Walt Longmire Mystery novels by best-selling author Craig Johnson, returns for its second season with more murder, secrets and betrayals from Absaroka County, Wyoming. The new season finds reluctant hero Sheriff Walt Longmire (Robert Taylor) back in the saddle after coming to terms with the devastating loss of his wife and dedicated to serving his community. But storm clouds are brewing… Walt's reign as Sheriff hangs in the balance as he fights for re-election against rival, and his own deputy, Branch Connally (Bailey Chase). Walt's right hand deputy, Vic Moretti (Katee Sackhoff) is visited by the ghost of a past she'd rather forget. Walt's daughter Cady (Cassidy Freeman) searches for answers about her mother's murder, while Walt's possible connection to the death of his wife's killer threatens to sweep his loyal friend Henry Standing Bear (Lou Diamond Phillips) into the mix. As the open skies darken and the winds kick up, Walt and his deputies plunge head first into the storm… confronting the question: how will each react when it hits?
In the season premiere episode of
Longmire
, a prison transfer goes awry and Walt urgently pursues a serial killer and his fellow escapees, who have taken hostages, up a mountain. Facing an impending storm with very limited resources, Walt's mettle is put to the test and hypothermic hallucinations force him to face his past.
Details on
The Glades
:
Season four of
The Glades
is packed with even more mystery, intrigue and fun from Florida's favorite homicide investigator – the disarmingly charming Detective Jim Longworth (Matt Passmore). From haunted plantations to rum-soaked shot girls and even a zombie apocalypse, Longworth is once again solving murders that can only happen in the Sunshine State. This season also promises more drama on the personal front for Longworth, Carlos (Carlos Gomez), Manus (Michelle Hurd) and Daniel (Jordan Wall) as friends and relatives from near and far arrive on the scene. But the big question remains to be answered as Longworth waits for Callie (Kiele Sanchez) to accept his marriage proposal, or not.
In the season four premiere episode of
The Glades
, Longworth must delve into a 150-year-old ghost story to solve a murder when the dead body of an heiress is found in a haunted plantation house.
Source: A&E Network
Follow Us On: