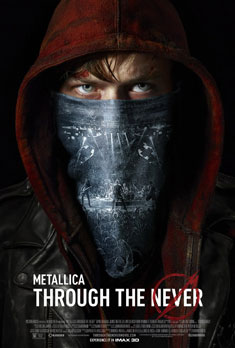 James Hetfield, Lars Ulrich, Kirk Hammett, and Robert Trujillo from Metallica will be making in-theater appearances in support of the 3D movie Metallica Through the Never. Picturehouse is releasing the film, directed by Nimrod Antal and starring Metallica and Dane DeHaan, in IMAX theaters on September 27, 2013 before it gets an October 4th release in conventional theaters. And members of the band are set to appear at the following IMAX screenings:

Thursday, September 26

James Hetfield:
San Francisco, CA: Theater TBD, 10:00 p.m.
San Francisco, CA: AMC EMERYVILLE, 12:15 a.m. (9/27)

Lars Ulrich:
Los Angeles, CA: CHINESE, 10 p.m. screening
Los Angeles, CA: Theater TBD 12:01 a.m. (9/27)

Kirk Hammett:
Milwaukee, WI: AMC MAYFAIR (Wauwatosa), 10:00 p.m.
Chicago, IL: AMC WOODFIELD (Schaumburg), 12:15 a.m. (9/27)

Robert Trujillo:
New Brunswick: AMC NEW BRUNSWICK 18, 10:00 p.m.
Philadelphia: AMC FRANKLIN MILLS, 12:01 a.m. (9/27)

Friday, September 27

Lars Ulrich:
Riverside, CA: AMC TYLER GALLERIA, 4:30 p.m.
Norwalk, CA: AMC NORWALK, 7:35 p.m.

Kirk Hammett:
Houston, TX: AMC GULF POINT, 4:40 p.m.
Dallas, TX: AMC NORTHPARK, 10:00 p.m.

Robert Trujillo:
Washington, DC: REGAL MAJESTIC 20 (Silver Springs), 7:30 p.m.
Boston, MA: AMC BOSTON COMMONS 19, 12:10 a.m. (9/28)

The Plot:

Filmmaker Nimród Antal immerses audiences in a bracing, raw and visceral cinematic experience with spectacular live performance footage of Metallica's most iconic songs — created exclusively for the film — combined with a bold, narrative story featuring imagery drawn from the band's trailblazing iconography. Dane DeHaan portrays Trip, a young roadie sent on an urgent mission, during Metallica's roaring live set in front of a sold-out arena. The film features dazzling pyrotechnics, the most elaborate live-performance stage ever built and state-of-the-art 3-D photography, captured using up to 24 cameras simultaneously.



Source: Picturehouse

Follow Us On:
Stumble It!