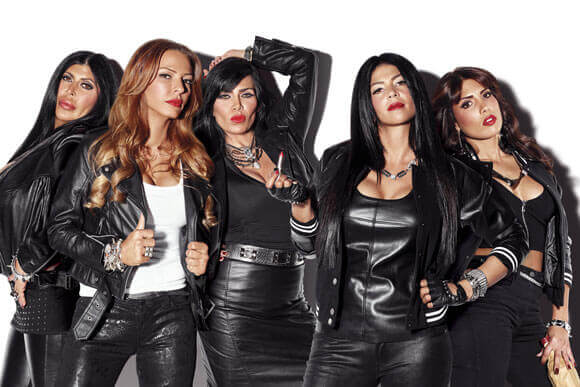 VH1's
Mob Wives
is adding some fresh blood when it returns for season four on December 5, 2013 at 10pm ET/PT. The series will bring back fan favorites Renee Graziano, Drita D'Avanzo and Big Ang and will be adding in Alicia DiMichele and Natalie Guercio. DiMichele and Guercio are from Philly but, according to VH1, "their New York ties run deep."
"Philly and New York mobsters, just by nature of proximity, have mostly been known to be friendly with one another," said series creator/executive producer Jennifer Graziano. "And in most cases, it is no different amongst the wives – although Alicia is from Philly, her husband is a Brooklyn native. Renee and Eddie go back 30 years, so it was only natural for her to come in contact with his wife. The new women were an organic addition to our existing cast as even Natalie has New York roots and ties to some 'friendly faces.' Natalie's spitfire ways and Alicia's personal story about getting arrested and 'going down' with the mob offers a new perspective on what it means to 'live the lifestyle' or to be a 'mob wife.' We are looking forward to a fresh, new and rejuvenated season!"
Details on Mob Wives: New Blood:
VH1's
Mob Wives: New Blood
is a docu-soap series which follows the lives of a group of ("according to the federal government") associated women at a crossroads, struggling to establish their own identities and carry on while their loved ones do time for mob-related activities. Along the way they battle their friends, families and each other as they try to do what's best for themselves, their children, and their future.
At the end of season 3, Drita had finally decided to let her husband Lee back into her life – and also their two daughters' lives. Renee and her son AJ were mending their relationship following Renee's stint in rehab. And Ang, ever the 'godmother' to the group, was trying to do her best to remain neutral and not take sides. But when the new girls hit the scene and shake things up – how will the dynamic between the women be affected?
The New Cast Members:
Alicia DiMichele – Alicia is the wife of Eddie "Tall Guy" Garofalo, who has been indicted for racketeering, extortion, and conspiracy to murder. Sammy "The Bull" Gravano allegedly orchestrated the August 1990 murder of her father-in-law, Edward Garofolo Sr. based on orders from John Gotti. Ever the dutiful wife, Alicia worked in Eddie's trucking business where she too became entangled in illegal activities. She, like her husband, has been indicted, and has pled guilty to embezzlement. As she awaits a potential jail sentence, Alicia stays busy raising her 3 handsome sons and running her two designer boutiques. No one knows what her future truly holds, but if things come crashing down around Alicia yet again, her family is right there to help pick up the pieces.
Natalie Guercio – Natalie is the owner of her decades old family business, the Carto Funeral Home, which has a history of being the reputed go-to-spot for mob-related burials in South Philadelphia. It has been said that mobsters from all 5 families have come in contact with Natalie throughout her life. A single mom to her son Nunzio, Natalie continues the hustle to make ends meet and keep the family business afloat. Attracted to street guys all her life, Natalie's currently trying to date someone a little less connected… at least for now. While this sexy Sicilian siren gives off a cool first impression, under the surface she is pure fire–prepared to burn anyone who gets in her way.
Source: VH1
-Posted by
Rebecca Murray
Follow Us On:
Stumble It!