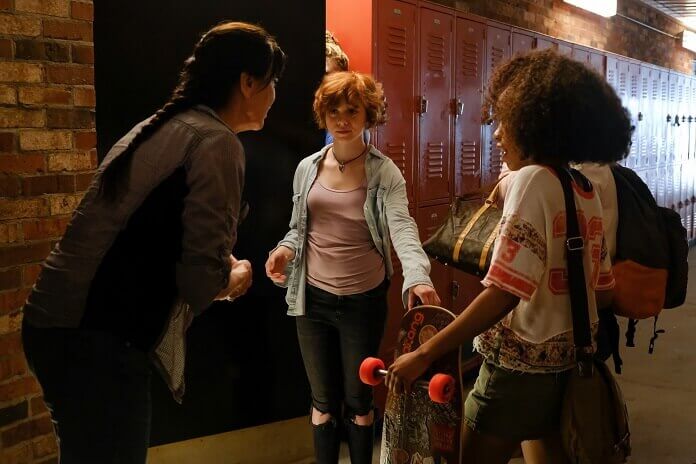 Filming is now underway on the live-action feature film Nancy Drew and the Hidden Staircase, directed by Katt Shea (Poison Ivy). Warner Bros. Home Entertainment, Ellen DeGeneres' A Very Good Production and Red 5 announced the start of production and confirmed It star Sophia Lillis is on board as the titular character.
The cast of the family-friendly film also includes Zoe Renee (The Quad) as George, Mackenzie Graham (The Purge TV series) as Bess, and Laura Slade Wiggins (Shameless) as Helen. Sam Trammell (True Blood) plays Carson Drew, Linda Lavin (Alice) is Flora, and Andrea Anders (Better Off Ted) is Nancy's Aunt Hannah.
Jay DeVon Johnson (Vice Principals), Andrew Matthew Welch (Taylor Tate's upcoming Ma), Jon Briddell (The Resident), Josh Daugherty (We Were Soldiers), Evan Castelloe (Queen Sugar), and Jesse C. Boyd (Hap and Leonard) are also on board the first Nancy Drew feature film in more than 10 years. Emma Roberts (American Horror Story, Scream Queens) starred in the most recent Nancy Drew movie released in 2007.
Nina Fiore and John Herrera (The Handmaid's Tale, The Vampire Diaries) wrote the script. Ellen DeGeneres, Jeff Kleeman, and Chip Diggins are producing, and Wendy S. Williams is executive producing.
Per Warner Bros. Pictures, Nancy Drew and the Hidden Staircase is shooting in and around Monroe, Georgia.
Attached is the official start-of-production release and an image from the first day of filming. It features Sophia Lillis (redhead, center) in discussion with director Katt Shea (left) and actress Zoe Renee (right, playing "George")
The Plot and Background: "The film focuses on Nancy Drew (Lillis), a smart high schooler with a penchant for keen observation and deduction, who stumbles upon the haunting of a local home. A bit of an outsider struggling to fit into her new surroundings, Nancy and her pals set out to solve the mystery, make new friends and establish their place in the community.
As the inspiration for Nancy Drew and the Hidden Staircase, Nancy Drew has intrigued and entertained audiences for nearly 90 years in books, comics, films and video games. An icon in American mystery novels, the character initially appeared in 1930, evolving through each incarnation to reflect the look, sensibilities and technologies of the times. Nancy Drew books have sold more than 100 million copies, and have been translated to accommodate young readers across the planet. A number of feature films and television series have featured the character, starting with Nancy Drew … Detective in 1938."