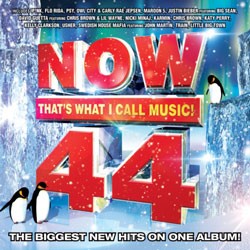 The NOW That's What I Call Music! franchise is still going strong and will be putting out volume 44 (yes, 44!) on November 6, 2012. The latest collection of hits features songs by Justin Bieber, Carly Rae Jepsen & Owl City, P!nk, and Katy Perry, and four "NOW What's Next" special preview tracks.

Vol. 44 includes 16 songs representing five #1s, seven top 10s, and five Top 20s. Ryan Star, Britt Nicole, The Ready Set, and Toy Connor earned the honor of contributing the preview tracks as up-and-coming artists.

After 15 years of NOW That's What I Call Music! CDs, the franchise has sold more than 200 million albums and has reached Billboard's Top 10 with every release in the numbered series.

NOW That's What I Call Music! Vol. 44 Track List
1. P!nk "Blow Me (One Last Kiss)"
2. Flo Rida "Whistle"
3. Psy "Gangnam Style"
4. Owl City & Carly Rae Jepsen "Good Time"
5. Maroon 5 "One More Night"
6. Justin Bieber Featuring Big Sean "As Long As You Love Me"
7. David Guetta Featuring Chris Brown & Lil Wayne "I Can Only Imagine"
8. Nicki Minaj "Pound The Alarm"
9. Karmin "Hello"
10. Chris Brown "Don't Wake Me Up"
11. Katy Perry "Wide Awake"
12. Kelly Clarkson "Dark Side"
13. Usher "Numb"
14. Swedish House Mafia Featuring John Martin "Don't You Worry Child"
15. Train "50 Ways To Say Goodbye"
16. Little Big Town "Pontoon"
The Bonus Tracks:
17. Ryan Star "Stay Awhile"
18. Britt Nicole "Gold"
19. The Ready Set "Give Me Your Hand (Best Song Ever)"
20. Toy Connor "Be In Love Tonight"

Source: EMI Music; Sony Music Entertainment; Universal Music Group

—Posted by Rebecca Murray