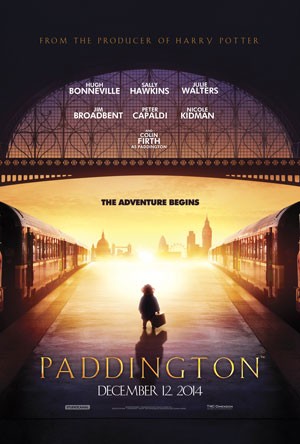 Paddington is going to make his Macy's Thanksgiving Day Parade balloon debut this year as The Weinstein Company and Macy's jointly just announced the Peruvian bear's participation in the annual holiday celebration. According to the official announcement, the Paddington balloon will feature the bear in mid-stride "as if making his way to catch a bus, train or plane on his globetrotting journey." He'll be dressed, of course, in his standard outfit of a blue overcoat and a red rain hat. The balloon will also show the adorable bear carrying his briefcase.
Paddington appeared as part of the parade back in 1990, but only as an inflatable on aboard a float. The Paddington balloon will be 34 feet wide and stand 60 feet tall.
The 88th Annual Macy's Thanksgiving Day Parade will air on NBC on November 27 from 9am – 12pm.
"Watching the Macy's Day Parade has been a Thanksgiving tradition in my family for as long as I can remember and having Paddington join the parade this year makes it all the more special. It's the perfect way to kick off the holiday season." said Bob Weinstein, co-chairman of The Weinstein Company.
"We are so thrilled to welcome Paddington back to the Macy's Parade family of classic characters," said Amy Kule, executive producer of Macy's Thanksgiving Day Parade. "With his trademark hat, coat and suitcase, Paddington is ready for his trip down the streets of Manhattan and into the hearts and homes of millions of spectators who will once again fall in love with the classic children's book character, just in time for his feature film debut this Christmas season."
Paddington the movie will open in theaters on December 25, 2014. Directed by Paul King, the cast includes Sally Hawkins, Hugh Bonneville, Jim Broadbent, Julie Walters, Peter Capaldi, and Nicole Kidman.
-By Rebecca Murray
Follow Us On: