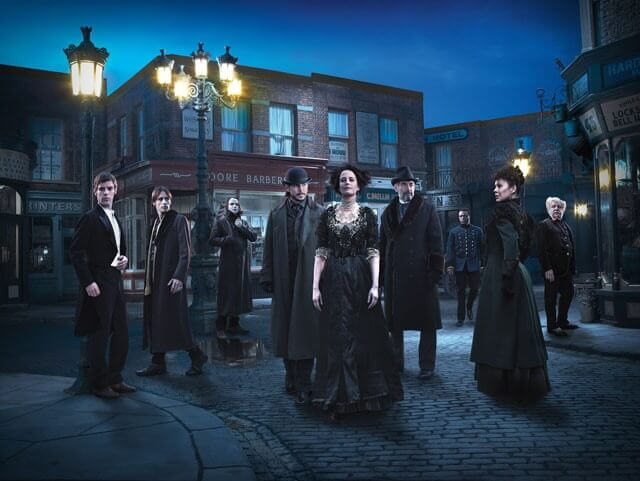 Penny Dreadful will be sticking around for a third season as just announced by Showtime President David Nevins. The series featuring iconic horror characters will film season three in Dublin, Ireland this fall with Showtime aiming for a 2016 premiere of its nine episode third season.
Penny Dreadful was created by John Logan and stars Josh Hartnett, Timothy Dalton, Eva Green, Harry Treadaway, and Reeve Carney. Logan writes and executive produces the series which will finish up season two on July 5, 2015 at 10pm ET/PT.
"John Logan's brilliant writing and this amazingly talented ensemble continue to draw a passionate, global fan base into the meticulously crafted world of Penny Dreadful," stated Nevins, announcing the renewal. "Together with our wonderful partners at Sky Atlantic, we're excited to see what new haunts John and his team have in store for season three."
"Penny Dreadful is the perfect fit for Sky Atlantic; truly international in scale and ambition but with a raft of British talent at its core, and filmed in the Republic of Ireland." said Zai Bennett, Director of Sky Atlantic. "I'm thrilled to have the series returning to the channel, and to once again be partnering with John Logan and continuing to work with our good friends at Showtime."
The Penny Dreadful Season Two Plot:
Penny Dreadful's second season has found Vanessa Ives (Eva Green) and Ethan Chandler (Josh Hartnett) forming a deeper bond as the group, including Sir Malcolm (Timothy Dalton), Dr. Frankenstein (Harry Treadaway), and Sembene (Danny Sapani), unite to banish the evil forces that threaten to destroy them. Meanwhile, Dorian Gray (Reeve Carney) and the Creature (Rory Kinnear) are all waging battles of their own. Two-time Tony® Award winner Patti LuPone appeared as a special guest star, a mysterious character of great importance in Vanessa's past. Helen McCrory returned as Evelyn Poole, the seductive spiritualist who poses a unique threat to our protagonists, along with Simon Russell Beale, who is back as eccentric Egyptologist Ferdinand Lyle. Additional guest stars include Douglas Hodge as a Scotland Yard investigator and Sarah Greene as Poole's powerful daughter, Hecate.
Penny Dreadful Interviews:
Follow Us On: