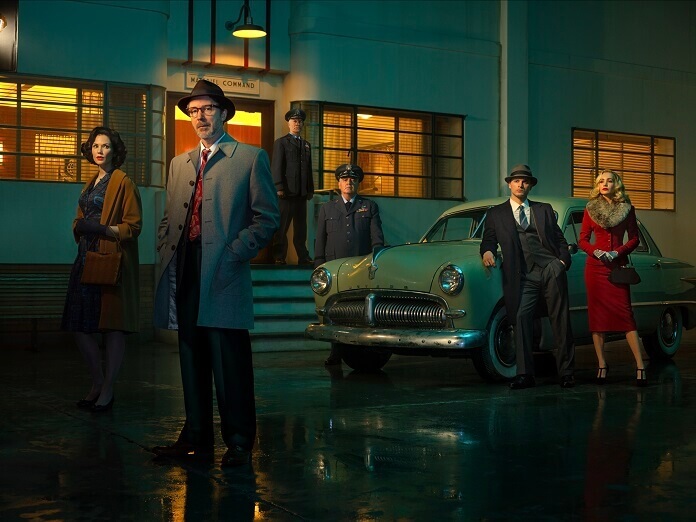 History's new sci-fi drama Project Blue Book scored big ratings right out of the gate. The series' first episode aired on January 8, 2019 and drew in 3.1 million viewers. That number's high enough to earn Project Blue Book the top spot among scripted cable shows debuting during the 2018/2019 primetime season. It's also the network's biggest scripted series premiere since Vikings bowed in 2013.
The critically acclaimed series hails from executive producer Robert Zemeckis. Based on true events, Project Blue Book's cast is led by Aidan Gillen (Game of Thrones) and Michael Malarkey (The Vampire Diaries). Neal McDonough (Legends of Tomorrow), Michael Harney (Orange is the New Black), Laura Mennell (The Man in the High Castle), and Ksenia Solo (Lost Girl) also star in the first season.
In addition to Robert Zemeckis, the first season's executive produced by Jack Rapke, Jackie Levine, Barry Jossen, and Arturo Interian. David O'Leary created the series and is a writer and co-executive producer. Sean Jablonski (Suits, Nip/Tuck) is the showrunner and also writes and executive produces.
Season one consists of 10 one-hour episodes. New episodes air on Thursdays at 10pm ET/PT.
The Plot:
Project Blue Book is inspired by the personal experiences of Dr. J. Allen Hynek (Gillen), a brilliant college professor recruited by the U.S. Air Force to spearhead this clandestine operation (Project Blue Book) that researched thousands of cases, over 700 of which remain unsolved to this day. Each episode will draw from the actual case files blending UFO theories with authentic historical events from one of the most mysterious eras in United States history. Throughout the season, true to life, documented occurrences will be explored such as the Flatwoods Monster incident that took place in West Virginia, the Gorman Dogfight of Fargo, North Dakota, the Lubbock Lights of Lubbock, Texas and the Chiles-Whitted UFO Incident of Montgomery, Alabama among many others. Delving into themes such as trust, instinct, real news vs. fake news and government cover-up, "Project Blue Book" straddles the world of science and the exploration of the unknown.
McDonough plays General James Harding, a confident and perceptive general responsible for heading the Air Force's new division – Project Blue Book. Harney is General Hugh Valentine, a sometimes cryptic yet powerful USAF General both overseeing and keeping a close eye on General Harding's new division. Mennell stars as Mimi Hynek, Dr. J. Allen Hynek's wife and loyal partner in life. Solo plays Susie Miller, a stylish, eye-catching woman with a confidence to be envious of and whose stealthy charm goes deeper than what meets the eye.