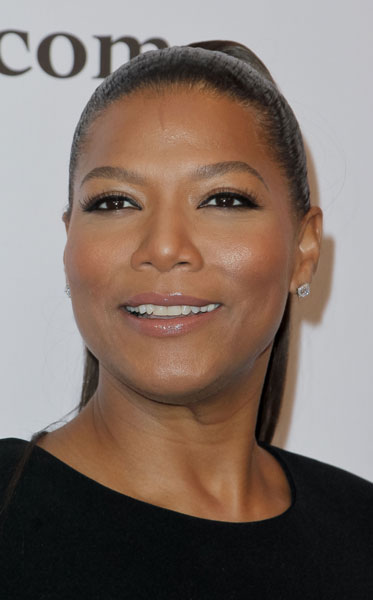 Queen Latifah will lead the cast of Empire creator Lee Daniels' new dramatic pilot set up at Fox. The untitled music-driven pilot from writer/director Daniels will begin shooting in Atlanta, GA this month. In addition to writing and directing the pilot, Daniels will executive produce along with writer Tom Donaghy, Pamela Oas Williams, and Effie Brown.
Oscar, Emmy and Grammy Award winner Queen Latifah is set to play the "owner of an Atlanta beauty salon, with an amazing voice, who will become a surrogate mother to the three girls – even though she doesn't approve of their musical dreams." The three young stars of the pilot were recently cast after a nationwide search. Newcomers Jude Demorest, Ryan Destiny and Brittany O'Grady will play the members of the girl group that Queen Latifah's character, Carlotta, mentors.
Here's the details on the cast and characters, courtesy of Fox:
– Jude Demorest, from Detroit, MI, has landed the role of "Star," the tough 18-year-old who spent her childhood in and out of foster homes after the death of her mother, and who will do anything to become the star she was named to be.
– Ryan Destiny, from Detroit, MI, has been cast as "Alexandra," the wealthy 20-year-old who grew up on New York's Upper East Side, but who, for years, has tried to put her privileged world behind her, so she can make real, authentic music.
– Brittany O'Grady, from Washington, DC, will play "Simone," Star's younger sister who dreams of the day Star will return to rescue her from the abusive foster home in which she was placed five years before.
Together, the three will chase their dreams of making it big in the glamorous but cut-throat Atlanta music scene. What will they do to rise to the top?