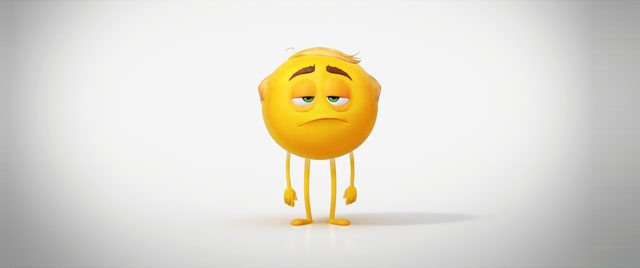 Not even Fifty Shades Darker could pull off a win against the disastrous animated film, The Emoji Movie. The 38th Annual Razzie Awards were announced on Saturday, March 3, 2018, taking place the day prior to the Oscars and honoring the worst feature films and performances of 2017.
This year's Razzies went all in on The Emoji Movie, naming the critically panned film Worst Picture and awarding it Worst Director (Anthony Leondis) and Worst Screenplay awards. The Emoji Movie picked up a total of four Razzies, with Fifty Shades Darker following with two. The Mummy, Baywatch, and Daddy's Home 2 each were (dis)honored with one Razzie win.
Sony Pictures Animation's The Emoji Movie explored the world of emojis inside our smartphones. The 2017 animated comedy featured the voices of T.J. Miller, James Corden, Anna Faris, Steven Wright, and Patrick Stewart. Surprisingly, the comedy which registered a 9% rotten score on Rotten Tomatoes made $217 million worldwide during its theatrical run.
The Razzies 2018 Nominees:
Worst Picture
Winner: The Emoji Movie
Baywatch
Fifty Shades Darker
The Mummy
Transformers XVII: The Last Knight
Worst Actress
Katherine Heigl / Unforgettable
Dakota Johnson / Fifty Shades Darker
Jennifer Lawrence / Mother!
Winner: Tyler Perry / BOO! 2: A Medea Halloween
Emma Watson / The Circle
Worst Actor
Winner: Tom Cruise / The Mummy
Johnny Depp / Pirates of The Caribbean XIII: Dead Men Tell No Tales
Jamie Dornan / Fifty Shades Darker
Zac Efron / Baywatch
Mark Wahlberg / Daddy's Home 2 & Transformers XVII: The Last Knight
Worst Supporting Actor
Javier Bardem / Mother! & Pirates of The Caribbean: Dead Men Tell No Tales
Russell Crowe / The Mummy
Josh Duhamel / Transformers XVII: Last Knight
Winner: Mel Gibson / Daddy's Home 2
Anthony Hopkins / Collide & Transformers XVII: Last Knight
Worst Supporting Actress
Winner: Kim Basinger / Fifty Shades Darker
Sofia Boutella / The Mummy
Laura Haddock / Transformers XVII: Last Knight
Goldie Hawn / Snatched
Susan Sarandon / A Bad Moms Christmas
Worst Screen Combo
Any Combination of Two Characters, Two Sex Toys or Two Sexual Positions: Fifty Shades Darker
Any Combination of Two Humans, Two Robots or Two Explosions: Transformers XVII: Last Knight
Winner: Any Two Obnoxious Emojis: The Emoji Movie
Johnny Depp & His Worn Out Drunk Routine: Pirates of the Caribbean XIII: Dead Careers Tell No Tales
Tyler Perry & Either The Ratty Old Dress or Worn Out Wig: BOO! 2: A Madea Halloween
Worst Remake, Rip-Off or Sequel
Baywatch
BOO 2: A Medea Halloween
Winner: Fifty Shades Darker
The Mummy
Transformers XVII: Last Knight
Worst Director
Darren Aronofsky / Mother!
Michael Bay / Transformers XVII: Last Knight
James Foley / Fifty Shades Darker
Alex Kurtzman / The Mummy
Winner: Anthony (Tony) Leonidis / The Emoji Movie
Worst Screenplay
Baywatch
Winner: The Emoji Movie
Fifty Shades Darker
The Mummy
Transformers XVII: The Last Knight
So Rottenly Bad, You Liked It
Winner: Baywatch
Transformers: The Last Knight
The Mummy
Fifty Shades Darker
The Emoji Movie