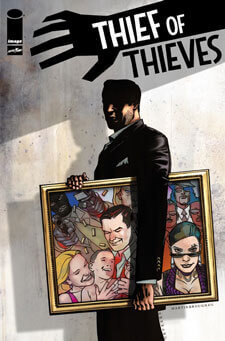 The Walking Dead executive producer/writer Robert Kirkman and Chic Eglee (Dexter) are in development on a new series, Thief of Thieves. Kirkman wrote the comic that will serve as source material for the project set up at AMC, with Eglee on board as showrunner.

"Much like The Walking Dead brought horror to television in a unique and groundbreaking way, I feel Thief of Thieves can do the same thing for heist stories, showing the humanity of all the characters, including the criminals," explains Kirkman, creator of The Walking Dead comic.

"AMC recognizes the limitless ideas generated by the comic industry," added Kirkman. "Their dedication to bringing The Walking Dead to life as a TV show has been key to its success and I'm excited about the potential of Thief of Thieves to reach similar levels of success. […] Working with AMC has been a tremendously positive experience and I'm looking forward to continuing and strengthening our relationships there and I can't neglect to mention I've been dying to work with Chic again since we wrapped on The Walking Dead Season 1."

The Plot:

The story focuses on master thief Conrad Paulson who, while attempting to reconcile with his estranged wife and son, vows to walk the straight and narrow, only to discover he's completely addicted to the thrill of stealing. Now he must feed his addiction by stealing only what has been stolen, as the "Thief of Thieves."

Source: AMC

—Posted by Rebecca Murray

Journalist covering the entertainment industry for 19+ years, including 13 years as the first writer for About.com's Hollywood Movies site. Member of the Broadcast Television Journalists Association, Broadcast Film Critics Association, Alliance of Women Film Journalists, and President of the San Diego Film Critics Society.
Latest posts by Rebecca Murray (see all)