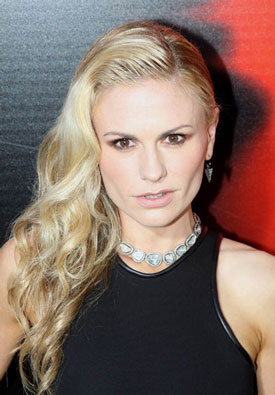 Filming is currently taking place in New Orleans on Roots, A+E Networks' new miniseries based on Alex Haley's bestselling book. And with filming underway, the network has just announced the cast of the four-night event series. Forest Whitaker, Anna Paquin, Jonathan Rhys Meyers, Anika Noni Rose, Chad L. Coleman, Erica Tazel, Derek Luke, Malachi Kirby and Regé-Jean Page will take on starring roles, joining previously announced Laurence Fishburne as Alex Haley in the latest adaptation of Haley's bestseller.
The four-night eight hour miniseries will be directed by Phillip Noyce (Salt), Mario Van Peeples (We The Party), Thomas Carter (Coach), and Bruce Beresford (Driving Miss Daisy). Each director will tackle a two-hour episode, with Lawrence Konner, Mark Rosenthal, Alison McDonald, and Charles Murray adapting the book for the miniseries.
A+E Networks released details on the cast and the characters they've play in Roots:
Forest Whitaker – "Fiddler," a slave who tries to mentor Kunta Kinte and risks his life to help him escape
Anna Paquin – "Nancy Holt," the wife of a Confederate officer who has her own agenda when it comes to the handling of slaves
Jonathan Rhys Meyers – "Tom Lea," an uneducated slave owner desperate to claw his way into the elite company of Southern gentility
Anika Noni Rose – "Kizzy," the cherished, smart daughter of Kunta Kinte who maintains her family pride and warrior spirit
Chad L. Coleman – "Mingo," a stern no-nonsense slave who keeps the Lea plantation afloat
Erica Tazel – "Matilda," a preacher's daughter and love interest to "Chicken George"
Derek Luke – "Silla Ba Dibba," the military trainer of Juffure, charged with transforming teen boys into powerful Mandinka Warriors
Malachi Kirby – "Kunta Kinte," a Mandinka warrior who is educated, proud, strong and resilient – all traits that empower him when he is captured by slavers
Regé-Jean Page – "Chicken George" is a handsome social magnet who knows how to transfix a crowd with a story, yet doesn't appreciate what he has until his luck abandons him
The Plot:
Roots is a historical portrait of American slavery recounting the journey of one family's will to survive, endure and ultimately carry on their legacy despite enormous hardship and inhumanity. Spanning multiple generations, the lineage begins with young Kunta Kinte, who is captured in his homeland of The Gambia and transported in brutal conditions to colonial America, where he's sold into slavery. Throughout the series, the family continues to face adversity while bearing witness and contributing to notable events in U.S. history, including the Revolutionary and Civil Wars, slave uprisings and eventual emancipation. The story of Kunta Kinte and the women and men who came after him echoes through the history of millions of Americans of African descent, and reveals powerful truths about the universal resilience of the human spirit.
Follow Us On: