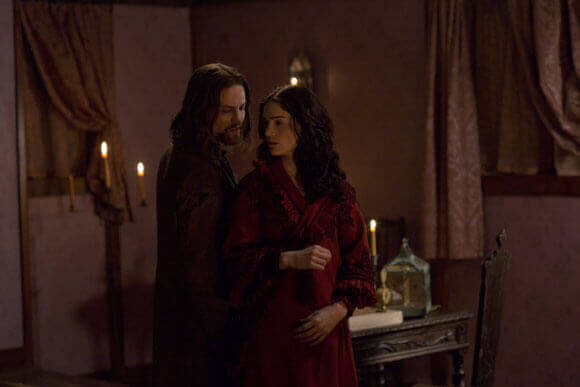 Salem will be back for a second season as just announced by WGN America President and General Manager Matt Cherniss. The thrilling dramatic series earned a second season pickup just three episodes into season one after averaging 1.7 million viewers, which is a 776% increase over the network's normal adults 18-49 viewership numbers.
"At WGN America, we are committed to delivering compelling, brand-defining programming rich with fascinating characters and Salem has done just that," said Cherniss. "Brannon Braga, Adam Simon, the talented cast and our great partners at Fox 21 have opened up an intriguing world that has captivated viewers. We look forward to bringing more great storytelling, scares and surprises to viewers as the saga unfolds."
"I could not be more thrilled or more proud of our cast, writers and crew who made this show come alive," said Braga. "The fans have been fantastic and we plan to continue keeping them on the edge of their seats."
Filming will begin later this year on the 13 episode second season.
The Plot:
Salem boldly re-imagines the infamous witch trials in the 17th century Massachusetts town. The storyline follows Captain John Alden (Shane West) returning from war to his hometown of Salem where he finds it in the grip of a witch panic. Crushed that his lost love, Mary Sibley (Janet Montgomery), is now married to his old nemesis, John is unaware she is also secretly the ruling witch of Salem, and her witches are running the witch trials.
– Check out our interview with Salem star Shane West:
Source: WGN America
-By Rebecca Murray
Follow Us On:
Stumble It!