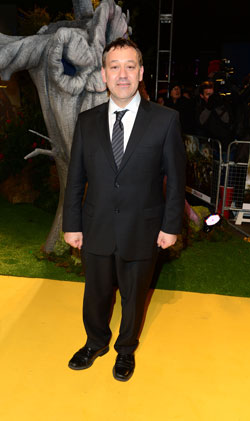 At the 2013 CinemaCon in Las Vegas, director Sam Raimi was given the 'RealD Innovation in 3D Award' during a filmmakers roundtable in which he participated alongside Guillermo del Toro and Oliver Stone. The annual award is given to a filmmaker in recognition of their "extraordinary contributions to digital 3D that embody the pioneering and creative spirit the technology brings to life in cinema and other applications."
Raimi was chosen for his work on Disney's
Oz The Great and Powerful
.
"
Oz The Great and Powerful
has set the bar in 2013 for both box office success and use of 3D to captivate audiences in a new and exciting way," said RealD CEO and co-founder, Michael V. Lewis. "3D played an instrumental role in bringing the Land of Oz to life, allowing moviegoers to feel as if they've stepped inside the land for a firsthand, immersive entertainment experience. We congratulate Sam on his achievements in 3D with this film."
"Shooting my first 3D film was a great adventure," said director Sam Raimi. "It allowed me to explore the depths of the world that my production designer and his team created in a way I had never thought possible. I accept this award on behalf of the camera people, technicians, and artists on
Oz The Great and Powerful
, and thank RealD for this honor."
Past honorees include Martin Scorsese, James Cameron, Jon Landau, and Henry Selick.
Source: RealD
Follow Us On: