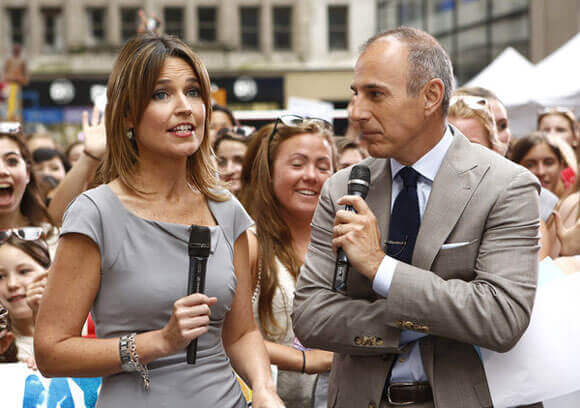 Ann Curry is officially out as co-anchor of NBC's
Today
and Savannah Guthrie is officially in. NBC confirmed the morning show move today, with NBC News President Steve Capus making the announcement. The change in co-anchor is effective immediately.
The anchor team for the popular morning show as of Monday, July 9th will be Matt Lauer, Savannah Guthrie, Al Roker and Natalie Morales.
Capus's statement: "In just a few short years Savannah, has become a standout member of the news division as well as the ultimate team player. She's anchored for Brian on NBC Nightly News, moderated for David on Meet the Press, co-hosted the 9 a.m. hour of Today, reported for Rock Center and Dateline, and provided legal insights in our Supreme Court Special Reports – and that was all within the last week! She's got an undeniable range, and she's earned the trust of the news community, her colleagues and our viewers alike. I couldn't be happier for Savannah and the entire Today team."
Today Executive Producer Jim Bell's statement: "As soon as Savannah joined NBC News she was a standout, reporting for every franchise in the news division and rising through the ranks. She has a one-of-a-kind combination of sharp wit and approachability, and our viewers value her journalistic skills and legal background just as much as her humor and charm. She can effortlessly go from interviewing the Secretary of State to jumping Olympic-sized hurdles on the Plaza. I'm thrilled to welcome Savannah as our newest co-anchor, and along with Matt, Al and Natalie, we've got the best morning team in the business."
In addition to co-anchoring Today, Guthrie will continue as the NBC News Chief Legal Correspondent.
Source: NBC