The list of sci-fi films heading to theaters in 2018 is a lengthy one, which is great news for fans of the genre. Among the films sci-fi audiences can look forward to in 2018 include a new Predator film, a Star Wars prequel focusing on a young Han Solo, a Transformers spinoff with Bumblebee, another Cloverfield film, and gigantic creatures wreaking havoc in Rampage, The Meg, and Jurassic World: Fallen Kingdom. 2018 will also serve up another Pacific Rim movie and the final film of the Maze Runner trilogy.
This preview of the sci-fi movies set to arrive in theaters in 2018 doesn't cover any superhero films as they're included in a 2018 comic book and superhero preview of their own. The following list is sorted in alphabetical order, and there's always a possibility films on the list could be booted to 2019 or released straight to video.
2018 Sci-Fi Films:
Alita: Battle Angel starring Rosa Salazar, Christoph Waltz, Jennifer Connelly, Mahershala Ali, Ed Skrein, Jackie Earle Haley, and Keean Johnson
The Plot: Set several centuries in the future, the abandoned Alita (Salazar) is found in the scrapyard of Iron City by Ido (Waltz), a compassionate cyber-doctor who takes the unconscious cyborg Alita to his clinic. When Alita awakens she has no memory of who she is, nor does she have any recognition of the world she finds herself in. Everything is new to Alita, every experience a first. As she learns to navigate her new life and the treacherous streets of Iron City, Ido tries to shield Alita from her mysterious past while her street-smart new friend, Hugo (Johnson), offers instead to help trigger her memories.
A growing affection develops between the two until deadly forces come after Alita and threaten her newfound relationships. It is then that Alita discovers she has extraordinary fighting abilities that could be used to save the friends and family she's grown to love. Determined to uncover the truth behind her origin, Alita sets out on a journey that will lead her to take on the injustices of this dark, corrupt world, and discover that one young woman can change the world in which she lives.
Annihilation starring Natalie Portman, Jennifer Jason Leigh, Gina Rodriguez, Tessa Thompson, Tuva Novotny and Oscar Isaac
The Plot: A biologist signs up for a dangerous, secret expedition where the laws of nature don't apply.
Bumblebee starring Hailee Steinfeld, Pamela Adlon, John Cena, Stephen Schneider, Jorge Lendeborg Jr, Jason Drucker, Kenneth Choi, Ricardo Hoyos, Abby Quinn, Rachel Crow, and Grace Dzienny
The Plot: On the run in the year 1987, Bumblebee finds refuge in a junkyard in a small Californian beach town. Charlie (Steinfeld), on the cusp of turning 18 and trying to find her place in the world, discovers Bumblebee, battle-scarred and broken. When Charlie revives him, she quickly learns this is no ordinary, yellow VW bug.
Captive State starring Vera Farmiga, John Goodman, Ashton Sanders, and James Ransone
The Plot: Set in a Chicago neighborhood nearly a decade after an occupation by an extra-terrestrial force, Captive State explores the lives on both sides of the conflicts – the collaborators and the dissidents.
Cloverfield Movie (formerly titled God Particle) starring David Oyelowo, Gugu Mbatha-Raw, Ziyi Zhang, Elizabeth Debicki, Daniel Brühl, and Chris O'Dowd
The Plot: Bumped to 2018 from its October 2017 release date, the next Cloverfield film takes place in the not-so-distant future and involves astronauts on a space station. The team discover something that challenges the very fabric of reality.
Code 8 starring Stephen Amell, Robbie Amell, Sung Kang, Aaron Abrams, and Greg Bryk
The Plot: Code 8 is set in a world where 4% of the population is born with varying supernatural abilities, but instead of being billionaires or superheroes, most "specials" face discrimination and live in poverty, often resorting to crime. In a world now carefully monitored by drones, guardians and the police, Connor Reed (Robbie Amell), a power-enabled young man, is struggling to pay for his ailing mother's (Kari Matchett) health treatment.
Fighting to earn enough money as a day laborer, Connor is lured into a lucrative criminal world by Garrett (Stephen Amell) who works for Lincoln City's reigning drug lord, Marcus Sutcliffe (Bryk). Garrett helps Connor sharpen his powers in order to execute a series of crimes on behalf of Sutcliffe, while a militarized police unit, led by Agent Park (Kang) and Agent Davis (Abrams), hunts them down.
The Darkest Minds starring Mandy Moore, Gwendoline Christie, Amandla Stenberg, and Harris Dickinson
The Plot: (Synopsis of the book, courtesy of author Alexandra Bracken's website) When Ruby woke up on her tenth birthday, something about her had changed. Something alarming enough to make her parents lock her in the garage and call the police. Something that gets her sent to Thurmond, a brutal government "rehabilitation camp." She might have survived the mysterious disease that's killed most of America's children, but she and the others have emerged with something far worse: frightening abilities they cannot control.
Now sixteen, Ruby is one of the dangerous ones. When the truth comes out, Ruby barely escapes Thurmond with her life. Now she's on the run, desperate to find the one safe haven left for kids like her—East River. She joins a group of kids who escaped their own camp. Liam, their brave leader, is falling hard for Ruby. But no matter how much she aches for him, Ruby can't risk getting close. Not after what happened to her parents. When they arrive at East River, nothing is as it seems, least of all its mysterious leader.
But there are other forces at work, people who will stop at nothing to use Ruby in their fight against the government. Ruby will be faced with a terrible choice, one that may mean giving up her only chance at a life worth living.
Extinction starring Michael Pena, Emma Booth, and Lizzy Caplan
The Plot: A father has a recurring dream of losing his family. His nightmare turns reality when the planet is invaded by a force bent on destruction. Fighting for their lives, he comes to realize an unknown strength to keep them safe from harm.
Future World starring James Franco, Lucy Liu, Suki Waterhouse, and Margarita Levieva
The Plot: In a post-apocalyptic world, where water and gasoline have long since dried-up, a Prince from the Oasis (one of the last known safe-havens) must venture out to find medicine for the ailing Queen (Liu), but along the way he gets mixed up with The Warlord (Franco) and his robot Ash (Waterhouse), which leads to a daring journey through the desolate Wastelands.
High Life starring Robert Pattinson, Juliette Binoche, Mia Goth, and Andre Benjamin
The Plot: High Life centers on convicts who trade in their jail time by agreeing to crew a dangerous mission to a black hole, set on an intergalactic ship. (per Variety)
The House with a Clock in Its Walls starring Cate Blanchett, Jack Black, Owen Vaccaro, and Kyle MacLachlan
The Plot: In the tradition of Amblin classics where fantastical events occur in the most unexpected places, Jack Black and Cate Blanchett star in The House with a Clock in Its Walls, from Amblin Entertainment. The magical adventure tells the spine-tingling tale of 10-year-old Lewis (Vaccaro) who goes to live with his uncle in a creaky old house with a mysterious tick-tocking heart. But his new town's sleepy façade jolts to life with a secret world of warlocks and witches when Lewis accidentally awakens the dead.
I Think We're Alone Now starring Peter Dinklage and Elle Fanning
The Plot: The apocalypse proves a blessing in disguise for one lucky recluse – until a second survivor arrives with the threat of companionship.
Inversion starring Samuel L Jackson and Liu Yifei
The Plot: Inversion follows a street-wise American con man and a young Chinese physicist (Liu) as they race against the clock to save the earth from a terrifying loss of gravity. John Bailey (Jackson) believing the two are the cause of the cause of the inversions of gravity chase them across two continents trying to stop further destruction.
Jurassic World: Fallen Kingdom starring Chris Pratt, Bryce Dallas Howard, James Cromwell, Ted Levine, Justice Smith, Geraldine Chaplin, Toby Jones, Rafe Spall, BD Wong, and Jeff Goldblum
The Plot: It's been four years since theme park and luxury resort Jurassic World was destroyed by dinosaurs out of containment. Isla Nublar now sits abandoned by humans while the surviving dinosaurs fend for themselves in the jungles. When the island's dormant volcano begins roaring to life, Owen (Pratt) and Claire (Howard) mount a campaign to rescue the remaining dinosaurs from this extinction-level event. Owen is driven to find Blue, his lead raptor who's still missing in the wild, and Claire has grown a respect for these creatures she now makes her mission.
Arriving on the unstable island as lava begins raining down, their expedition uncovers a conspiracy that could return our entire planet to a perilous order not seen since prehistoric times. With all of the wonder, adventure and thrills synonymous with one of the most popular and successful series in cinema history, this all-new motion-picture event sees the return of favorite characters and dinosaurs—along with new breeds more awe-inspiring and terrifying than ever before. Welcome to Jurassic World: Fallen Kingdom.
The Man Who Killed Don Quixote starring Adam Driver, Olga Kurylenko, Stellan Skarsgard, and Jonathan Pryce
The Plot: The film tells the story of an old man convinced he's Don Quixote and confuses Toby, an advertising executive, with his faithful squire, Sancho Panza. The couple embark on a strange journey, with jumps back and forth in time, between the current 21st century and the magical 17th century. Little by little Toby, like the infamous knight, catches on to the illusory world and is incapable of separating dream and reality. The story culminates in a phantasmagorical and emotional ending where Toby takes over from Don Quixote de la Mancha.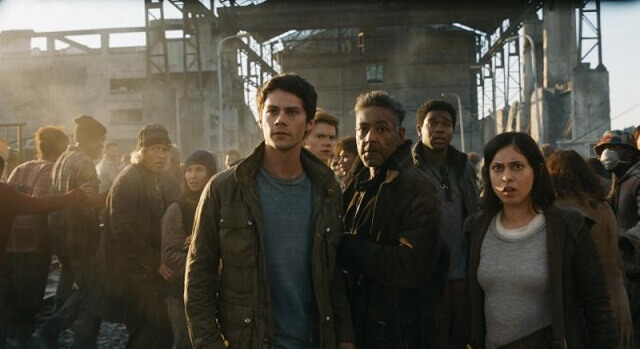 Maze Runner: The Death Cure starring Dylan O'Brien, Kaya Scodelario, Thomas Brodie-Sangster, Giancarlo Esposito, Patricia Clarkson, Katherine McNamara, Nathalie Emmanuel, and Aidan Gillen
The Plot: In the epic finale to the Maze Runner saga, Thomas leads his group of escaped Gladers on their final and most dangerous mission yet. To save their friends, they must break into the legendary Last City, a WCKD-controlled labyrinth that may turn out to be the deadliest maze of all. Anyone who makes it out alive will get answers to the questions the Gladers have been asking since they first arrived in the maze.
The Meg starring Jason Statham, Li Bingbing, Cliff Curtis, Rainn Wilson, and Ruby Rose
The Plot: A deep-sea submersible—part of an international undersea observation program—has been attacked by a massive creature, previously thought to be extinct, and now lies disabled at the bottom of the deepest trench in the Pacific…with its crew trapped inside. With time running out, expert deep sea rescue diver Jonas Taylor (Statham) is recruited by a visionary Chinese oceanographer (Chao), against the wishes of his daughter Suyin (Bingbing), to save the crew—and the ocean itself—from this unstoppable threat: a pre-historic 75-foot-long shark known as the Megalodon.
What no one could have imagined is that, years before, Taylor had encountered this same terrifying creature. Now, teamed with Suyin, he must confront his fears and risk his own life to save everyone trapped below…bringing him face to face once more with the greatest and largest predator of all time.
Mortal Engines starring Robert Sheehan, Hugo Weaving, Hera Hilmar, and Stephen Lang
The Plot: Following the conclusion of The Hobbit and The Lord of the Rings trilogies, three-time Academy Award®-winning filmmakers Peter Jackson and Fran Walsh return to the screen with a startling and sweeping new vision of a future where Earth's cities now roam the globe on huge wheels, battling each other in a struggle for ever-diminishing resources.
This is the world of Mortal Engines, the story of how two unlikely heroes come together and change the course of the future.
Mute starring Alexander Skarsgard, Paul Rudd, Justin Theroux, and Seyneb Saleh
The Plot: Set in the near-future, Leo (Skarsgård) is a bartender living in the pulsing city of Berlin. Because of a childhood accident, Leo lost the ability to speak and the only good thing in his life is his beautiful girlfriend Naadirah (Saleh). When she vanishes without a trace, Leo's search for her takes him deep into the city's seedy underbelly. A pair of wise-cracking American surgeons (Rudd and Theroux) are the only recurring clue and Leo is forced to take on this teeming underworld in order to find his love.
Pacific Rim Uprising starring John Boyega, Scott Eastwood, Rinko Kikuchi, Adria Arjona, and Charlie Day
The Plot: John Boyega stars as the rebellious Jake Pentecost, a once-promising Jaeger pilot whose legendary father gave his life to secure humanity's victory against the monstrous "Kaiju." Jake has since abandoned his training only to become caught up in a criminal underworld. But when an even more unstoppable threat is unleashed to tear through our cities and bring the world to its knees, he is given one last chance to live up to his father's legacy by his estranged sister, Mako Mori (Kikuchi), who is leading a brave new generation of pilots who have grown up in the shadow of war. As they seek justice for the fallen, their only hope is to unite together in a global uprising against the forces of extinction.
Jake is joined by gifted rival pilot Lambert (Eastwood) and 15-year-old Jaeger hacker Amara (Spaeny), as the heroes of the PPDC become the only family he has left. Rising up to become the most powerful defense force to ever walk the earth, they will set course for a spectacular all-new adventure on a towering scale.
The Predator starring Yvonne Strahovski, Olivia Munn, Jacob Tremblay, Thomas Jane, Sterling K. Brown, and Boyd Holbrook
The Plot: 20th Century Fox has not released the official synopsis for the 2018 Predator film.
Rampage starring Dwayne Johnson, Naomie Harris, Malin Akerman, Jake Lacy, Joe Manganiello, Jeffrey Dean Morgan, and Jack Quaid
The Plot: Primatologist Davis Okoye (Johnson), a man who keeps people at a distance, shares an unshakable bond with George, the extraordinarily intelligent, silverback gorilla who has been in his care since birth. But a rogue genetic experiment gone awry mutates this gentle ape into a raging creature of enormous size. To make matters worse, it's soon discovered there are other similarly altered animals.
As these newly created alpha predators tear across North America, destroying everything in their path, Okoye teams with a discredited genetic engineer to secure an antidote, fighting his way through an ever-changing battlefield, not only to halt a global catastrophe but to save the fearsome creature that was once his friend.
Ready Player One starring Tye Sheridan, Olivia Cooke, Ben Mendelsohn, T.J. Miller, Simon Pegg, and Mark Rylance
The Plot: The film is set in 2045, with the world on the brink of chaos and collapse. But the people have found salvation in the OASIS, an expansive virtual reality universe created by the brilliant and eccentric James Halliday (Rylance). When Halliday dies, he leaves his immense fortune to the first person to find a digital Easter egg he has hidden somewhere in the OASIS, sparking a contest that grips the entire world. When an unlikely young hero named Wade Watts (Sheridan) decides to join the contest, he is hurled into a breakneck, reality-bending treasure hunt through a fantastical universe of mystery, discovery and danger.
Replicas starring Keanu Reeves, Alice Eve, and Thomas Middleditch
The Plot: In this sci-fi thriller, neuro-scientist William Foster (Reeves) is on the verge of successfully transferring human consciousness into a computer when his family is tragically killed in a car crash. Desperate to resurrect them, William recruits fellow scientist Ed Whittle (Middleditch) to help him secretly clone their bodies and create replicas. But he soon faces a "Sophie's choice" when it turns out that they can only bring three of the four family members back to life.
Solo: A Star Wars Story starring Alden Ehrenreich, Woody Harrelson, Emilia Clarke, Donald Glover, Phoebe Waller-Bridge, and Joonas Suotamo
The Plot: Solo: A Star Wars Story takes place before the original Star Wars trilogy and explains what Han Solo was like as a young man.
Sorry to Bother You starring Lakeith Stanfield, Tessa Thompson, Steven Yeun, Jermaine Fowler, Armie Hammer, and Omari Hardwicke
The Plot: In a speculative and dystopian not-too-distant future, black telemarketer Cassius Green discovers a magical key to professional success – which propels him into a macabre universe.
The Titan starring Sam Worthington, Taylor Schilling, Tom Wilkinson, Agyness Deyn, and Nathalie Emmanuel
The Plot: The film follows a military experiment designed to genetically evolve a man to be sent into space that goes horribly wrong, with the side effects threatening humanity itself.
A Wrinkle in Time starring Oprah Winfrey, Reese Witherspoon, Mindy Kaling, Gugu Mbatha-Raw, Michael Peňa, Zach Galifianakis, Chris Pine, and Storm Reid
The Plot: Meg Murry (Reid) is a typical middle school student struggling with issues of self-worth who is desperate to fit in. As the daughter of two world-renowned physicists, she is intelligent and uniquely gifted, as is Meg's younger brother Charles Wallace (Deric McCabe), but she has yet to realize it for herself. Making matters even worse is the baffling disappearance of Mr. Murry (Pine), which torments Meg and has left her mother (Mbatha-Raw) heartbroken. Charles Wallace introduces Meg and her fellow classmate Calvin (Levi Miller) to three celestial guides—Mrs. Which (Winfrey), Mrs. Whatsit (Witherspoon) and Mrs. Who (Kaling) — who have journeyed to Earth to help search for their father, and together they set off on their formidable quest.
Traveling via a wrinkling of time and space known as tessering, they are soon transported to worlds beyond their imagination where they must confront a powerful evil. To make it back home to Earth, Meg must look deep within herself and embrace her flaws to harness the strength necessary to defeat the darkness closing in on them.
A Look Back at 2017's Sci-Fi Films