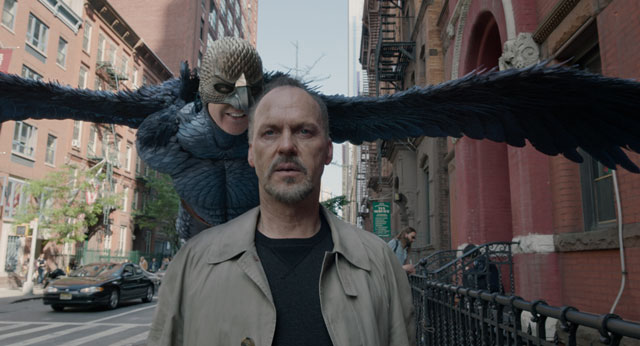 The 2015 Screen Actors Guild Awards nominees have been announced and Birdman and Boyhood are, once again, among the top nominees in the movies categories. Birdman picked up four nominations including one for Michael Keaton as Outstanding Performance by a Male Actor in a Lead Role and one for Outstanding Performance by a Cast while Boyhood was close behind with three nominations including Ethan Hawke in the supporting actor category and Patricia Arquette in the supporting actress category.
On the television side it was Modern Family that led the way with four nominations including one for best ensemble. Boardwalk Empire, Game of Thrones and Homeland were close behind with three nominations each.
Individually, Benedict Cumberbatch and Edward Norton earned the most nominations with three each. Cumberbatch earned two nominations for his work in The Imitation Game (best actor and best cast) as well as a nomination for his performance in Sherlock: His Last Vow. Norton was recognized for his work in Birdman with two nominations and The Grand Budapest Hotel with one.
21st ANNUAL SCREEN ACTORS GUILD AWARDS NOMINATIONS
THEATRICAL MOTION PICTURES
Outstanding Performance by a Male Actor in a Leading Role
STEVE CARELL / John du Pont – "FOXCATCHER" (Sony Pictures Classics)
BENEDICT CUMBERBATCH / Alan Turing – "THE IMITATION GAME" (The Weinstein Company)
JAKE GYLLENHAAL / Louis Bloom – "NIGHTCRAWLER" (Open Road Films)
MICHAEL KEATON / Riggan – "BIRDMAN" (Fox Searchlight Pictures)
EDDIE REDMAYNE / Stephen Hawking – "THE THEORY OF EVERYTHING" (Focus Features)
Outstanding Performance by a Female Actor in a Leading Role
JENNIFER ANISTON / Claire Bennett – "CAKE" (Cinelou Films)
FELICITY JONES / Jane Hawking – "THE THEORY OF EVERYTHING" (Focus Features)
JULIANNE MOORE / Alice Howland-Jones – "STILL ALICE" (Sony Pictures Classics)
ROSAMUND PIKE / Amy Dunne – "GONE GIRL" (20th Century Fox)
REESE WITHERSPOON / Cheryl Strayed – "WILD" (Fox Searchlight Pictures)
Outstanding Performance by a Male Actor in a Supporting Role
ROBERT DUVALL / Joseph Palmer – "THE JUDGE" (Warner Bros. Pictures)
ETHAN HAWKE / Mason, Sr. – "BOYHOOD" (IFC Films)
EDWARD NORTON / Mike – "BIRDMAN" (Fox Searchlight Pictures)
MARK RUFFALO / Dave Schultz – "FOXCATCHER" (Sony Pictures Classics)
J.K. SIMMONS / Fletcher – "WHIPLASH" (Sony Pictures Classics)
Outstanding Performance by a Female Actor in a Supporting Role
PATRICIA ARQUETTE / Olivia – "BOYHOOD" (IFC Films)
KEIRA KNIGHTLEY / Joan Clarke – "THE IMITATION GAME" (The Weinstein Company)
EMMA STONE / Sam – "BIRDMAN" (Fox Searchlight Pictures)
MERYL STREEP / The Witch – "INTO THE WOODS" (Walt Disney Studios Motion Pictures)
NAOMI WATTS / Daka – "ST. VINCENT" (The Weinstein Company)
Outstanding Performance by a Cast in a Motion Picture
BIRDMAN (Fox Searchlight Pictures)
ZACH GALIFIANAKIS / Jake
MICHAEL KEATON / Riggan
EDWARD NORTON / Mike
ANDREA RISEBOROUGH / Laura
AMY RYAN / Sylvia
EMMA STONE / Sam
NAOMI WATTS / Lesley
BOYHOOD (IFC Films)
PATRICIA ARQUETTE / Olivia
ELLAR COLTRANE / Mason
ETHAN HAWKE / Mason, Sr.
LORELEI LINKLATER / Samantha
THE GRAND BUDAPEST HOTEL (Fox Searchlight Pictures)
F. MURRAY ABRAHAM / Mr. Moustafa
MATHIEU AMALRIC / Serge X.
ADRIEN BRODY / Dmitri
WILLEM DAFOE / Jopling
RALPH FIENNES / M. Gustave
JEFF GOLDBLUM / Dep. Kovacs
HARVEY KEITEL / Ludwig
JUDE LAW / Young Writer
BILL MURRAY / M. Ivan
EDWARD NORTON / Henckels
TONY REVOLORI / Zero
SAOIRSE RONAN / Agatha
JASON SCHWARTZMAN / M. Jean
LÉA SEYDOUX / Clotilde
TILDA SWINTON / Madame D
TOM WILKINSON / Author
OWEN WILSON / M. Chuck
THE IMITATION GAME (The Weinstein Company)
MATTHEW BEARD / Peter Hilton
BENEDICT CUMBERBATCH / Alan Turing
CHARLES DANCE / Commander Denniston
MATTHEW GOODE / Hugh Alexander
RORY KINNEAR / Nock
KEIRA KNIGHTLEY / Joan Clarke
ALLEN LEECH / John Cairncross
MARK STRONG / Stewart Menzies
THE THEORY OF EVERYTHING (Focus Features)
CHARLIE COX / Jonathan Hellyer Jones
FELICITY JONES / Jane Hawking
SIMON McBURNEY / Frank Hawking
EDDIE REDMAYNE / Stephen Hawking
DAVID THEWLIS / Dennis Sciama
EMILY WATSON / Beryl Wilde
TELEVISION PROGRAMS
Outstanding Performance by a Male Actor in a Television Movie or Miniseries
ADRIEN BRODY / Harry Houdini – "HOUDINI" (History)
BENEDICT CUMBERBATCH / Sherlock Holmes – "SHERLOCK: HIS LAST VOW" (PBS)
RICHARD JENKINS / Henry Kitteridge – "OLIVE KITTERIDGE" (HBO)
MARK RUFFALO / Ned Weeks – "THE NORMAL HEART" (HBO)
BILLY BOB THORNTON / Lorne Malvo – "FARGO" (FX)
Outstanding Performance by a Female Actor in a Television Movie or Miniseries
ELLEN BURSTYN / Olivia Foxworth – "FLOWERS IN THE ATTIC" (Lifetime)
MAGGIE GYLLENHAAL / Nessa Stein – "THE HONORABLE WOMAN" (Sundance TV)
FRANCES McDORMAND / Olive Kitteridge – "OLIVE KITTERIDGE" (HBO)
JULIA ROBERTS / Dr. Emma Brookner – "THE NORMAL HEART" (HBO)
CICELY TYSON / Carrie Watts – "THE TRIP TO BOUNTIFUL" (Lifetime)
Outstanding Performance by a Male Actor in a Drama Series
STEVE BUSCEMI / Enoch "Nucky" Thompson – "BOARDWALK EMPIRE" (HBO)
PETER DINKLAGE / Tyrion Lannister – "GAME OF THRONES" (HBO)
WOODY HARRELSON / Martin Hart – "TRUE DETECTIVE" (HBO)
MATTHEW McCONAUGHEY / Rust Cohle – "TRUE DETECTIVE" (HBO)
KEVIN SPACEY / Francis Underwood – "HOUSE OF CARDS" (Netflix)
Outstanding Performance by a Female Actor in a Drama Series (6 nominees)
CLAIRE DANES / Carrie Mathison – "HOMELAND" (Showtime)
VIOLA DAVIS / Annalise Keating – "HOW TO GET AWAY WITH MURDER" (ABC)
JULIANNA MARGULIES / Alicia Florrick – "THE GOOD WIFE" (CBS)
TATIANA MASLANY / Sarah/Coxima/Alison/Rachel/ – "ORPHAN BLACK" (BBC America)
MAGGIE SMITH / Violet, Dowager Countess of Grantham – "DOWNTON ABBEY" (PBS)
ROBIN WRIGHT / Claire Underwood – "HOUSE OF CARDS" (Netflix)
Outstanding Performance by a Male Actor in a Comedy Series
TY BURRELL / Phil Dunphy – "MODERN FAMILY " (ABC)
LOUIS C.K. / Louie – "LOUIE" (FX)
WILLIAM H. MACY / Frank Gallagher – "SHAMELESS" (Showtime)
JIM PARSONS / Sheldon Cooper – "THE BIG BANG THEORY" (CBS)
ERIC STONESTREET / Cameron Tucker – "MODERN FAMILY" (ABC)
Outstanding Performance by a Female Actor in a Comedy Series
UZO ADUBA / Suzanne "Crazy Eyes" Warren – "ORANGE IS THE NEW BLACK" (Netflix)
JULIE BOWEN / Claire Dunphy – "MODERN FAMILY" (ABC)
EDIE FALCO / Jackie Peyton – "NURSE JACKIE" (Showtime)
JULIA LOUIS-DREYFUS / Vice President Selina Meyer – "VEEP" (HBO)
AMY POEHLER / Leslie Knope – "PARKS AND RECREATION" (NBC)
Outstanding Performance by an Ensemble in a Drama Series
BOARDWALK EMPIRE (HBO)
STEVE BUSCEMI / Enoch "Nucky" Thompson
PAUL CALDERON / Arquimedes
NICHOLAS CALHOUN / Sean
LOUIS CANCELMI / Mike D'Angelo
JOHN ELLISON CONLEE / Commodore
MICHAEL COUNTRYMAN / Frank Wilson
STEPHEN GRAHAM / Al Capone
DOMENICK LOMBARDOZZI / Ralph Capone
NOLAN LYONS / Enoch Thompson (young)
KELLY MACDONALD / Margaret Thompson
BORIS McGIVER / Sheriff Smith Johnson
VINCENT PIAZZA / Charlie "Lucky" Luciano
PAUL SPARKS / Mickey Doyle
TRAVIS TOPE / Joe Hardy
SHEA WHIGHAM / Eli Thompson
ANATOL YUSEF / Meyer Lansky
MICHAEL ZEGEN / Benny Siegel
DOWNTON ABBEY (PBS)
HUGH BONNEVILLE / Robert, Earl of Grantham
LAURA CARMICHAEL / Lady Edith Crawley
JIM CARTER / Mr. Carson
BRENDAN COYLE / Mr. Bates
MICHELLE DOCKERY / Lady Mary Crawley
KEVIN DOYLE / Mr. Molesley
JOANNE FROGGATT / Anna Bates
LILY JAMES / Lady Rose
ROBERT JAMES-COLLIER / Thomas Barrow
ALLEN LEECH / Tom Branson
PHYLLIS LOGAN / Mrs. Hughes
ELIZABETH McGOVERN / Cora, Countess of Grantham
SOPHIE McSHERA / Daisy
MATT MILNE / Alfred
LESLEY NICOL / Mrs. Patmore
DAVID ROBB / Dr. Clarkson
MAGGIE SMITH / Violet, Dowager Countess of Grantham
ED SPELEERS / Jimmy Kent
CARA THEOBOLD / Ivy
PENELOPE WILTON / Isobel Crawley
GAME OF THRONES (HBO)
JOSEF ALTIN / Pyp
JACOB ANDERSON / Grey Worm
JOHN BRADLEY / Samwell Tarly
DOMINIC CARTER / Janos Slynt
GWENDOLINE CHRISTIE / Brienne of Tarth
EMILIA CLARKE / Daenerys Targaryen
NIKOLAJ COSTER-WALDAU / Jaime Lannister
BEN CROMPTON / Dolorous Edd
CHARLES DANCE / Tywin Lannister
PETER DINKLAGE / Tyrion Lannister
NATALIE DORMER / Margaery Tyrell
NATHALIE EMMANUEL / Missandei
IAIN GLEN / Ser Jorah Mormont
JULIAN GLOVER / Pycelle
KIT HARINGTON / Jon Snow
LENA HEADEY / Cersei Lannister
CONLETH HILL / Varys
RORY McCANN / Sandor "The Hound" Clegane
IAN McELHINNEY / Ser Barristan Selmy
PEDRO PASCAL / Oberyn Martell
DANIEL PORTMAN / Podrick Payne
MARK STANLEY / Grenn
SOPHIE TURNER / Sansa Stark
MAISIE WILLIAMS / Arya Stark
HOMELAND (Showtime)
NUMAN ACAR / Hassan Haqqani
NAZANIN BONIADI / Fara Sherazi
CLAIRE DANES / Carrie Mathison
RUPERT FRIEND / Peter Quinn
RAZA JAFFREY / Aasar Khan
NIMRAT KAUR / Tasneem Qureishi
TRACY LETTS / Sen. Andrew Lockhart
MARK MOSES / Dennis Boyd
MICHAEL O'KEEFE / John Redmond
MANDY PATINKIN / Saul Berenson
LAILA ROBINS / Martha Boyd
MAURY STERLING / Max
HOUSE OF CARDS (Netflix)
MAHERSHALA ALI / Remy Danton
JAYNE ATKINSON / Catherine Durant
RACHEL BROSNAHAN / Rachel Posner
DEREK CECIL / Seth Grayson
NATHAN DARROW / Edward Meechum
MICHEL GILL / President Walker
JOANNA GOING / Tricia Walker
SAKINA JAFFREY / Linda Vasquez
MICHAEL KELLY / Doug Stamper
MOZHAN MARNÒ / Ayla Sayyad
GERALD McRANEY / Raymond Tusk
MOLLY PARKER / Jackie Sharp
JIMMI SIMPSON / Gavin Orsay
KEVIN SPACEY / Francis Underwood
ROBIN WRIGHT / Claire Underwood
Outstanding Performance by an Ensemble in a Comedy Series
THE BIG BANG THEORY (CBS)
MAYIM BIALIK / Amy Farrah Fowler
KALEY CUOCO-SWEETING / Penny
JOHNNY GALECKI / Leonard Hofstadter
SIMON HELBERG / Howard Wolowitz
KUNAL NAYYAR / Rajesh Koothrappali
JIM PARSONS / Sheldon Cooper
MELISSA RAUCH / Bernadette Rostenkowski-Wolowitz
BROOKLYN NINE-NINE (FOX)
STEPHANIE BEATRIZ / Det. Rosa Diaz
DIRK BLOCKER / Hitchcock
ANDRE BRAUGHER / Capt. Ray Holt
TERRY CREWS / Sgt. Terry Jeffords
MELISSA FUMERO / Det. Amy Santiago
JOE LO TRUGLIO / Det. Charles Boyle
JOEL McKINNON MILLER / Scully
CHELSEA PERETTI / Gina Linetti
ANDY SAMBERG / Det. Jake Peralta
MODERN FAMILY (ABC)
AUBREY ANDERSON EMMONS / Lily Tucker-Pritchett
JULIE BOWEN / Claire Dunphy
TY BURRELL / Phil Dunphy
JESSE TYLER FERGUSON / Mitchell Pritchett
NOLAN GOULD / Luke Dunphy
SARAH HYLAND / Haley Dunphy
ED O'NEILL / Jay Pritchett
RICO RODRIGUEZ / Manny Delgado
ERIC STONESTREET / Cameron Tucker
SOFIA VERGARA / Gloria Delgado-Pritchett
ARIEL WINTER / Alex Dunphy
ORANGE IS THE NEW BLACK (Netflix)
UZO ADUBA / Suzanne "Crazy Eyes" Warren
JASON BIGGS / Larry Bloom
DANIELLE BROOKS / Tasha "Taystee" Jefferson
LAVERNE COX / Sophia Burset
JACKIE CRUZ / Flaca
CATHERINE CURTIN / Wanda Bell
LEA DELARIA / Carrie "Big Boo" Black
BETH FOWLER / Sister Ingalls
YVETTE FREEMAN / Irma
GERMAR TERRELL GARDNER / Charles Ford
KIMIKO GLENN / Brook Soso
ANNIE GOLDEN / Norma Romano
DIANE GUERRERO / Maritza Ramos
MICHAEL J. HARNEY / Ofc. Sam Healy
VICKY JEUDY / Janae Watson
JULIE LAKE / Angie Rice
LAUREN LAPKUS / Susan Fischer
SELENIS LEYVA / Gloria Mendoza
NATASHA LYONNE / Nicky Nichols
TARYN MANNING / Tiffany "Pennsatucky" Doggett
JOEL MARSH GARLAND / Scott O'Neill
MATT McGORRY / Ofc. John Bennett
ADRIENNE C. MOORE / Black Cindy
KATE MULGREW / Galina "Red" Reznikov
EMMA MYLES / Leanne Taylor
JESSICA PIMENTEL / Maria Ruiz
DASCHA POLANCO / Dayanara Diaz
ALYSIA REINER / Natalie "Fig" Figueroa
JUDITH ROBERTS / Taslitz
ELIZABETH RODRIGUEZ / Aleida Diaz
BARBARA ROSENBLAT / Miss Rosa
NICK SANDOW / Joe Caputo
ABIGAIL SAVAGE / Gina
TAYLOR SCHILLING / Piper Chapman
CONSTANCE SHULMAN / Yoga Jones
DALE SOULES / Frieda
YAEL STONE / Lorna Morello
LORRAINE TOUSSAINT / Yvonne "Vee" Parker
LIN TUCCI / Anita DeMarco
SAMIRA WILEY / Poussey Washington
VEEP (HBO)
SUFE BRADSHAW / Sue Wilson
ANNA CHLUMSKY / Amy Brookheimer
GARY COLE / Kent Davidson
KEVIN DUNN / Ben Cafferty
TONY HALE / Gary Walsh
JULIA LOUIS-DREYFUS / Vice President Selina Meyer
REID SCOTT / Dan Egan
TIMOTHY SIMONS / Jonah Ryan
MATT WALSH / Mike McLintock
SAG AWARDS® HONORS FOR STUNT ENSEMBLES
Outstanding Action Performance by a Stunt Ensemble in a Motion Picture
"FURY" (Columbia Pictures)
"GET ON UP" (Universal Pictures)
"THE HOBBIT: THE BATTLE OF THE FIVE ARMIES" (Warner Bros. Pictures)
"UNBROKEN" (Universal Pictures)
"X-MEN: DAYS OF FUTURE PAST" (20th Century Fox)
Outstanding Action Performance by a Stunt Ensemble in a Comedy or Drama Series (6 nominees)
"24: LIVE ANOTHER DAY" (FOX)
"BOARDWALK EMPIRE" (HBO)
"GAME OF THRONES" (HBO)
"HOMELAND" (Showtime)
"SONS OF ANARCHY" (FX)
"THE WALKING DEAD" (AMC)
LIFE ACHIEVEMENT AWARD
DEBBIE REYNOLDS
-By Rebecca Murray
Follow Us On: